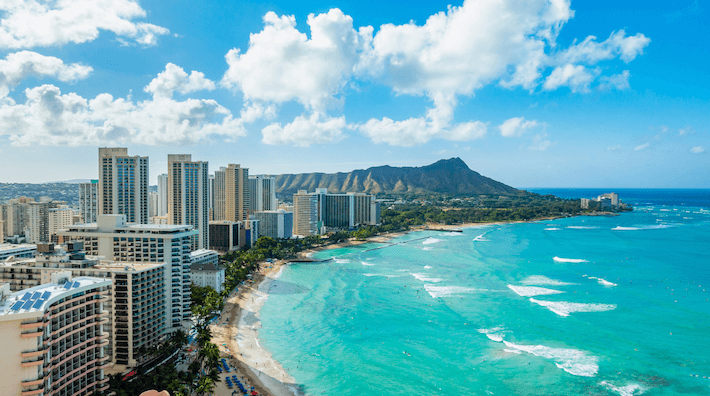 People dream of moving to Hawaii – after all, it's paradise. With promise of serene tropical weather all year round and living near a pristine beach, Hawaii seems like an ideal location. But while our islands are beautiful, it's also important – as with any big move – to do your research. Here are a few tips and important steps you need to take before you start packing your bags.
1. Choose Your Island

Which island is right for you? Oahu is the most populated out of all the Hawaiian islands. Here, you'll find the capital of Honolulu and famous Waikiki Beach. Many people choose Oahu because it has the most job opportunities, paired with higher salaries, compared to the other islands. Most jobs are in tourism, government, military, construction, healthcare and retail industries. While Oahu does have its quiet neighborhoods, it is not as laidback as the other islands – it is the busiest and has highways, traffic jams (read more about Hawaii traffic) and high-rises, lots of them. There are also large shopping malls like Ala Moana Center, International Marketplace and much more.
Hawaii Island, also commonly known as the Big Island, is the largest of all the islands (hence its name). Tourism is the island's main industry. It's famous for cattle ranching, the controversial Mauna Kea and the recently erupted Kilauea Volcano. Prices are very affordable here, you can get a 3 acre parcel of land for $20,000. You won't have access to the sewer or main electrical grid, but it'll be your little slice of paradise.
Kauai is laidback, although locals say that it's becoming busier thanks to tourism especially in the Hanalei area. Nighttime entertainment options are limited, but if you are at the stage in your life for some peace and quiet, Kauai can be a great choice. The same can be said for the islands of Molokai and Lanai.
Maui is slightly larger than Oahu, but is less crowded. The two main industries you can find here are in tourism and agriculture. Folks enjoy the Kahului, Lahaina and Kihei neighborhoods for shopping, eating and entertainment options.
2. If You Can, Visit First

Make room in your budget and schedule to visit an island of your choice, whether it's Oahu, Kauai, Big Island or Maui. Visit the neighborhood you want to live in and get a feel for what the local community feels like. For example, if you're wondering about the weather, you'll learn quickly that Hawaii isn't always necessarily perfect skies 24/7 – we've got rain, chilly (at least for us) drops in temperature during the winter, strong winds and humid spalls with no trade winds. Go out at night so you get a sense of what your neighborhood is like. Talk to residents to get a firsthand impression and don't be afraid to ask honest questions. Hopefully by the time you hop on your plane ride back, you'll have a good idea of what this potential new home will be like.
3. Compare Costs

Hawaii has a high cost of living, thanks to the fact that almost everything here is imported via sea and plane. Housing costs are also sky high compared to the mainland. As of March 2020, the median price of a condo on the island of Oahu is $435,000. The median price of a house on Oahu? As of March 2020 that'll set you back $810,000. Also, look up prices for gas, transportation, groceries, schools and parking. Do your research and learn how much it costs to rent versus buy and make sure that you're able to afford living comfortably.
4. Moving to Hawaii with a pet? Read up!
Hawaii has strict regulations regarding importing pets. Contact the Hawaii Department of Agriculture at least four months prior to moving. There's a minimum 30-day waiting period after a successful rabies antibody test, and fees ranging from $165 to $244. There is also an upcoming web-based portal for a new Animal Quarantine Animal Import System which should be ready by the end of this year.
5. Look Into Shipping Options

Shipping a car to Hawaii is an option. If you're coming from the U.S. West Coast, costs is typically around $1,100 per standard vehicle. You can contact Pasha Hawaii, Horizon Lines for pricing options. Only bring necessities and try not to bring too many personal belongings. (Regarding clothes, think short-sleeve shirts, shorts, light jackets and jeans – you won't, of course, need to bring any winter clothes.) If you have too much stuff, hit up a friend and ship your belongings via USPS.
6. Hawaii Drivers License Test
If your drivers license is unexpired, you're at least 18 years old and you're from another state in America, Canada, Puerto Rico, the U.S. Virgin islands, American Samoa, the Norther Mariana Islands or Guam, you can use that license to drive in Hawaii. Make sure you transfer your out-of-state U.S. license to a Hawaii license before it expires so you'll only need to take a written drivers test – if it expires before you move, you'll need to get a written test and a road test. (Note: DMVs on Oahu are notoriously crowded and you'll need to book an appointment online.)
7. Don't Skip The State ID
On that note, make sure you get a state ID as well so you can prove your residence is in Hawaii – this has more than just one benefit as you can use this to get kama'aina discounts, a Hawaii library card, a P.O. Box and much more.
8. Know Your Schools

If you have kids, do your research and apply to schools early. Public schools in Hawaii tend to have test scores below the national average, which is why many families here in Hawaii choose to homeschool or put their kids in private school. The top three most prestigious schools are Punahou School, Iolani School and Kamehameha Schools. There is plenty of competition, so if you want to put your kid in here, start applying early and also make sure to save up – tuition is expensive and can go up to $18,450 per year. Also, all of these schools are in urban Honolulu where housing prices are the highest.
9. Look Up The Lingo

Once you get here, you'll notice that many locals speak pidgin and Hawaiian languages. Pidgin is a unique dialect evolved from the old plantation days, when immigrants from China, Japan and Portugal worked in the sugar cane fields. Since everyone spoke different languages, they created their own language, borrowing words, sentence structures phrases and intonations from different cultures. Knowing a few Hawaiian and pidgin words can go a long way: aloha (hello), mahalo (thank you), auntie (respectful term for older woman), brah (casual way of addressing a male), grinds (delicious food) and slippahs (flip flops).
10. Bonus Tip: Make Friends!

Hawaii is a small island where it seems like everybody knows everybody. While this may be intimidating at first for an outsider, don't be afraid to put yourself out there and make friends. Once you settle down, try to join a club, parents group, meetup or any other events so you can meet people and start becoming part of the community.