A Guide to Kaka'ako's Best Restaurants in 2020
Posted by Holden Lau on Wednesday, June 12, 2019 at 3:17 PM
By Holden Lau / June 12, 2019
Comment
It's official:The Kakaako restaurant scene is growing and it's quickly becoming one of Honolulu's best destinations for enthusiastic foodies. Whether it's a quick snack, a relaxing brunch or casual dinner, this approachable, friendly neighborhood has it all. Here are just a few eateries you should try when you're in the scene.
1. Red Fish Poke
MUST TRY! Redfish opened at the end of 2019 and it's been a fan favorite ever since. If you don't like fish don't worry, they have a ton of other options on the menu. At the front of the restaurant they have a full poke bar where you can make your own poke bowls and man do they have a ton of options. At the back of the restaurant they have a large seating area and full wrap around bar. My recommendations? The Pulehu Short Ribs and the Lechon Kawali which are two of the house favorites. Of course you have to try the poke as it is some of the freshest on the island and the mix-ins are to dir for. Redfish is located at SALT which is on the west side of Kakaako. My advice is to check out the awesome new Pow Wow murals that just went up in February 2020 and then get a beer and bite to eat at Redfish right after.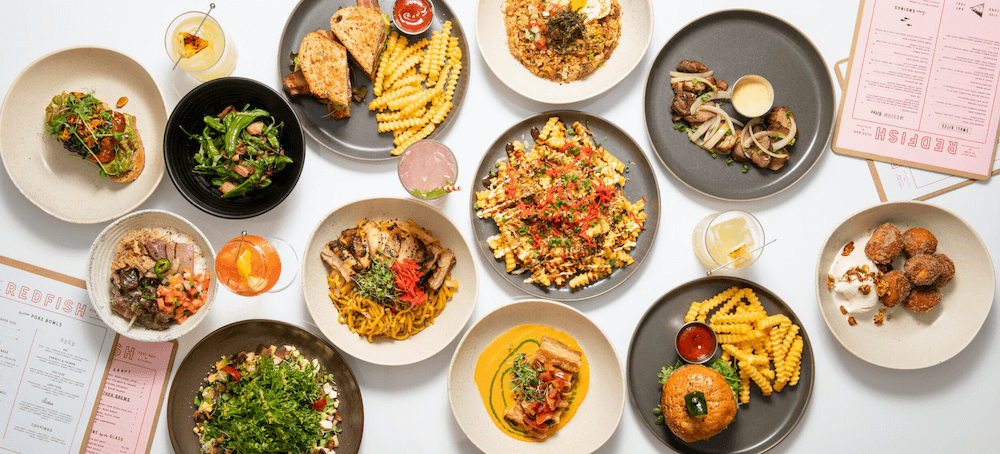 (808) 597-8871, 685 Auahi St., Honolulu, HI, 96813, RedFish Poke Bar
$$; Poke, Beer Bar, Cocktail Bar; Everyday, 10:30 a.m. to 12:00 a.m.
2. Nalu Health Bar & Café
Acai bowls abound here in Hawai'i but not many places do it better than Nalu Health Bar & Café. This second location in Kaka'ako opened in 2017 in South Shore Market, an attractive shopping mall with a variety of local shops, boutiques and restaurants. Nalu's health-conscious menu has sandwiches, wraps and salads, but really, it's the acai bowls that draw crowds: organic, sweet acai berries chock full of good-for-you nutrients and antioxidants, topped with all the good stuff like bananas, bee pollen, strawberries, blueberries, granola and honey. They're perfect any day, any place, but here in Hawai'i where the days are often warm, hot and sunny, Nalu's acai bowls are sure to cool you down.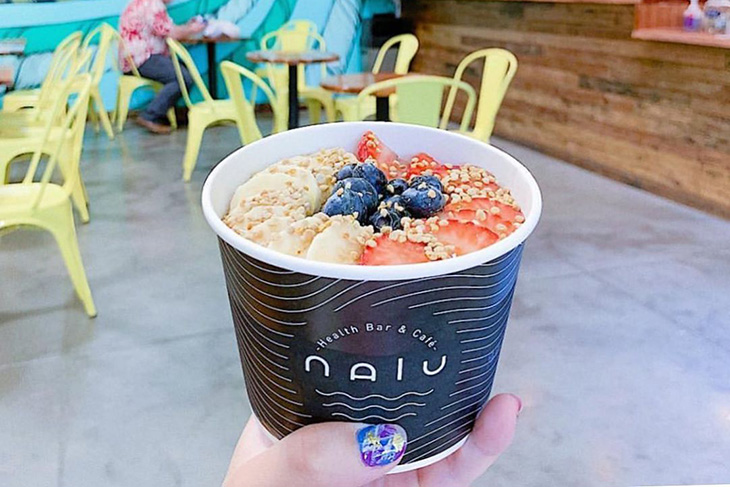 (808) 597-8871, 1170 Auahi St., Ste. 145, Honolulu, HI, 96814, naluhealthbar.com
$$; Acai Bowls, Juice Bars & Smoothies, Breakfast & Brunch; Monday through Thursday, 9 a.m. to 8 p.m., Friday & Saturday, 9 a.m. to 9 p.m., Sunday, 9 a.m. to 6 p.m.
3. Highway Inn Kakaako
If traditional Hawaiian food is on your mind, Highway Inn Kaka'ako has it all on their menu. From lau lau, pipikaula, chicken long rice, poke bowls and much, much more, the restaurant does authentic local food right. The menu hasn't changed much since 1947, which is when the first restaurant opened in Waipahu. There are also crave-able appetizers that'll please everyone at your table, like the Hawaiian Style Nachos, made with fresh house-made sweet potato chips and kalua pig, topped with shredded cheddar and jack cheese, house-made salsa, sour cream and guacamole, or the signature Chicken Drumettes, battered chicken wings tossed in a house-made sauce like furikake Korean garlic, spicy Cajun or lilikoi BBQ.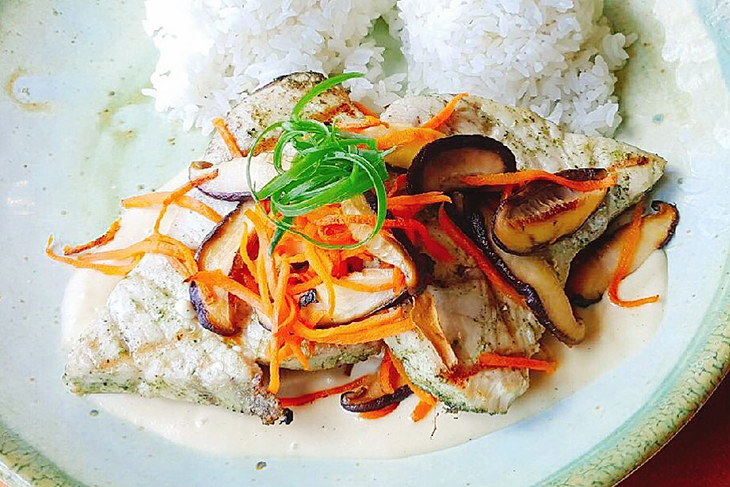 (808) 954-4955, 680 Ala Moana Blvd. Ste 105, Honolulu, HI, 96813, myhighwayinn.com
$$; Hawaiian, Poke; Monday through Thursday, 8:30 a.m. to 8:30 p.m., Friday & Saturday, 8:30 a.m. to 9 p.m., Sunday, 9 a.m. to 2:30 p.m.
4. Scratch Kitchen & Meatery
Perfect for a weekend brunch with friends and family, Scratch Kitchen & Meatery takes your traditional breakfast items and elevates them with a unique flair. The simple and rustic menu changes seasonally, but some of the most popular items are the Milk n' Cereal pancakes with bananas, berries, cereal and a secret homemade 'milk' syrup, and the Southern Fried Chicken N' Waffle, with smoked maple and carolina slaw. Lunch starts from 10:30 a.m. to 3 p.m. and the BC Burger with the six-ounce Kunoa beef patty, fried egg, smoked bacon, spiced tater tots, won bok kim chee, spicy aioli and dressed greens is a great way to satisfy your appetite. With free self-parking in South Shore Market, live music and a breezy open atmosphere, this cozy restaurant is definitely a must-try in the neighborhood.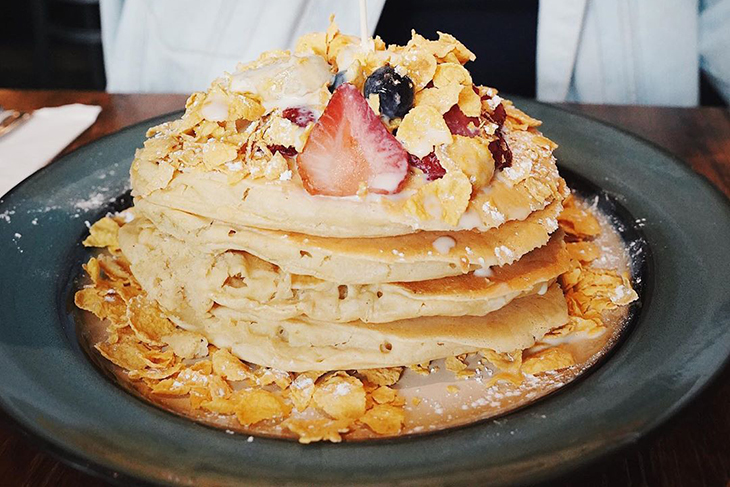 (808) 589-1669, 1170 Auahi Street, Honolulu, HI, 96814, scratch-hawaii.com
$$; Comfort Food, Bakeries, Breakfast; Monday through Friday, 9 a.m. to 3 p.m., 5 to 9 p.m., Saturday, 7:30 a.m. to 3 p.m., 5 to 9 p.m., Sunday, 7:30 a.m. to 3 p.m.
5. Piggy Smalls
Sister to the popular Pig and the Lady restaurant located in downtown Honolulu, Piggy Smalls does things a little differently, but still ties everything together through a Vietnamese-American fusion cuisine that Chef Andrew Le and co. does so well. You'll find familiar dishes like the LFC (Laotian Fried Chicken) Wings and fun twists on pho like the J. Ludovico Chicken Pho, with spiced local heritage chicken broth with fresh rice noodles, calamansi, scallions, cilantro and pickled chili ginger. Another star on the menu is the Pho-Strami Banh Mi, with smoked beef brisket (smoked all day), pickled mustard seeds, sriracha-lime onion and a self-described "awesome sauce," all topped on a fresh baguette with a side of the pho broth and a farm salad. The menu is playful and doesn't take itself seriously, making the restaurant a perfect place to swing by after a movie or a fun date out on the town.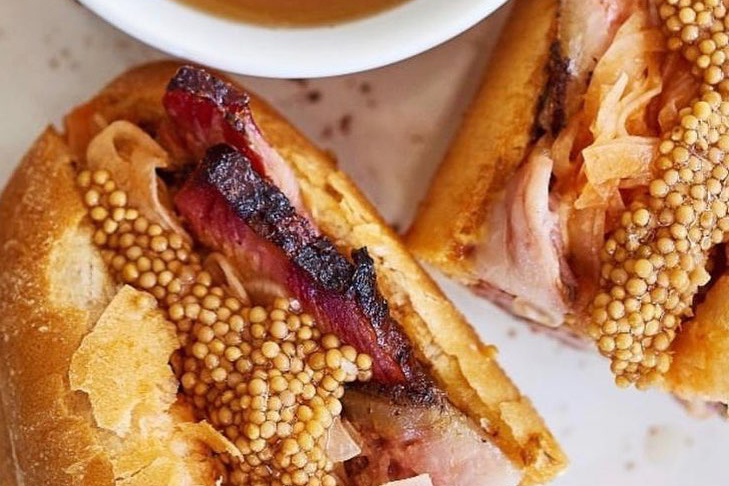 (808) 777-3589, 1200 Ala Moana Blvd. Ste. 665, Honolulu, HI, 96814, thepigandthelady.com
$$; Vietnamese, Bars, Breakfast & Brunch; Monday through Friday, 11 a.m. to 3 p.m., 5 to 9:30 p.m., Saturday; 10 a.m. to 3 p.m., 5 to 9:30 p.m., Sunday, 10 a.m. to 3 p.m.
6. Moku Kitchen
Owned by award-winning chef Peter Merriman, Moku Kitchen is located at SALT at Our Kaka'ako – a hip gathering place for events, shopping and food. At Moku's, you can expect locally sourced ingredients served in palette-friendly dishes like Wild-Mushroom Pizza with truffle oil, garlic and thyme, "Smashed" Burgers with thin, crunchy patties, tacos bursting with a variety of flavors (think bulgogi tacos with kimchee) and plenty of beer and wines on tap. The highlights of the menu, while hard to pick out, could be any of the dishes roasted in the kitchen's rotisserie oven, like the Grilled Filet Mignon, Ginger Glazed Roasted Duck or even the simple Rotisserie Veggie Plate. And, save room for dessert: choose from any of Merriman's signature cream pies.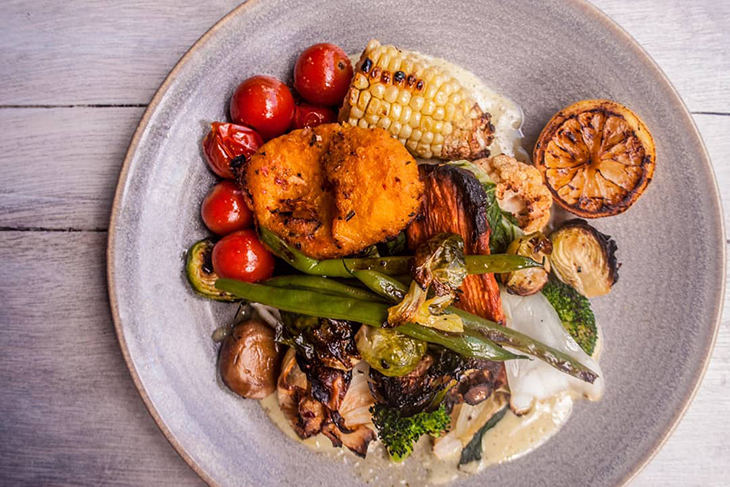 (808) 591-6658, 660 Ala Moana Blvd., Honolulu, HI, 96813, mokukitchen.com
$$; Pizza, Cocktail Bars, American (New), Daily, 11 a.m. to 11 p.m.
7. Thydas Tacos
This isn't your ordinary sit in restaurant. Thydas Tacos is a tiny little food trailer that is parked behind Whole Foods Market in Kakaako and they turn out some of the best tacos in town. From street tacos, burritos, rice bowls, and quesadillas there is something for everyone. Not into meat? Try the amazing jack fruit tacos or burritos, you'll be amazed it's not meat as it has a very similar texture and the spices are delicious. For me personally I'm a huge fan of the Barbacoa or the Lengua. Can't decide? Get both!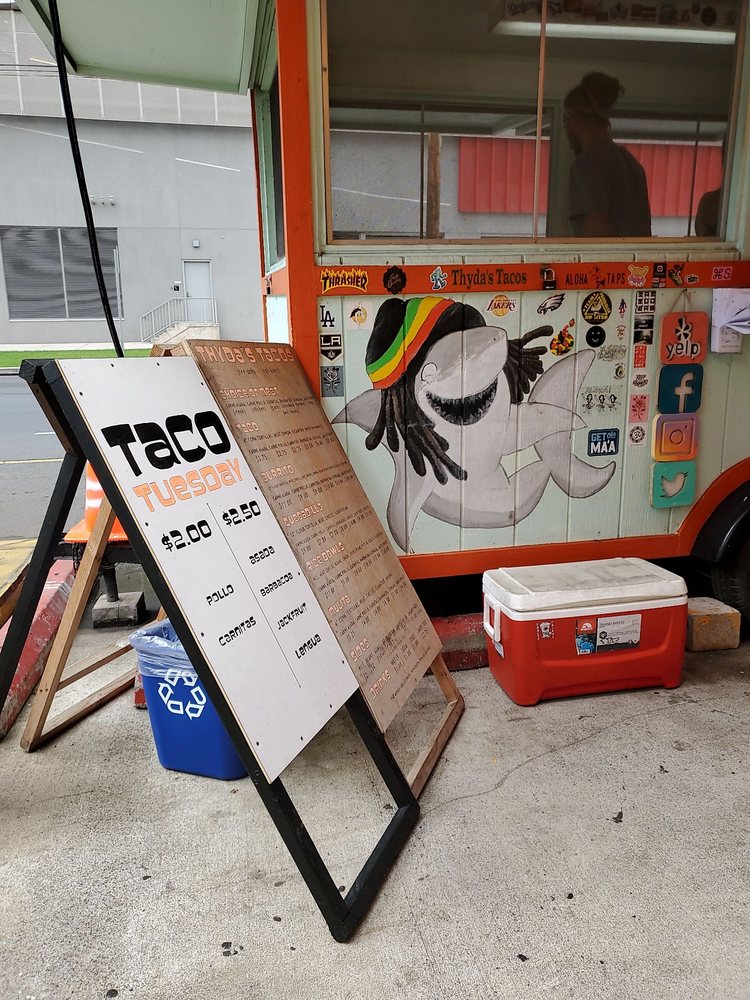 (310)666-4671, 1034 Queen st., Honolulu, HI 96814
https://www.restaurantji.com/hi/honolulu/thydas-tacos-/
$; Tacos, Food Trucks, Monday through Thursday 11:00 a.m. to 5:00 p.m. Friday and Saturday 11:00 a.m. to 3:00 p.m.