Alia Condo in Honolulu
888 Ala Moana Blvd.
Alia is a luxury condo project coming to Kakaako, Honolulu. The 400-foot condo tower is being developed by The Kobayashi Group which is one of the oldest and most successful condo developers in the state. The Kobayashi team is also responsible for the ultra-luxury Park Lane project, One Ala Moana, Capitol Place, and Hokua.
Page Directory: Amenities | Location | The Neighborhood | Floor Plans | Prices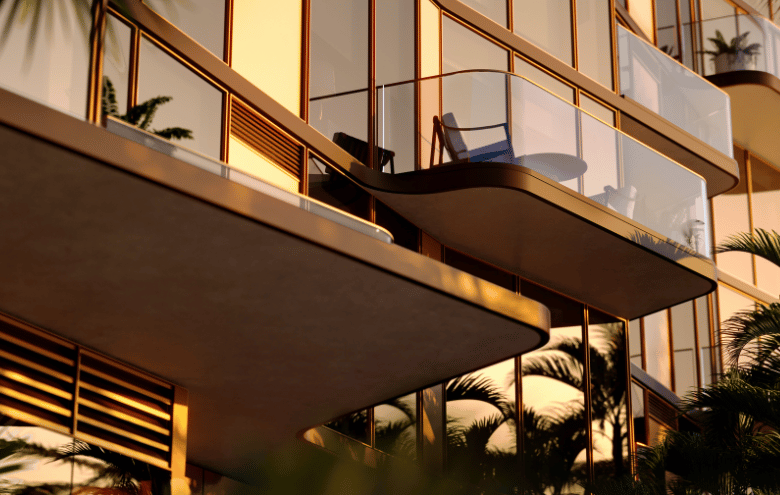 New Project Announcement (3/14/2023): Howard Hughes announces the latest Ward Village project for the site adjacent to Alia. This project called "The Launiu" will be a 486-unit condo tower with luxury finishes and amenities.
Developer: Kobayashi Group
Architect: WRNS Studio
Landscape Architect: Browlie & Lee
Interior Design: The Vanguard Theory
Alia will be a 400-foot condo tower with 457 total units, 411 market rate units (tower), 6 market loft units (podium), and 40 reserved housing units (podium). There will also be 3,500 square feet of ground-floor commercial space, 24,010 square feet of open space, and 60,285 square feet of recreation space at the ground-floor podium deck. The Kobayashi Group has a history with this parcel trying to develop similar projects on the same site several years ago.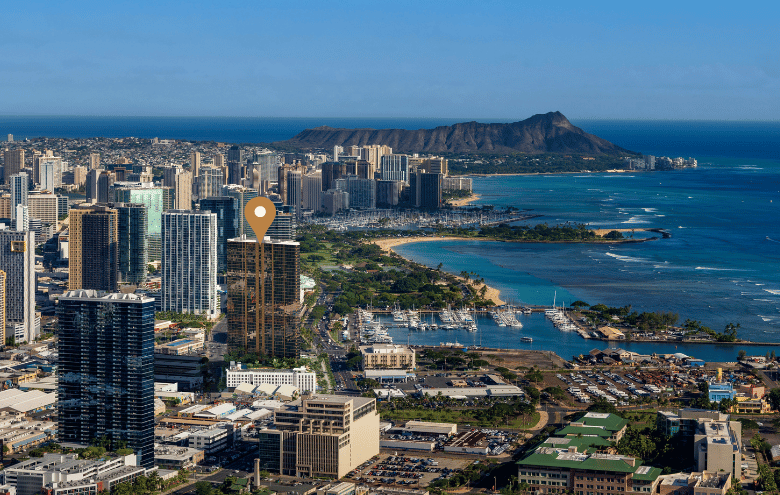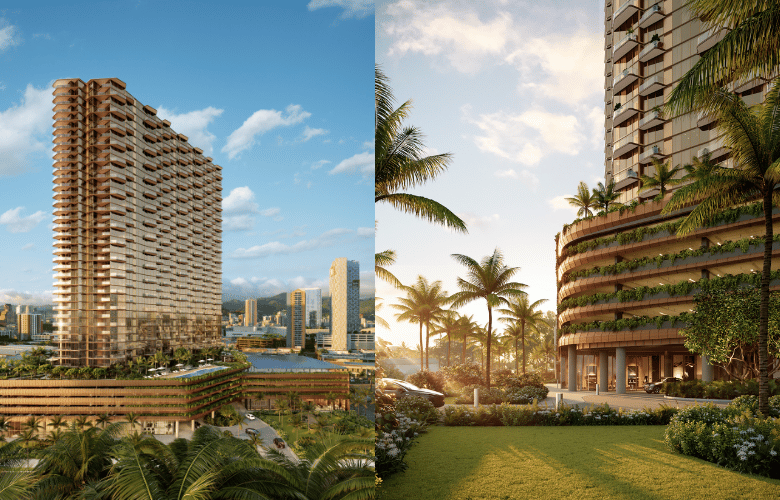 All of the units on the east facing side of the building will have lanais. There will be a large recreation deck with 2 pools, a pickleball court, BBQ cabanas and lush landscaping. The developer envisions Koula Street as a quiet, low-density thoroughfare and includes a mid-rise podium made up of market loft units, reserved housing units, finished storage, and retail spaces. The building podium at the corner of Koula and Auahi Streets will provide ample space for outdoor dining activities.
The developer is taking a huge step to make Alia more sustainable by adding A LOT of PV panels to the building. It's likely that these PV panels will contribute towards common area electricity use verse feeding into the grid for individual unit owners. This is a small saving for owners as it cuts down your HOA fees.
The Amenities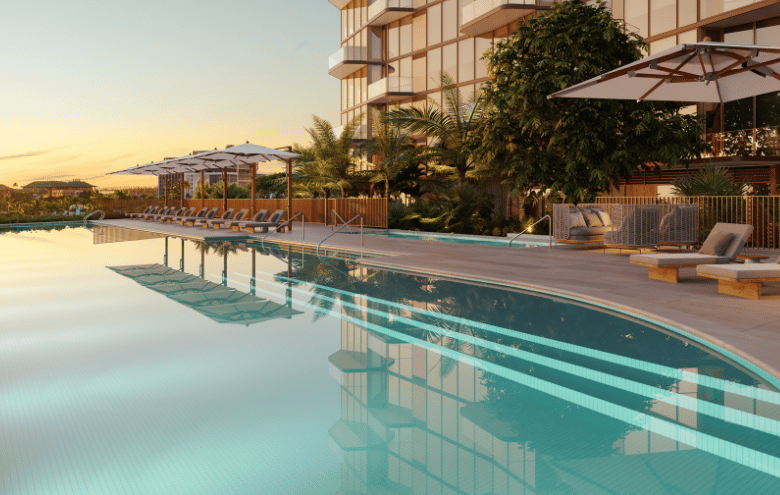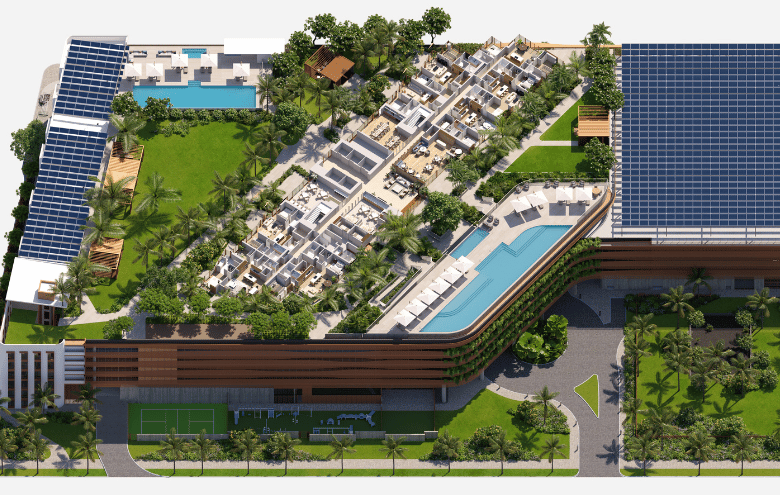 The Alia Condo will have many luxury amenities which include two outdoor pools (one of which can be reserved for private parties), a ground-floor pickleball court, and a ground-floor fitness area. Other amenities include:
BBQ Cabanas
Dog Washing Station
Children's Play Area
Workshop
2 Pools
Jacuzzi
Treatment Rooms

Indoor Party Rooms
Coffee Bar
Bowling Alley
Karaoke Rooms
Fitness Center
Pickleball Court
Chef's Kitchen
Additionally, a residential amenity deck will focus on recreational activities with community and family in mind. This will be pet-friendly, with a "Bark Park" available for pet owners located at the Ewa Makai corner of the amenity deck.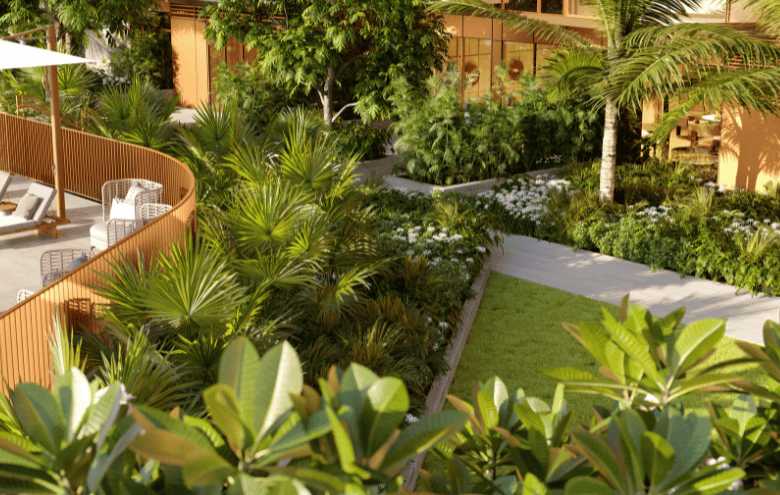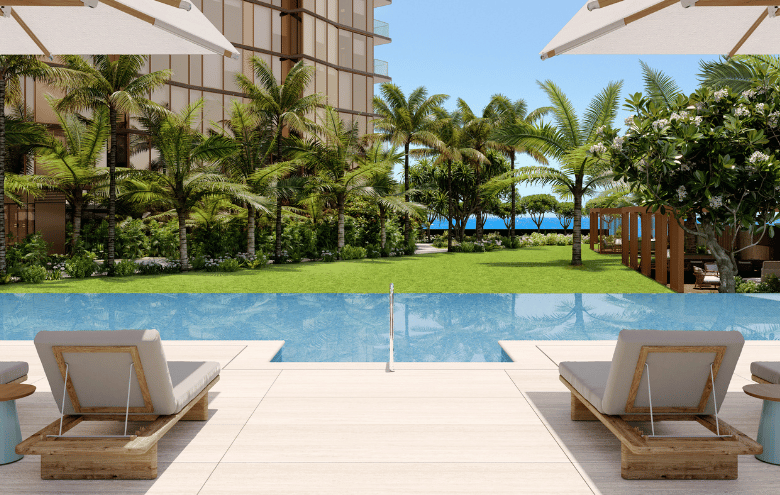 Alia Condo Location
Alia is located on the southern tip of Oahu in the island's most walkable neighborhood, Kakaako. The property sits along Ala Moana blvd which is a main thorough fair in Honolulu that can take you from the Honolulu International Airport to Waikiki Beach, with Alia sitting right in the middle of the two. If you're from New York or San Francisco, Alia is a short walk from Whole Foods Market and Ala Moana Shopping Center. For those of us that aren't used to walking 10 - 15 blocks a day, these local hot spots are a quick 2 -3 minute drive. Alia is considered a first-row project in Kakaako with no other buildings coming up on the ocean side to block views.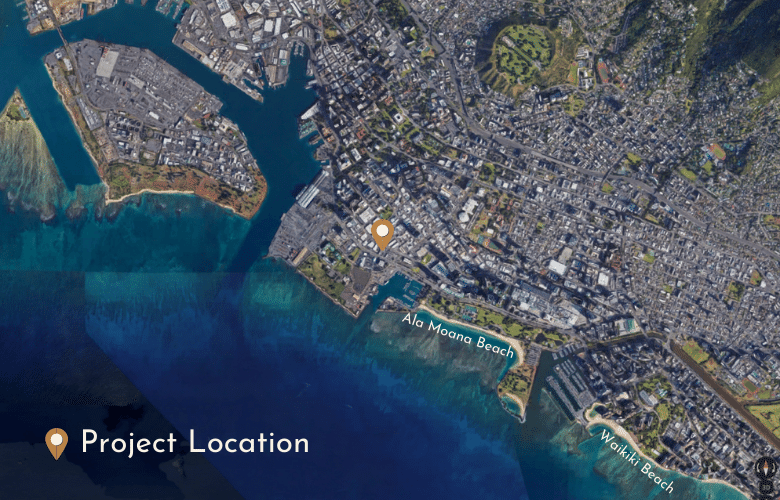 The Neighborhood
Alia couldn't be closer to the heart of Kakaako. The project will be built within the "Our Kakaako" masterplan community but also sits on the border of Ward Village. You'll have access to SALT where you'll find shopping, restaurants, coffee shops, and more along with everything that Ward Village has to offer. You can see from the map below that Alia will be a part of the next phase of projects that Kamehameha Schools (the landowner) plans to develop in the coming future. The buildings in green are planned projects with the two projects in blue (The Collection, in front, and Keauhou Place, in back) being part of Our Kakaako's phase 1 development.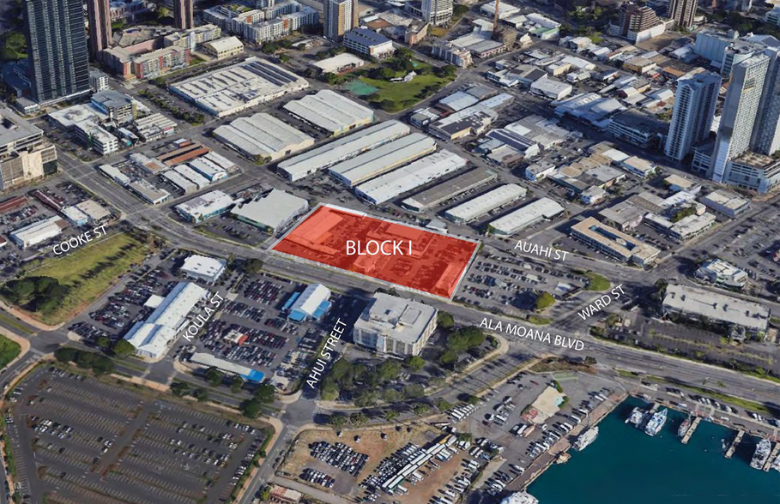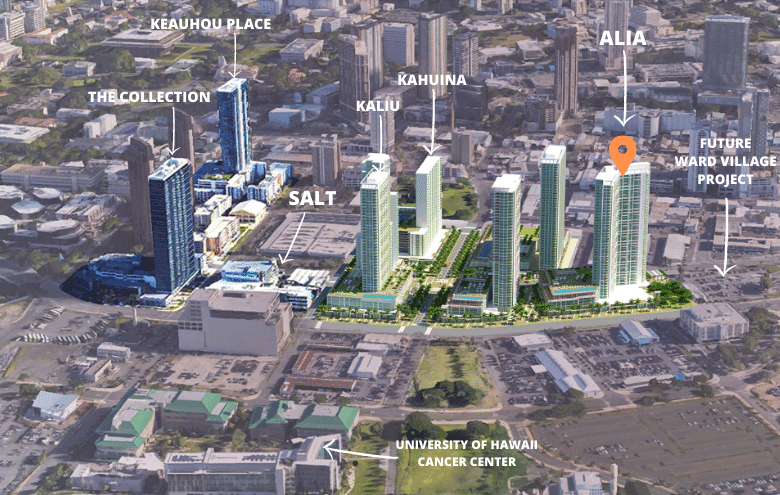 The Residences
The residences at Alia were thoughtfully designed by the architect, WRNS Studios with finishes curated by The Vanguard Theory. The appliances that will be found in the kitchen are Gaggenau which is a luxury German appliance brand. The refrigerator, freezer, oven, microwave, and induction cooktop, will all be from Gaggenau with the dishwasher coming from Bosch. You can expect Hansgrohe plumbing fixtures with Caesarstone countertops. The flooring in the kitchen and the living room will be a beautiful European white oak wide plank.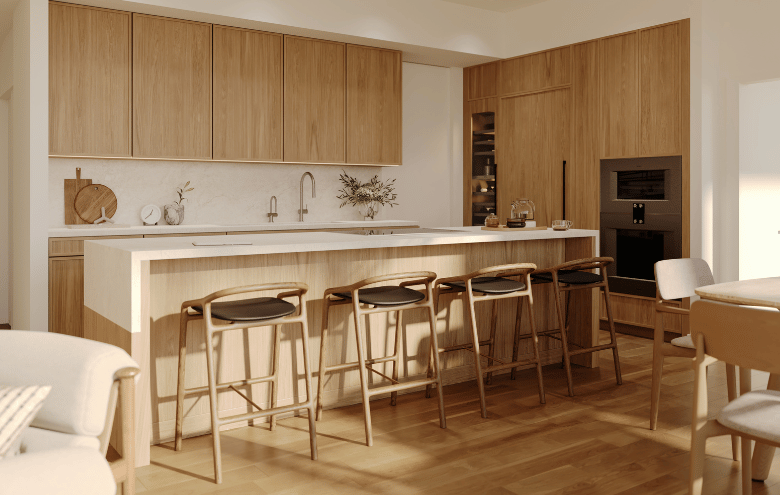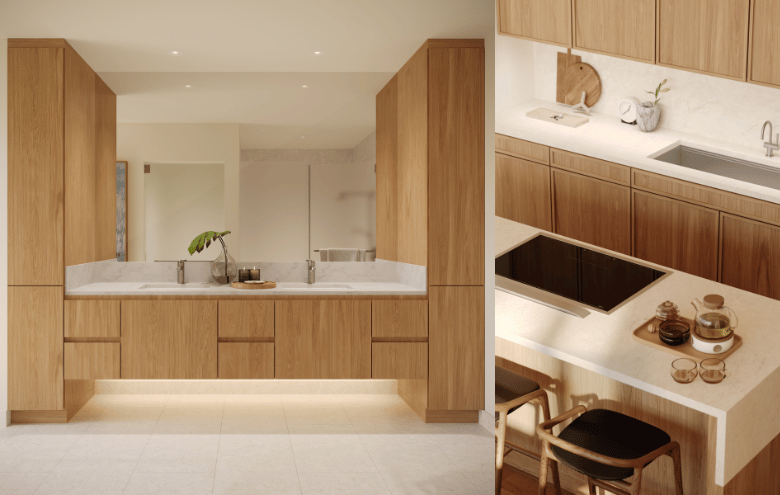 Almost every unit at Alia will come with a lanai. The lanai sizes will alternate in size as you go up the building with even floor units getting the much larger sized lanais. These alternating-sized lanais are what gives the building its unique facade. See the floor plans below.
Floor Plans
The floor plan at Alia is made up of (9) two-bedroom units and (4) one-bedroom units. The two-bedroom units mostly come with two bathrooms with some of the floor plans coming with an extra powder room off the entry. The same can be said for the one-bedroom floor plans.
A lot of the units in the building have free-standing kitchen islands which allow for full circulation around the kitchen which is a nice design element. There are no three-bedroom units at first sight but there are combo units that can be done to make a large three-bedroom unit.
Below is the floor plate for the building. As far as interior layouts go, there is a single floor plan, the reason there that there are two below is because the lanai sizes change from floor to floor. The left shows the even floor units in the building with the right side drawing showing the odd floor units. The size of the lanais alternate from big to small as you go up the building so if you're looking for a usable lanai to put a decent size tables and chairs on, definitely go with an even floor unit. If you only want a small space to keep clean and you're only really looking for a place for a chair for your morning coffee, the odd floor units should be just fine.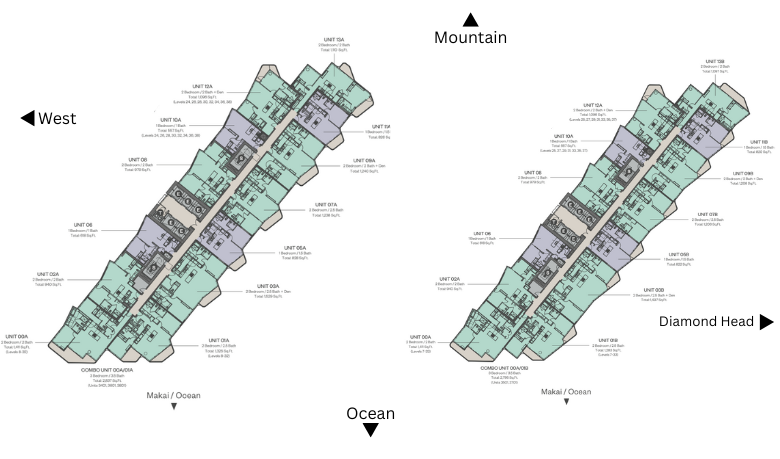 Alia Prices
With new condo projects the pricing is always subject to change. As demand ramps up and inventory moves, developers sometimes increase prices. Keep in mind pricing is always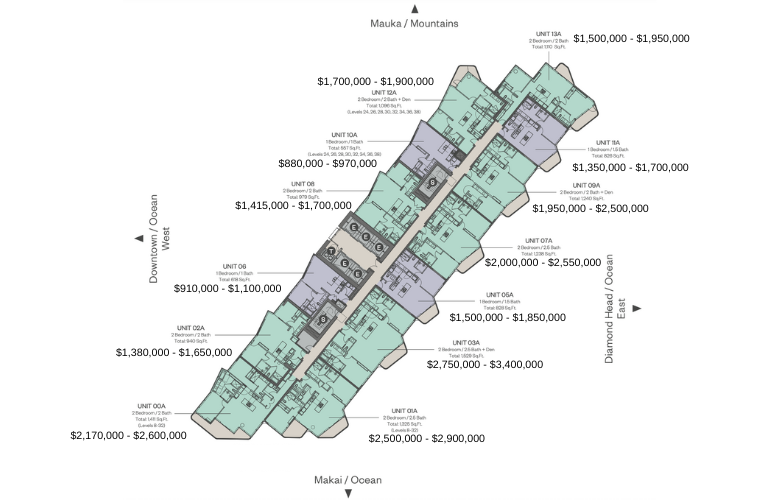 Where is Alia in the context of Ward Village? Is Alia located in Ward Village?
Alia is not located in Howard Hughes' master plan neighborhood called Ward Village. It is located on a parcel adjacent to Ward Village so residents will have access to everything that Ward Village has to offer while also being within close walking distance to SALT.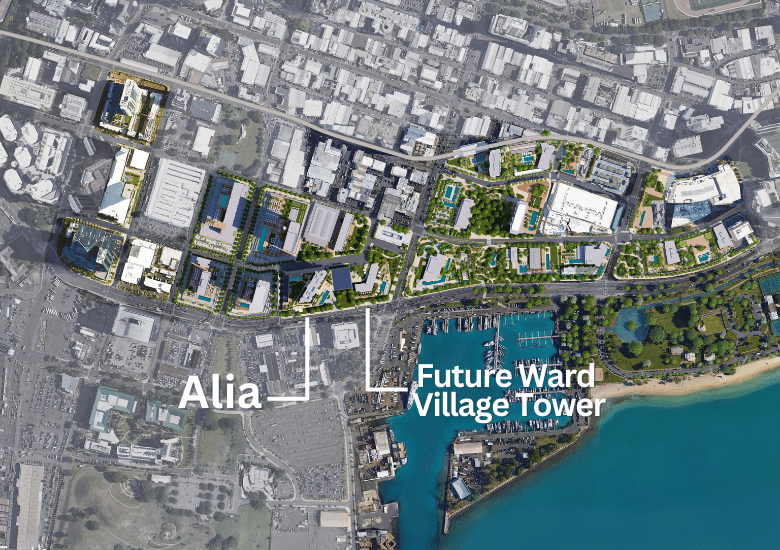 Affordable Housing units at Alia
There will be 40 reserved housing units in Alia. Based on preliminary plans submitted to HCDA all or a majority of these units will be located on a podium overlooking Koula St. The designated term for the reserve housing units will be just 2 years. This means that after 2 years of ownership, the unit can be sold at market rate. There is a shared equity component to consider as well.
Alia Condo Kaka'ako Interest Form