Ward Village, Block D (actual name TBD)
Block D is Howard Hughes' 13th planned residential tower in its 14-tower master-planned community. Block D and the adjacent tower on Block E will have similar design elements and according to Howard Hughes the two towers will be "an iconic pair of buildings along Ala Moana Blvd." The design features an L-shaped building to maximize Diamond Head and ocean views while maintaining the ocean-to-mountain building orientation required by city ordinances.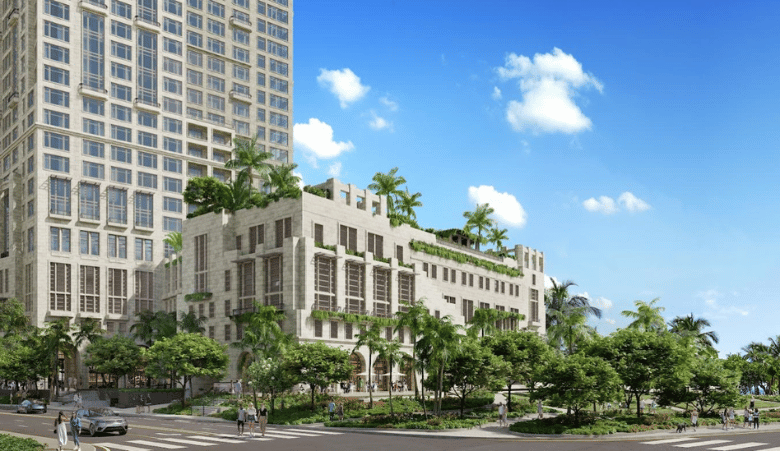 Developer: Howard Hughes Corporation
Architect: Robert A M Stearn
Landscape Architect: Vita, Planning and Landscape Architecture
Interior Design: Champalimaud Design
Maintenance Fee: TBD
The exterior facade and overall design aesthetic can be attributed to some of Honolulu's most beloved historic buildings. The use of precast facades provides a natural stone effect that we're not used to seeing in Ward Village. Typically it's a lot of glass and steel but with Block D & E we will see a lot of "natural stone" that is actually a precast material, NYC upper westside vibes, for sure. Below are views from Ala Moana Blvd.

Block D, By the Numbers
| | |
| --- | --- |
| Total units (242) | 35 stories |
| One-bedroom units (79) | Amenities on Level 6 |
| Two-bedroom units (98) | 15,122 sqft indoor amenities |
| Three-bedroom units (62) | 41,824 sqft outdoor amenities |
| Four-bedroom units (3) | 65,615 sqft total amenity space |
Location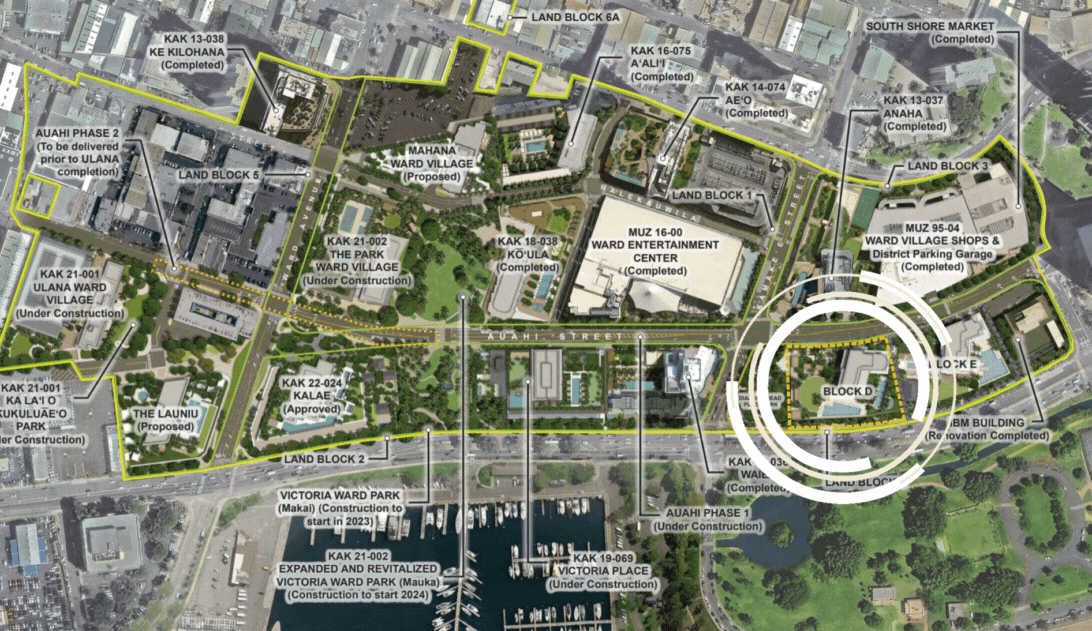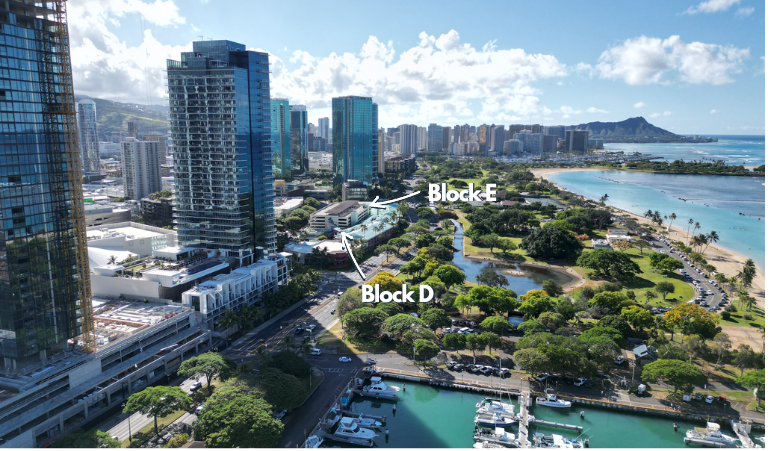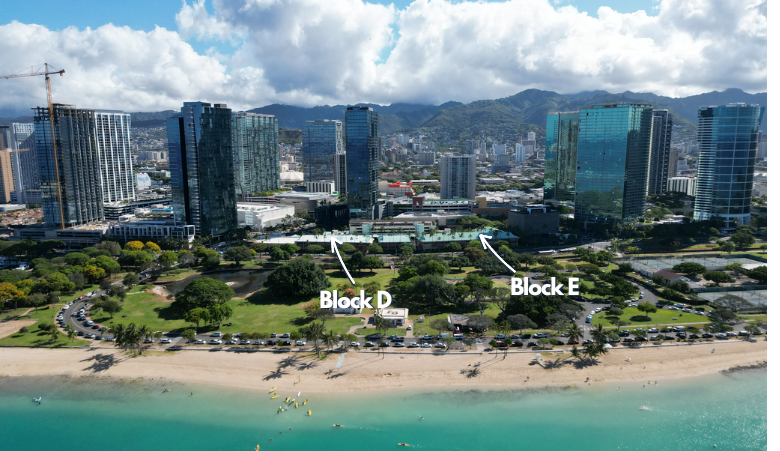 Design & Architecture
Blocks D & E are designed by world-famous Robert A M Stearn Architects (also known as RAMSA) out of New York City. RAMSA has designed some of the most iconic New York City residential buildings like 15 Central Park West on the Upper West Side and 30 Park Place in Tribeca. Completed in 2016, 30 Park Place stands 926 feet tall and is home to The Four Seasons Hotel and The Four Seasons Private Residences. Ward Village will be the home of RAMSA's first and only projects in Honolulu.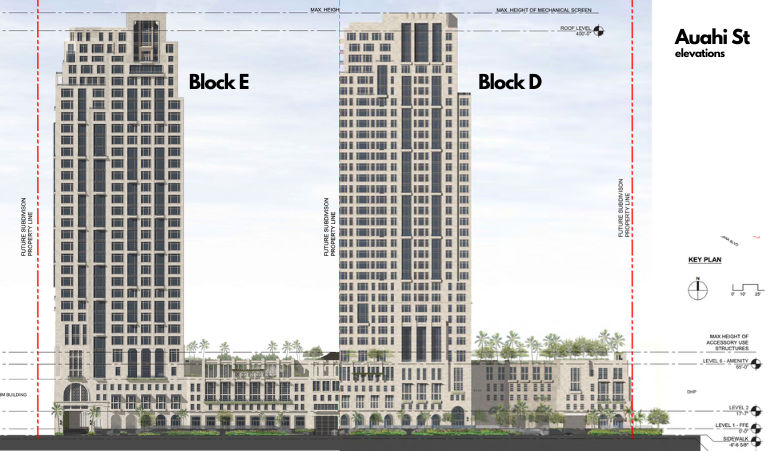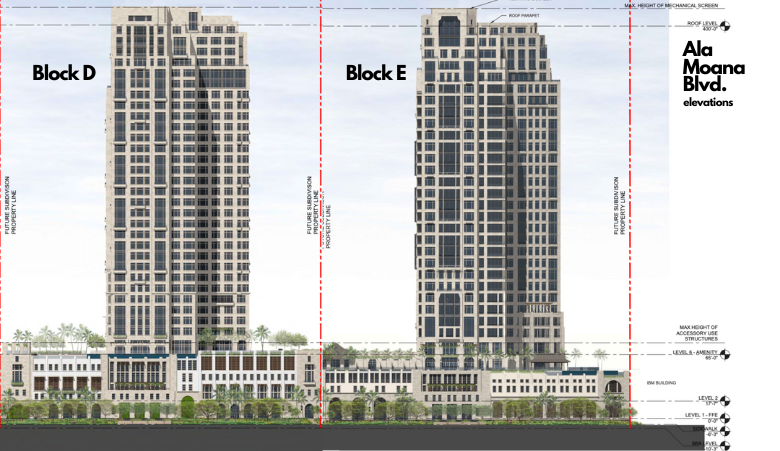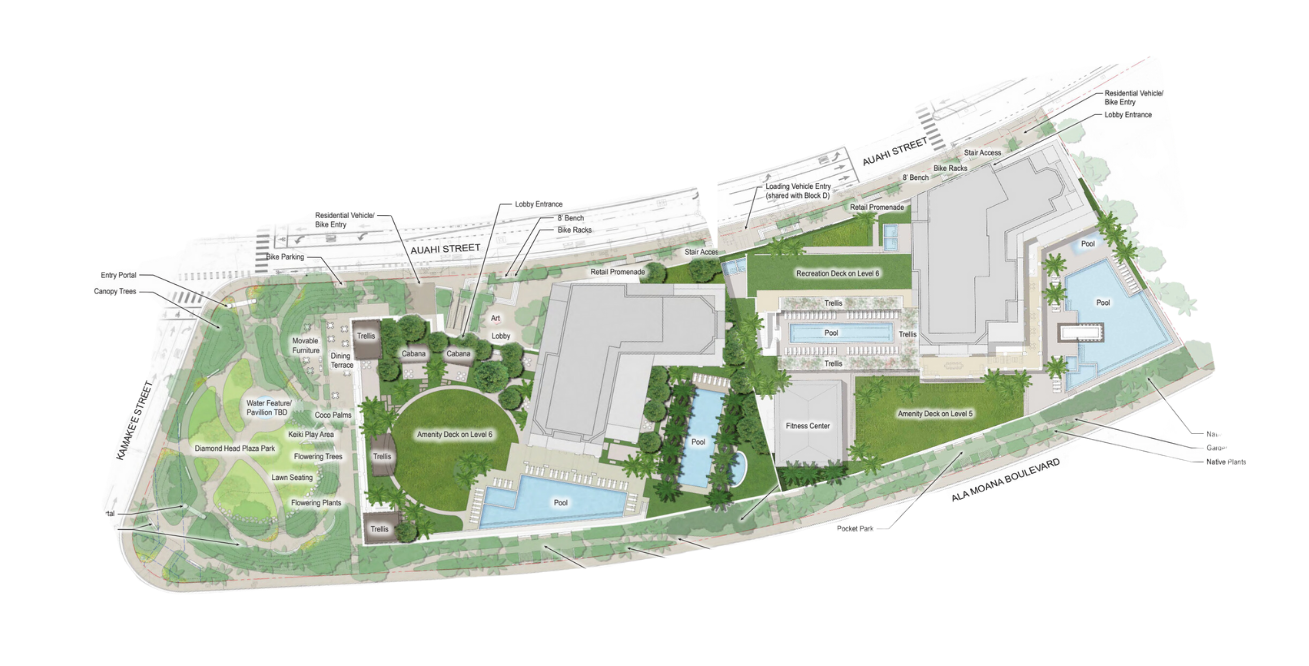 Amenity Space
There will be just over 65,000 sqft of recreation space available for residents of Block D. That includes just over 48,000 sqft of outdoor recreation space and approximately 17,000 sqft of indoor recreation space.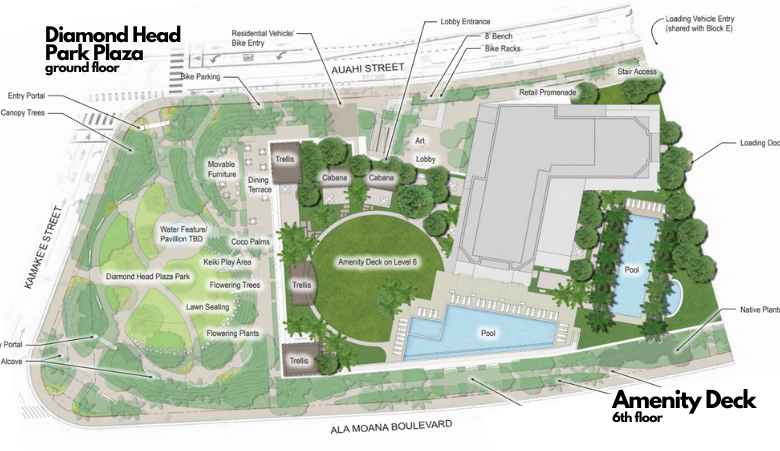 The amenity deck for the project is located on the 6th floor. Here you'll find two large pools, one is designed as a resort-style pool for lounging and the other is a lap pool. You'll find five separate BBQ areas spread out throughout the open amenity area. Everything is oriented around a central green space.
As we head indoors on the 6th floor, you'll find a spa, fitness area, Men's and Women's locker rooms, 4 guest suites, and a series of multi-purpose rooms for entertaining friends and family. Details about a lot of these amenities will be released as we get closer to the launch of sales.
The Residences
There will be a total of 242 residences in the building. A majority of the units in the building will not have lanais with the exception of the top four floors. The 32nd floor, which I'm assuming is going to be considered a penthouse level, will have the largest lanai at 1,328 sqft. This level, along with the 35th floor (the highest floor), will have the highest ceiling in the building with a floor-to-floor height of roughly 13 feet. Floors 34 and 35 have a floor-to-floor height of 11.21 feet with the remaining floors in the building having an average floor-to-floor height of 10.7 feet.
Floors 33, 34, and 35 look to be full-floor penthouse units. These units will be between 12,500 and 13,000 sqft in size with large lanais.
Block D Prices
Block D won't likely start sales for a year, if not longer. Howard Hughes announced two other projects in 2023 one of which is another first-row tower called The Launiu. I can't see sales starting on Block D and Block E until The Launiu and Mahana Ward Village (3rd row tower) both launch sales and sell through a majority of the inventory.
When we eventually get to sales for Block D and Block E, which I think will launch sales at the same time, the pricing will certainly be the most premium in the entire neighborhood. The units in these two towers will be much larger than other units in the neighborhood, on par with Waiea and Park Lane Ala Moana. My best guess is that prices will be upwards of $2,000 per square foot up to $2,500 per square foot which is similar to what we're seeing at Park Lane Ala Moana. That puts a 2,000 sqft unit in the $4M - $5M price range. Of course, I have no idea what Howard Hughes is thinking when it comes to pricing, this is just my best guess based on what other projects are selling in the area.
Blocks D & E Interest List