Ward Village, Block E (actual name TBD)
Block E will be Howard Hughes' last installment of towers in its 14-tower master plan neighborhood, Ward Village. Block E will be designed and completed in tandem with the adjacent Block D and represents towers 13 and 14 in the neighborhood. These two towers will be designed as a cohesive pair with similar design elements. Block E is Howard Hughes' most eastern parcel with unobstructed Diamond Head views and of course gorgeous Ala Moana Beach Park and Magic Island Views.
Of the two towers, Block E is definitely the more exclusive of the two, with just 148 residences in the building. Block E, when completed, will be building with the lowest unit count in all of Ward Village.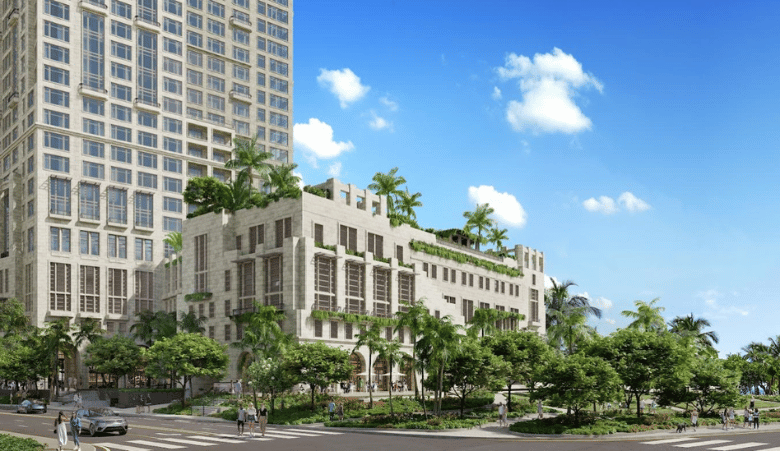 Developer: Howard Hughes Corporation
Architect: Robert A M Stearn
Landscape Architect: Vita, Planning and Landscape Architecture
Interior Design: Champalimaud Design
Maintenance Fee: TBD
Block E, By the Numbers
| | |
| --- | --- |
| Total units (148) | 33 stories |
| One-bedroom units (0) | Amenities on Levels 1, 5 & 6 |
| Two-bedroom units (92) | 3,115 sqft indoor amenities (level 1) |
| Three-bedroom units (48) | 3,993 sqft outdoor amenities (level 1) |
| Four-bedroom units (6) | 21,784 sqft indoor amenities (level 5) |
| Five-bedroom units (2) | 39,341 sqft indoor amenities (level 5) |
| (1) commercial space | 8,138 sqft indoor amenities (level 6) |
| 7,461 sqft commercial space | 4,706 sqft outdoor amenities (level 6) |
Location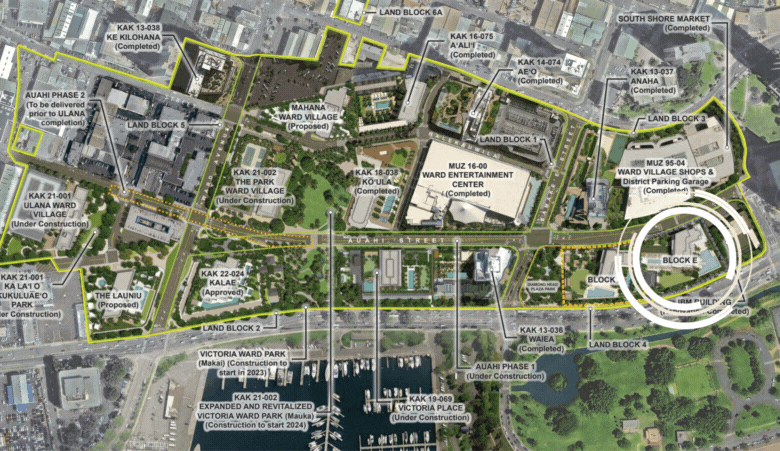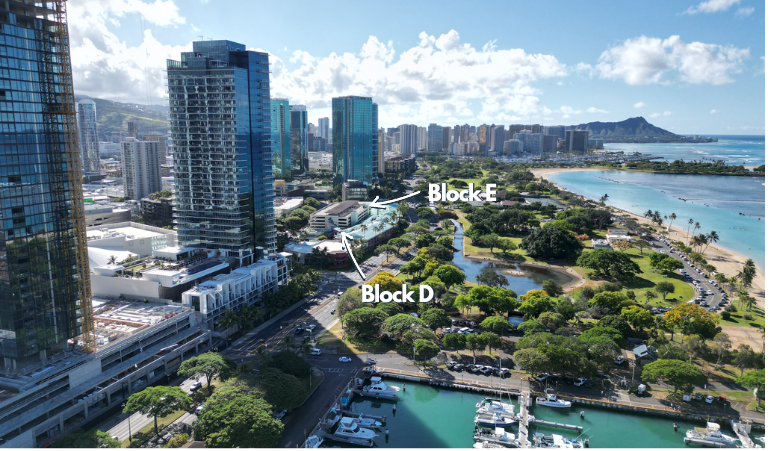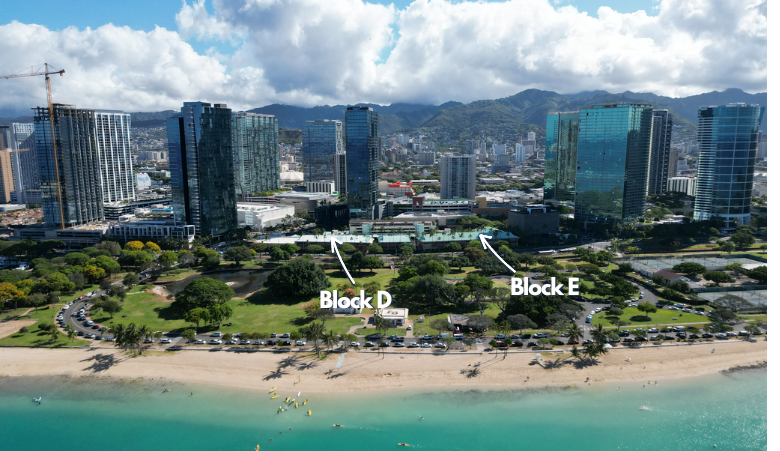 Design & Architecture
Blocks D & E are designed by the famous starchitect Robert A M Stern Architects (aka RAMSA) with interiors by Champalimaud Designs. RAMSA has designed some of New York City's most famous residential towers including 15 Central Park West and 30 Park Place. RAMSA and Champalimaud have worked together just once before on a 7-story multifamily project in 2020. Located in San Francisco, Crescent Nob Hill, is one of the most beautiful appointed condo projects in the Bay area.
Both towers will feature an L-shaped design to maximize ocean and Diamond Head views.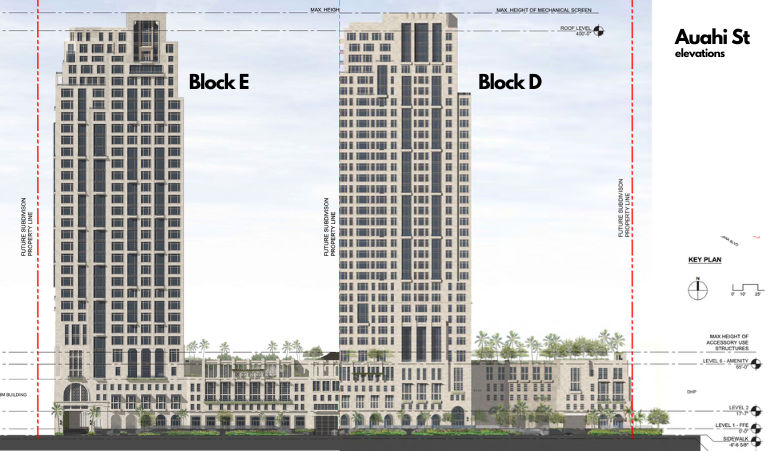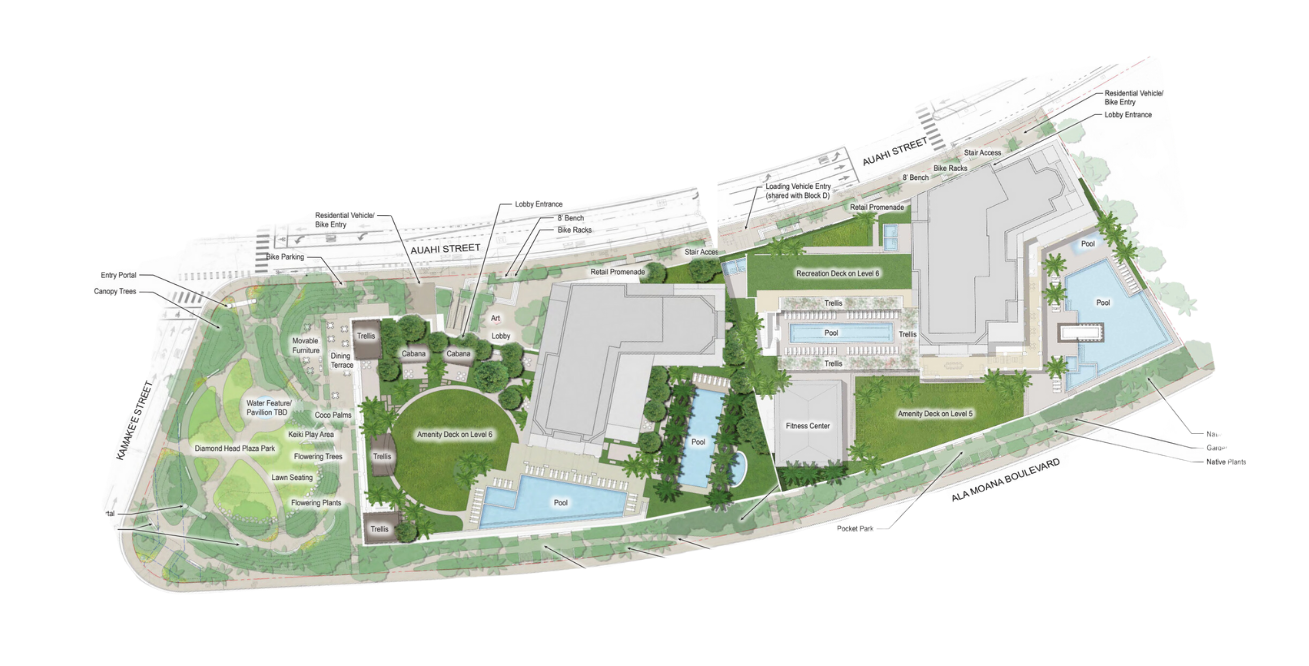 Amenity Space
Block E will feature over 81,000 sqft of recreation space spread out over three floors. A majority of the outdoor recreation space is located on the 5th floor where you'll find three pools (family pool, lap pool, and kid's pool), a large green space, and a detached fitness center. The amenities at Block E are definitely something very different from what we've seen in other Ward Village towers and might suggest a much higher level of service than any other building we've seen to date.
Have a look at the pool bar seen in the second architectural drawing below, I'm assuming it'll be a staffed pool bar and not a place where you can serve yourself. The other area of the amenity deck that would suggest a higher level of service and staffing is the spa area. It's difficult to tell exactly how large that area is but at first glance, it takes up almost half of the entire interior area. You'll also notice a generously sized Kid's club and dining area with a fairly decent sized back of house area. I have a feeling this is a dining room with an attached catering kitchen.
As we head into the lounge area you'll see this open staircase, which I can only imagine is an architectural feature of this room, that leads us up into a lobby bar. That lobby bar then leads out to a very large dining area, much larger than any other "dining area" we've seen in a Honolulu condo to date. This large dining area is adjacent to a very large back-of-house area which might suggest a restaurant. It's definitely too early to tell but I can't see a restaurant being a sustainable amenity in a condo with so few residents.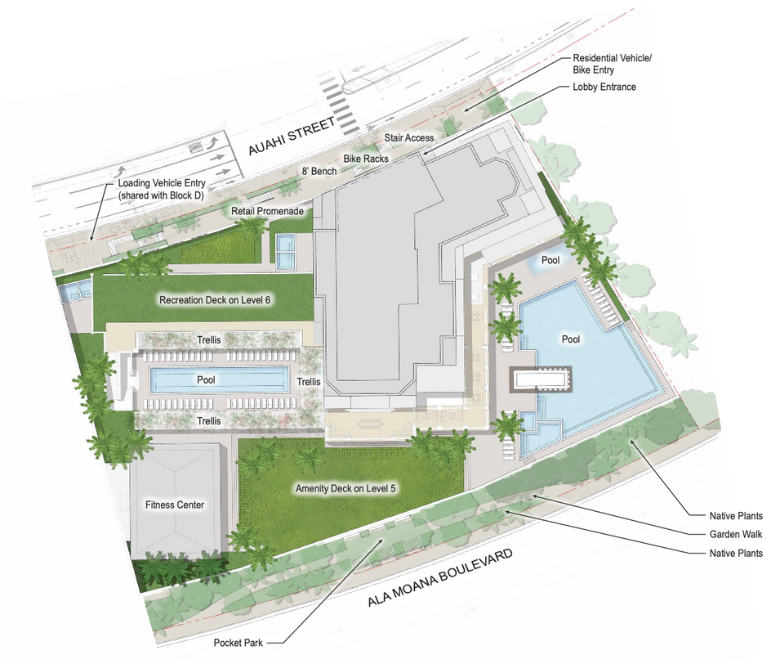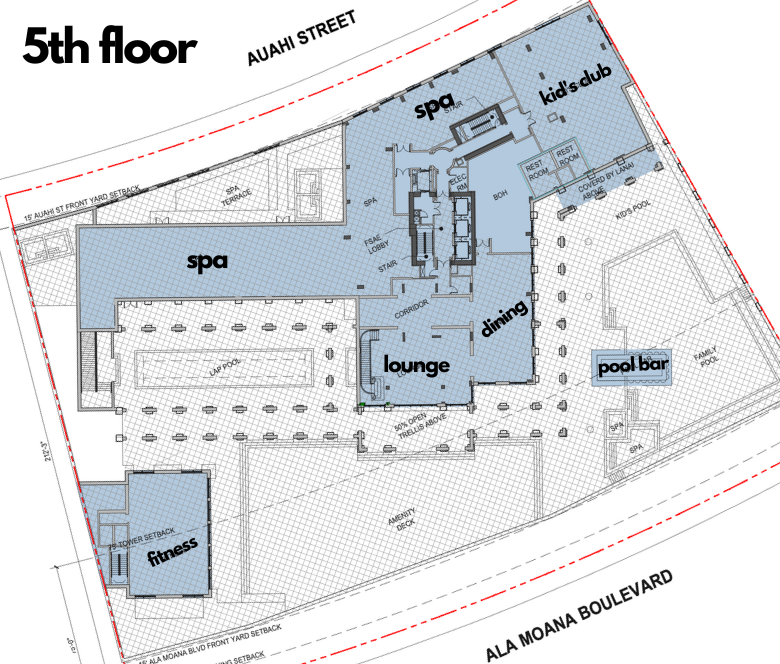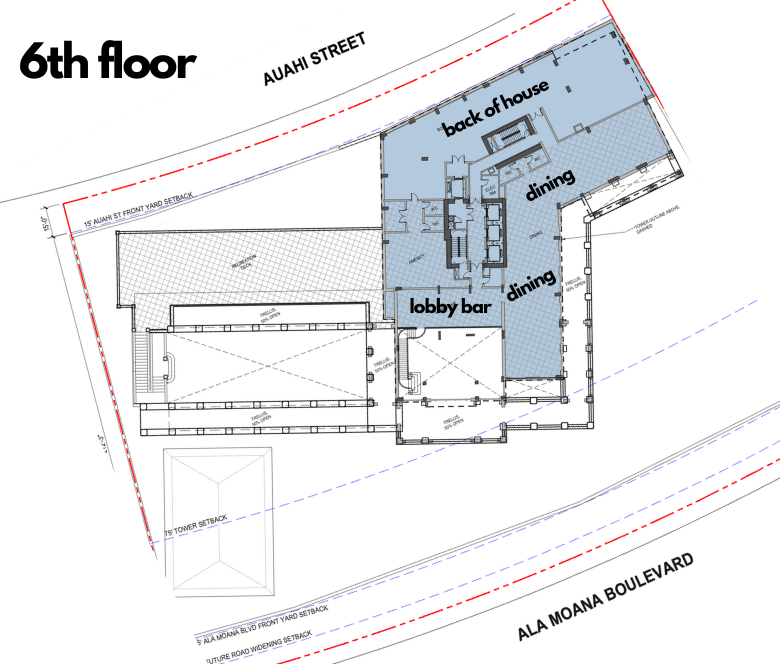 The Residences
There will be a total of 148 residential units in Block E. There will be no studio or one-bedroom units available in the building. There will be a mix of 92 two-bedroom units, 48 three-bedroom units, 6 four-bedroom units, and 2 five-bedroom units. Floors 7 - 28 will have six units per floor with the higher floors varying from 2 - 4 units per floor. If you're dreaming about sitting on your lanai in the evening to watch the sunset, you'll have to consider one of the direct ocean-facing units. There are several units on the backside of the building that will have lanais but that changes as you move up the building.
Block D & E Interest List