The Collection Honolulu
600 Ala Moana blvd.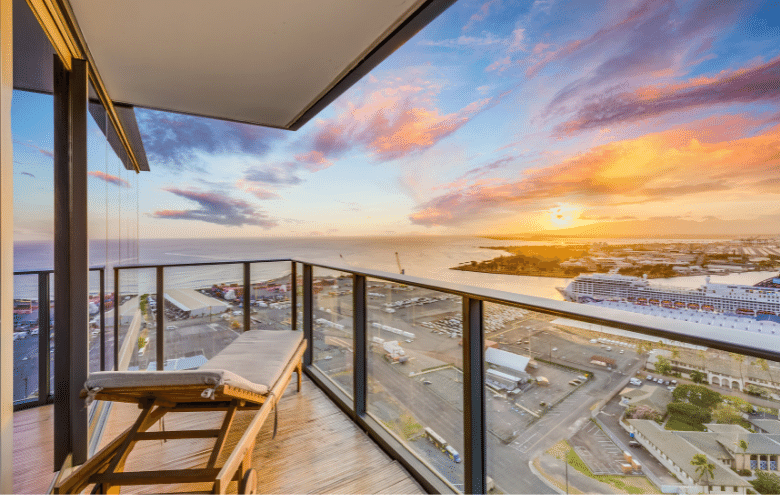 The Collection Honolulu was developed by Alexander & Baldwin who also developed a similar project in Kakaako like Waihonua. The Collection is a very unique project because it offers three different types of products for buyers to choose from. You have the main high-rise tower which is going to be one-, two-, and three-bedroom units, a mid-rise section that will be mostly studios with a few two-bedroom floor plans, and townhouses which are very large with an entrance right off the street and attached two car private garage. Like the name suggests, The Collection is just that. A collection of housing options to fit the needs residents looking for the urban live, walk, play lifestyle.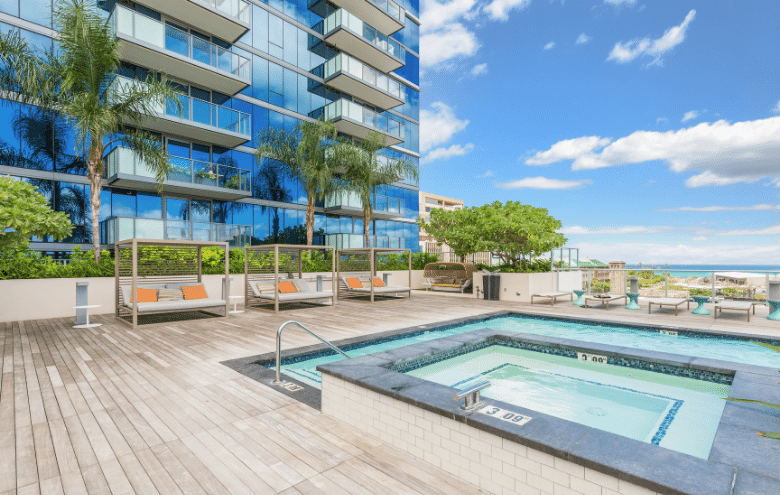 The mid-rise studios offer a great price point for first-time home buyers looking to get into the neighborhood. As an owner in the mid-rise you do not get access to the amenities in the tower. You have your own set of amenities which include a small fitness area and party room. The townhomes are close to 3,000 square feet and span four stories with an attached 2 car garage on the ground floor. This is an excellent option for those looking for a lot space in the heart of Kakaako. There are no amenities that come with the townhomes.
Jump to: Video Tour | The Amenities | Floor Plans
Here are some similar projects to The Collection that are launching in 2023: Kaliu, Alia, Kuilei Place (this one isn't in Kakaako)
Tower Video
Townhouse Video
Studio Loft Video
The Amenities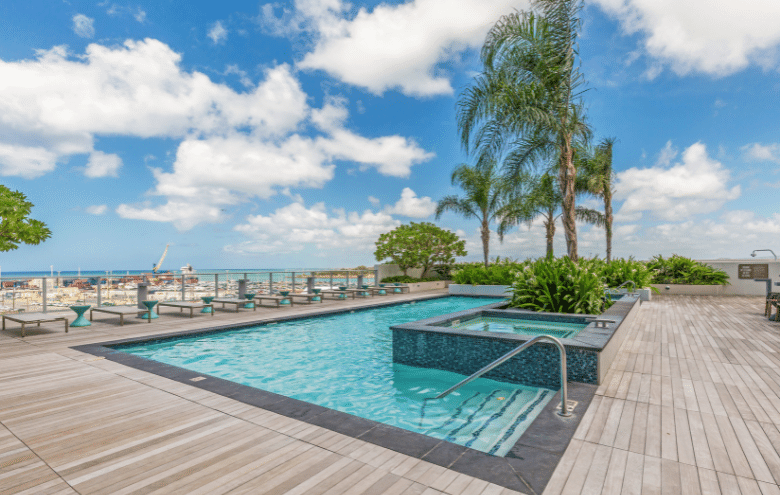 The amenity deck at The Collection is one of my personal favorites in all of Kakaako. Although it isn't a huge amenity deck compared to other projects in Kakaako, it is one of the most functional. You have three BBQ cabanas that are fully covered and very private for family and friends to get together. The pool looks out over Honolulu Harbor with two jacuzzis to choose from. The landscaping makes the deck space feel like an oasis in the middle of the city. There are three pool side cabanas along with ample lounge chairs perfect for getting your tan on. Along with bike and surfboard storage there is a recreation room with a full size kitchen and flat screen TV for sports or movies.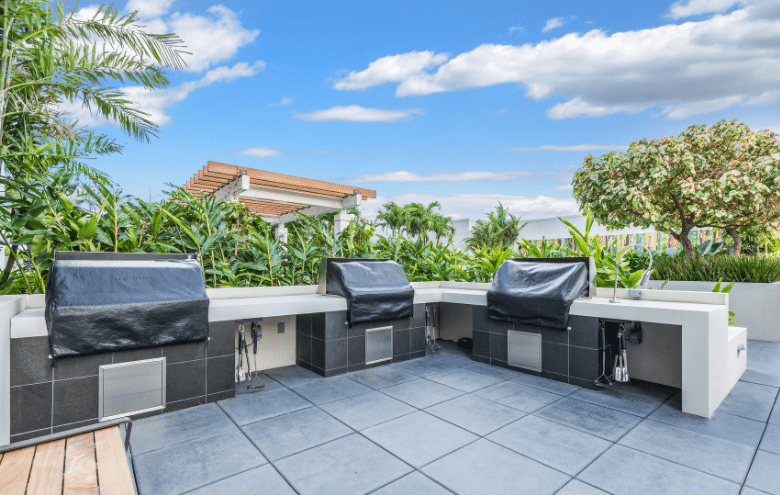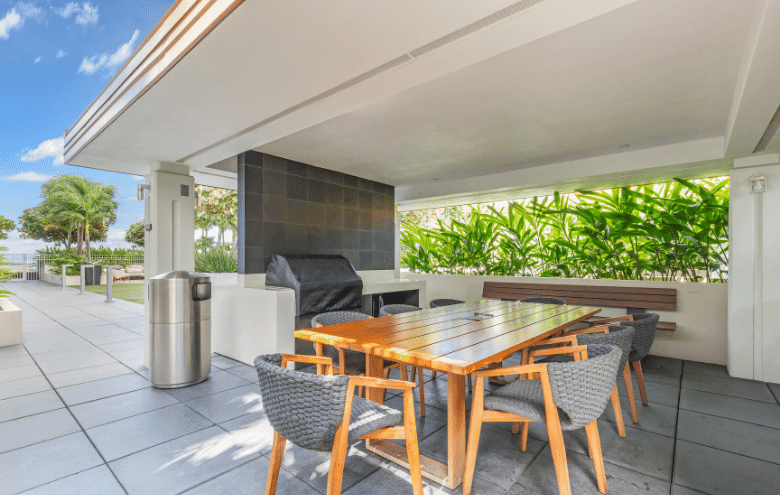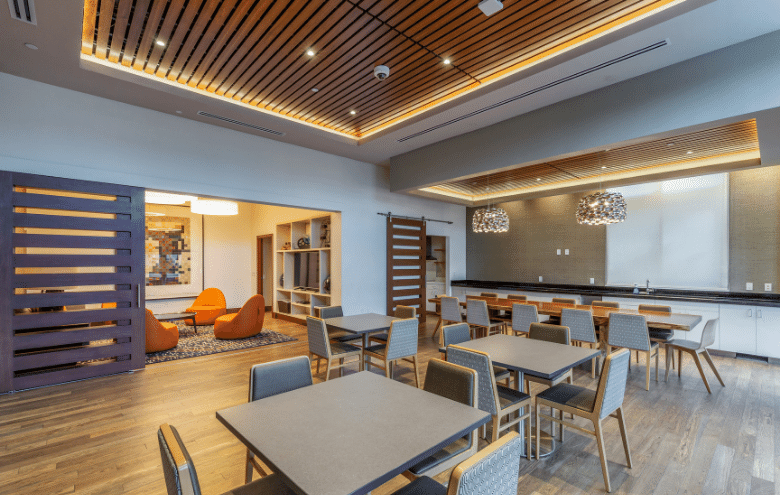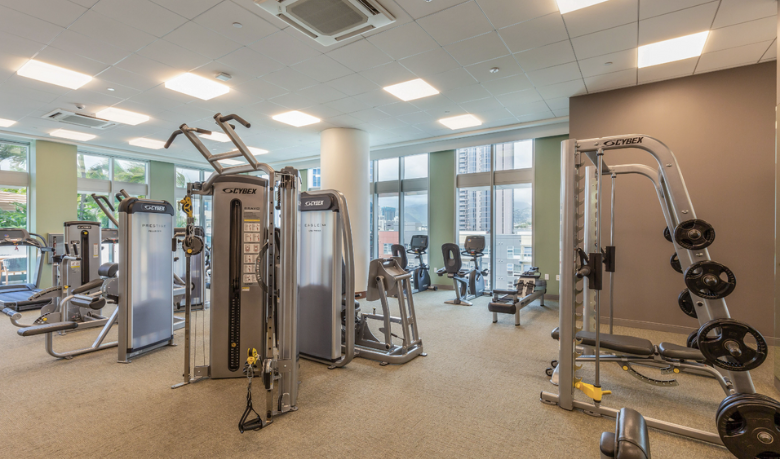 Floor Plans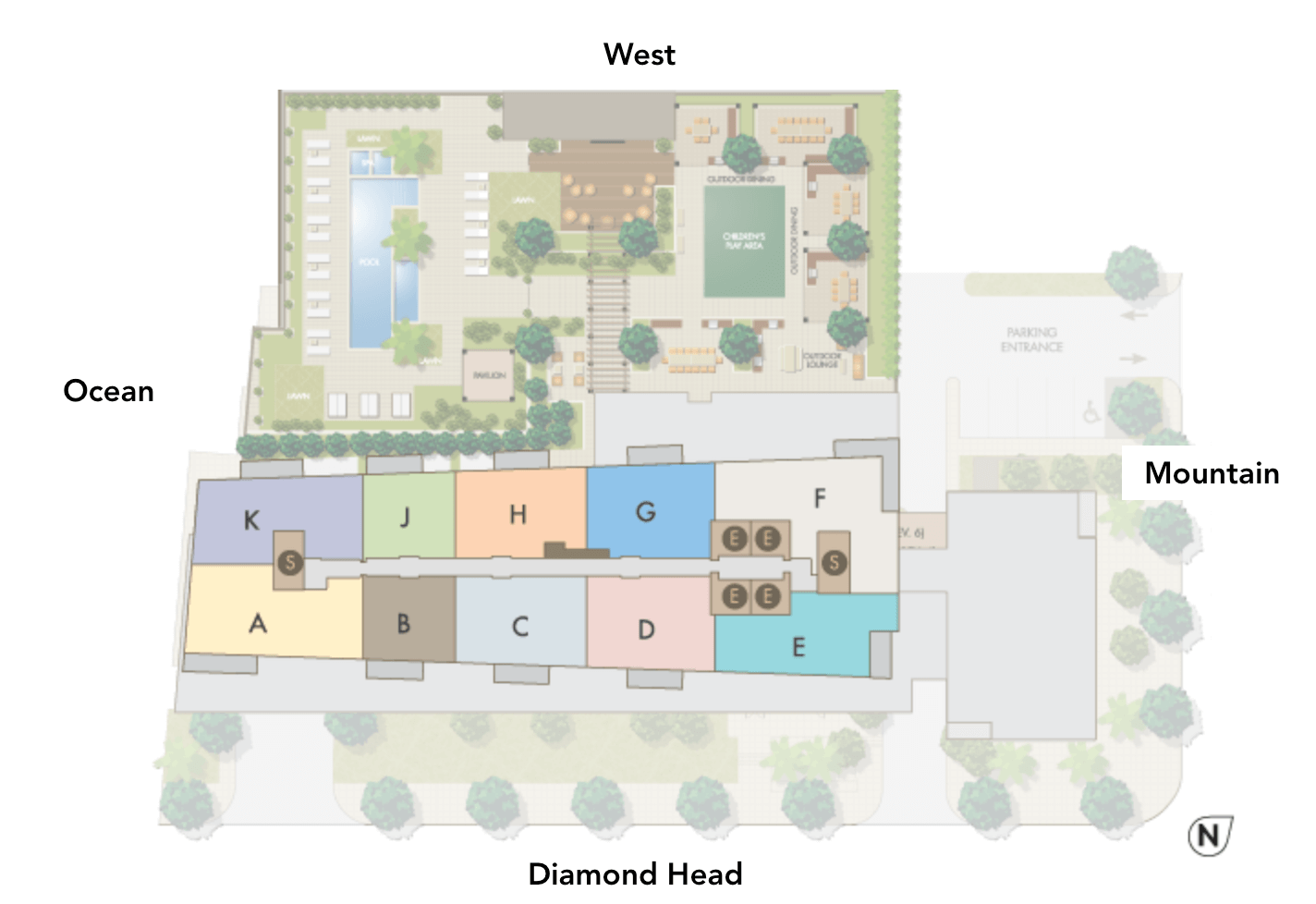 The Neighborhood
The Collection Honolulu sits on the west end of Kakaako a few minutes walk from the future Civic Rail Station. Across the street from the project is SALT, a 85,000 square feet city block with retail, restaurants, boutiques, and curators. SALT is a mix of newly renovated buildings and brand new construction which offers a great mix old and new architecture. Kakaako waterfront park is nearby which is perfect for picnics and sunset walks.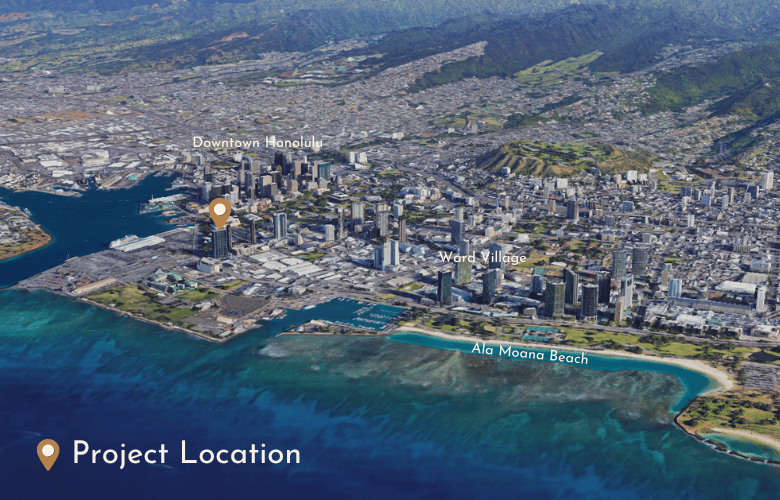 Features of the Residences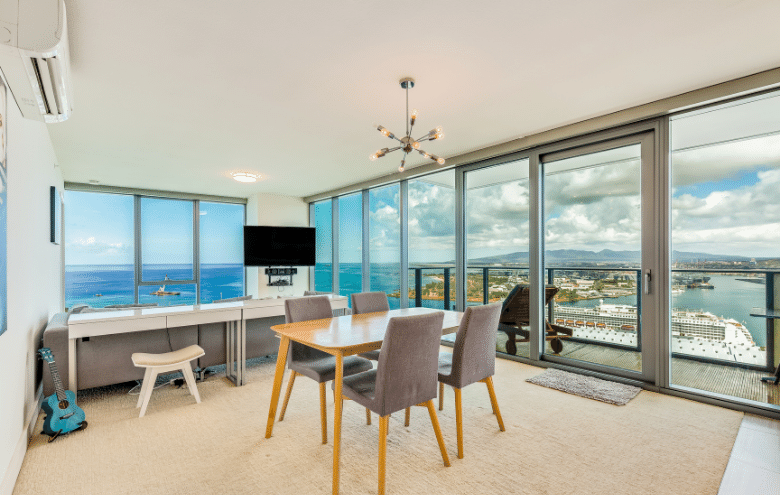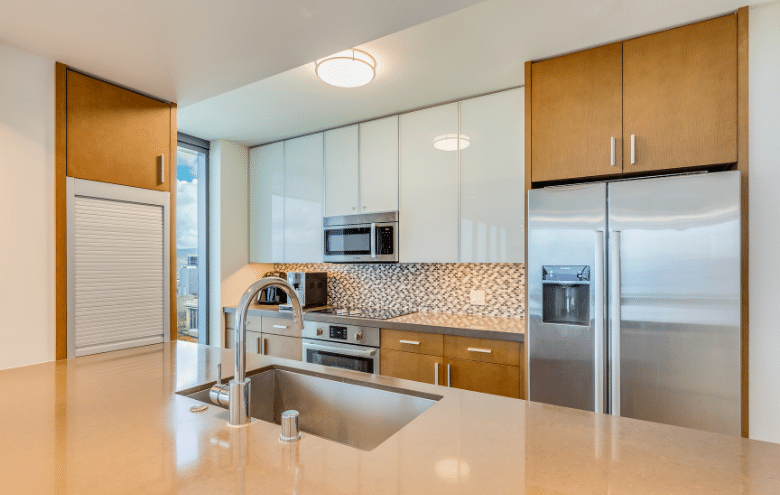 The residences in the tower all feature contemporary kitchens with Kohler stainless-steal deep rectangular sinks, Grohe contemporary faucets, built-in microwave ovens, and low-maintenance quartz countertops. Floor-to-ceiling windows let in a ton of natural light throughout the day and allow residents to take in the amazing views. Low-e glass is a coating on the floor-to-ceiling glass that helps reflect heat from the sun entering the unit, this will help keep your unit cool which translates into lower energy costs.
What are The Collection Honolulu
Maintenance Fees and what do they include?
The Collection Honolulu Maintenance fees are pretty standard for a building of its age and the level of services and amenities it offers. As of July 2022, the price per square foot maintenance fee is $0.94. Please keep in mind that these fees are assessed on the interior living square footage only, lanai square footage is not included in the calculation. The average size of a two-bedroom two-bath unit in the building is 900 sqft putting the estimated maintenance fee at around $846 a month.
That might seem like a pretty hefty price to pay every month, but the amenities at The Collection are pretty awesome. Starting with the Gym. The Gym is a very good size and it comes with an adjacent multi-purpose workout area. You can do online classes here (from your phone) ride some of the bikes, or do your own personal dance or workout routine. Think of it as just an open empty space where you can make noise and jump around without disturbing your neighbors. The gym has modern equipment and weights so the need for a gym membership isn't necessary.
The pool is really great and can be found empty on most weekdays (of course, when you're suppose to be at work). There is bike storage, surfboard storage, three BBQ cabanas, with indoor recreation room with large screen TV for larger get togethers, two jacuzzis, and a doggy park.
I think where The Collection really stands out and where the maintenance fees really make a difference is with the staff and security in the building. I personally used to live in this building and can share first hand how great and friendly the front desk staff are. You might not value this in a condominium, but you literally see these people every day. They hold your amazon packages for you when you're not home, they'll book you the BBQ cabana, they'll reserve the recreation room for you or they'll just simply greet you with a smile when you walk in the front door!
The Collection Honolulu Market Report
In our market report for The Collection Honolulu we show every active, in-escrow and sold unit in the building for the last 6 months. This is a really helpful tool if you're thinking about buying or selling in the building.
The Collection Honolulu For Rent
If you're looking for a rental at The Collection Honolulu, you've come to the right place. I personally used to rent at The Collection before I bought my home so I know what it's like first-hand and it's great. To see a full list of all active rentals in the building click the link below.
The Collection Honolulu Rentals
Additional Information
MAINTENANCE FEE
$0.94/sqft (as of July 2022)
PETS ALLOWED
Dogs (2)(no weight limit)
SHOPPING NEARBY
Whole Foods Market, H Mart, Down to Earth
Active Listings in The Collection
September 25, 2023
$1,173.69
Avg. $ / Sq.Ft.