Ililani Condo
Ililani is a mixed-use project offering approximately 328 affordable and market rate housing units. The 42 story tower will have a mix of retail space on the ground floor similar to other condo projects in the Kakaako neighborhood. The project will be located within a few minutes of the Civic Rail Station on Keawe street near the corner of Keawe and Queen street. The project will feature an eight story parking structure with an amenity deck on the 9th floor.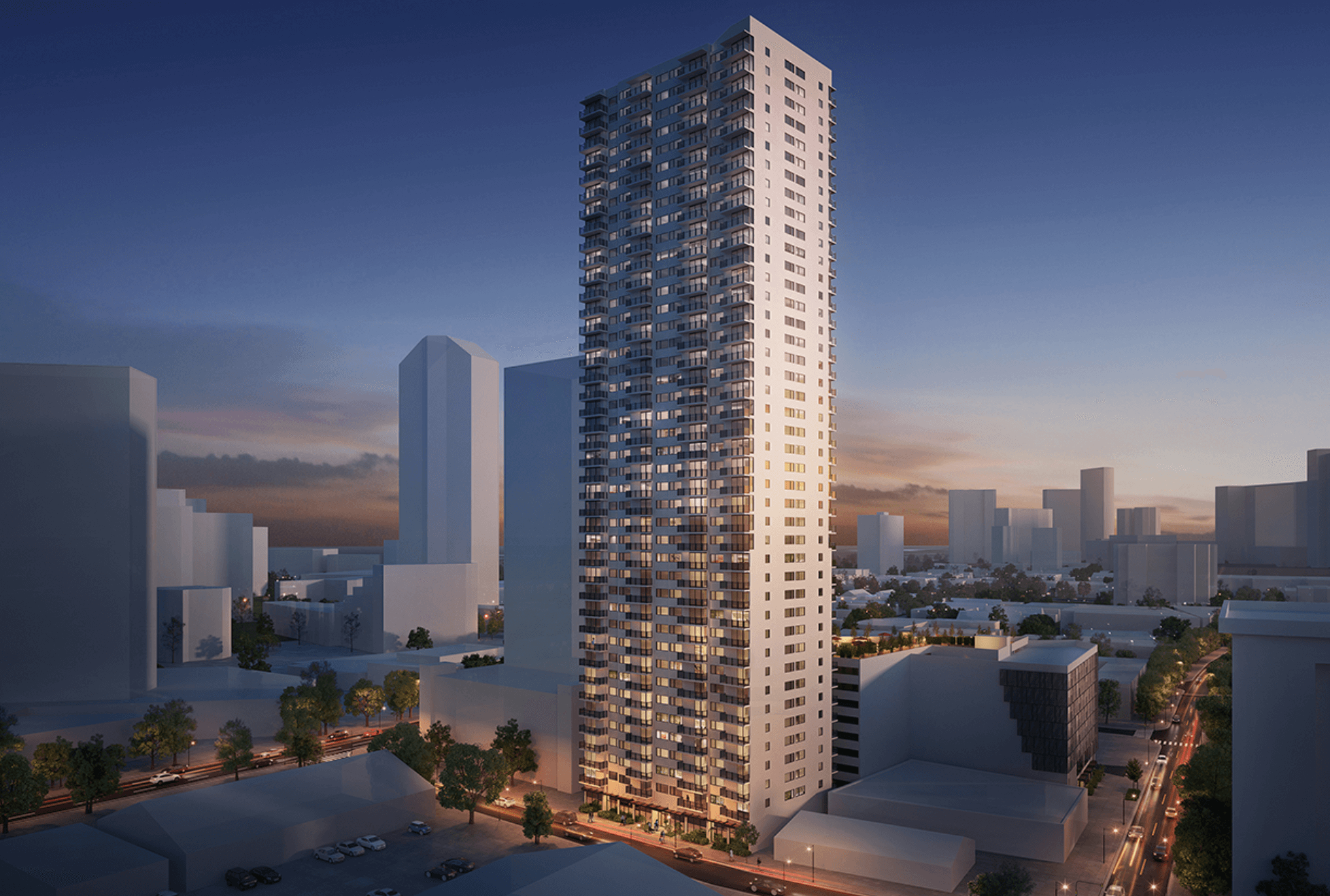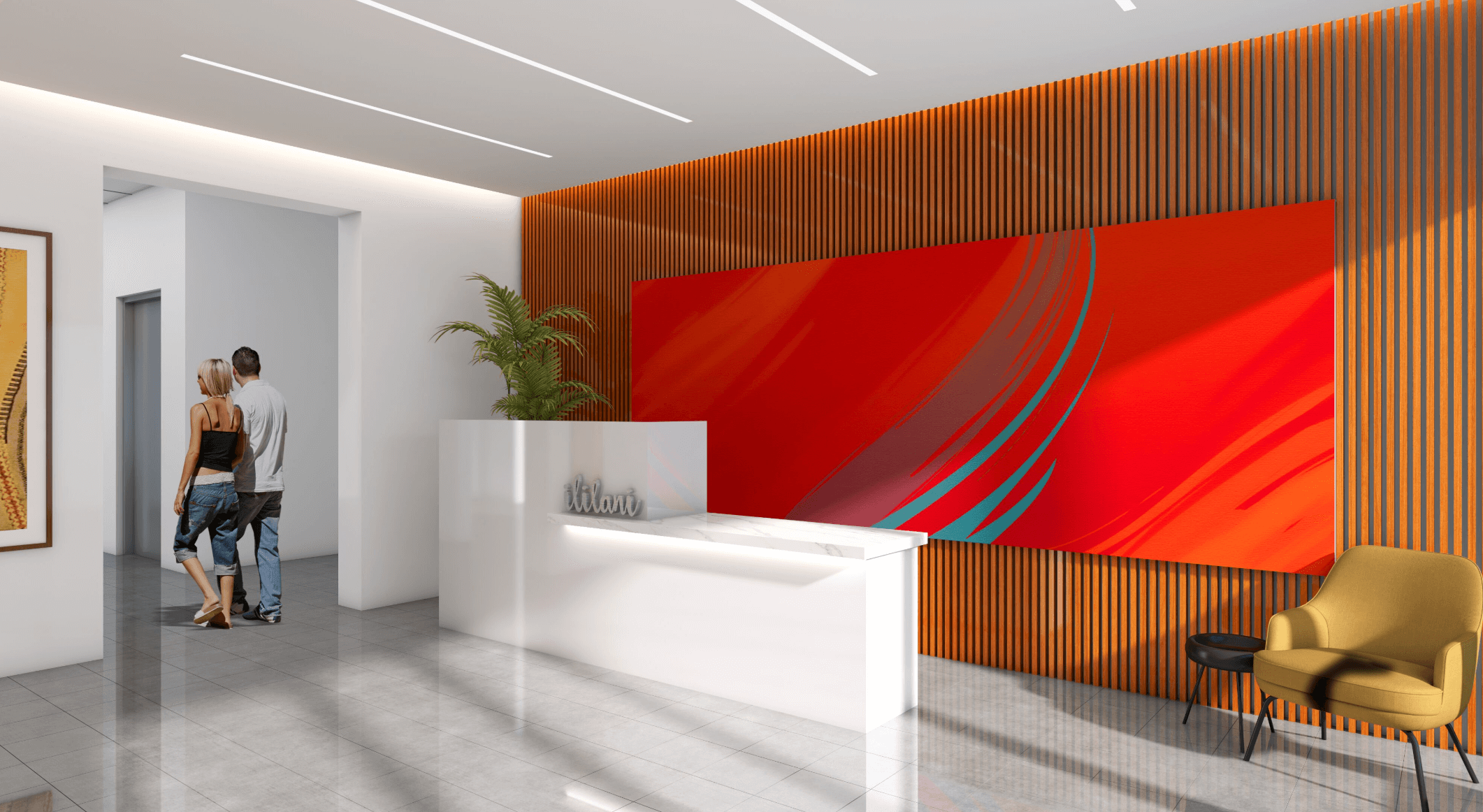 Quick Look: Ililani Condo
Neighborhood? West Kakaako
Walkability? 7 minute walk to SALT
How many market units? 163
How many affordable housing units? 165
What type of units? One-Bed (affordable) Two-bed (market)
Similar projects? Keeaumoku Towers
Ililani will fall under the the HHFDC affordable housing guidelines and not the HCDA reserved housing guidelines like the majority of projects in Kakaako. Specifics about eligibility requirements and qualifications have not yet been released.
Of the 328 units for sale in the building, 165 will be affordable housing with the remaining 163 units to be sold at market rate. This hasn't been confirmed, but based on the permit application submitted by the developer there will be eight units per floor with
Want to read up on some FAQs for the affordable housing program? Check out our Affordable Housing FAQs.
Kakaako.com's Take:
Ililani will be built along the proposed railway transit route almost adjacent to the proposed Civic Rail Station. The Railway will provide you amazing accessibility to other stops on the railway including Ala Moana Center and The Honolulu International Airport which is a huge positive. The negative effects of being located so close to rail is the noise especially because it's an above ground railway. Measures are being taken to mitigate the noise levels in residential areas but you can still expect roughly 75 decibels of noise which is the equivalent of standing next to a vacuum cleaner. The Rail is scheduled to run from 4am to midnight and may pass up to 400 times per day. If you're sensitive to noise I would suggest looking at units on the Mauka side of the building.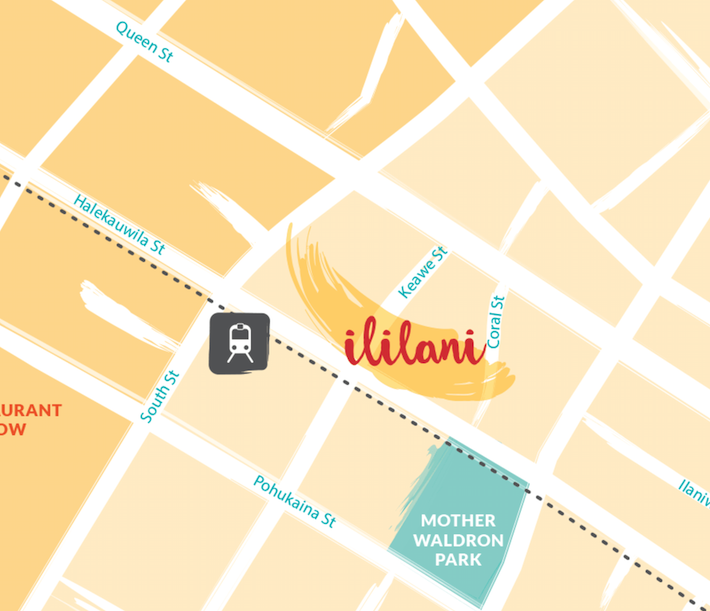 Market Housing
The pricing at Ililani initially came out back in late 2019 and buyers didn't respond well. The developer just recently revised their pricing and all of a sudden Ililani is looking like a great buy in 2020. The darker yellow represents units with two parking stalls. That includes both side by side parking and tandem parking. The lighter yellow which are all on lower floors come with one parking stall. I think this pricing albeit with one parking stall is actually really good value for Kakaako in 2020. Buyers have been spoiled with the luxury of two parking stalls and many of the new projects popping up, even in the luxury sector, have just one stall for two-bedroom units. In Hawaii we are so dependent on our vehicles so I understand the need for two stalls. BUT if you can get away with riding your bike or perhaps walking to work, getting a one parking unit represents great value.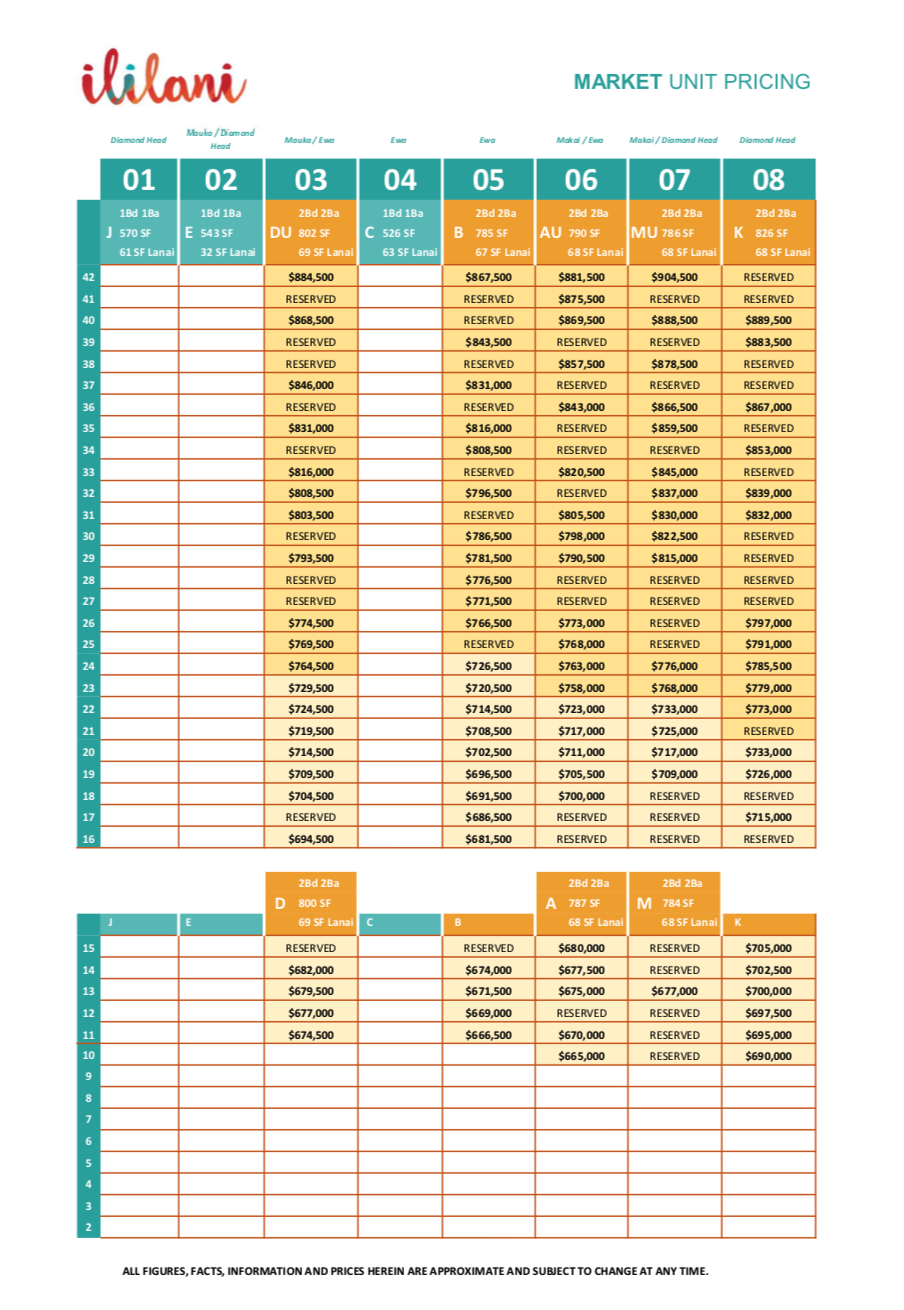 September 6, 2019, Update: The market unit sales have officially begun. For a limited time the sales will be designated for a "Qualified Resident" who satisfies the conditions below:
A "QUALIFIED RESIDENT" IS A PERSON WHO SATISFIES ALL OF THE FOLLOWING REQUIREMENTS:
(1) Is a citizen of the United States or a resident alien;
(2) Is at least eighteen years of age;
(3) Is domiciled in the State of Hawai`i;
(4) Shall physically reside in the unit to be purchased; and
(5) Has a gross income sufficient to qualify for the loan to finance the purchase
If you satisfy the above requirements are interested in entering the market unit lottery you must fill out the required affidavits, documents and procure a pre-qualification letter from an Ililani lender. These documents must be filled out and submitted in person by October 5, 2019. The lottery will be held at the sales gallery on October 18, 2019.
Affordable Housing
If you're specifically looking at the affordable housing units please read carefully. The Applications are available starting today and are due on August 24 2019. It is very important that you get your applications submitted correctly by this date, if there are any issues with your application you will not have the opportunity to make changes and you will not be eiligible for the lottery. If you've signed up on our interest list and you've indicated you're working with an agent this is a great time to reach out to them. Your agent is an asset and should guide you through this process.
If you've been speaking with either myself, Will, or Alisa about a unit at Iliani please reach out to either one of us to schedule a time to view the sales gallery and pick up an application. Check floor plans below to see which units are affordable vs market.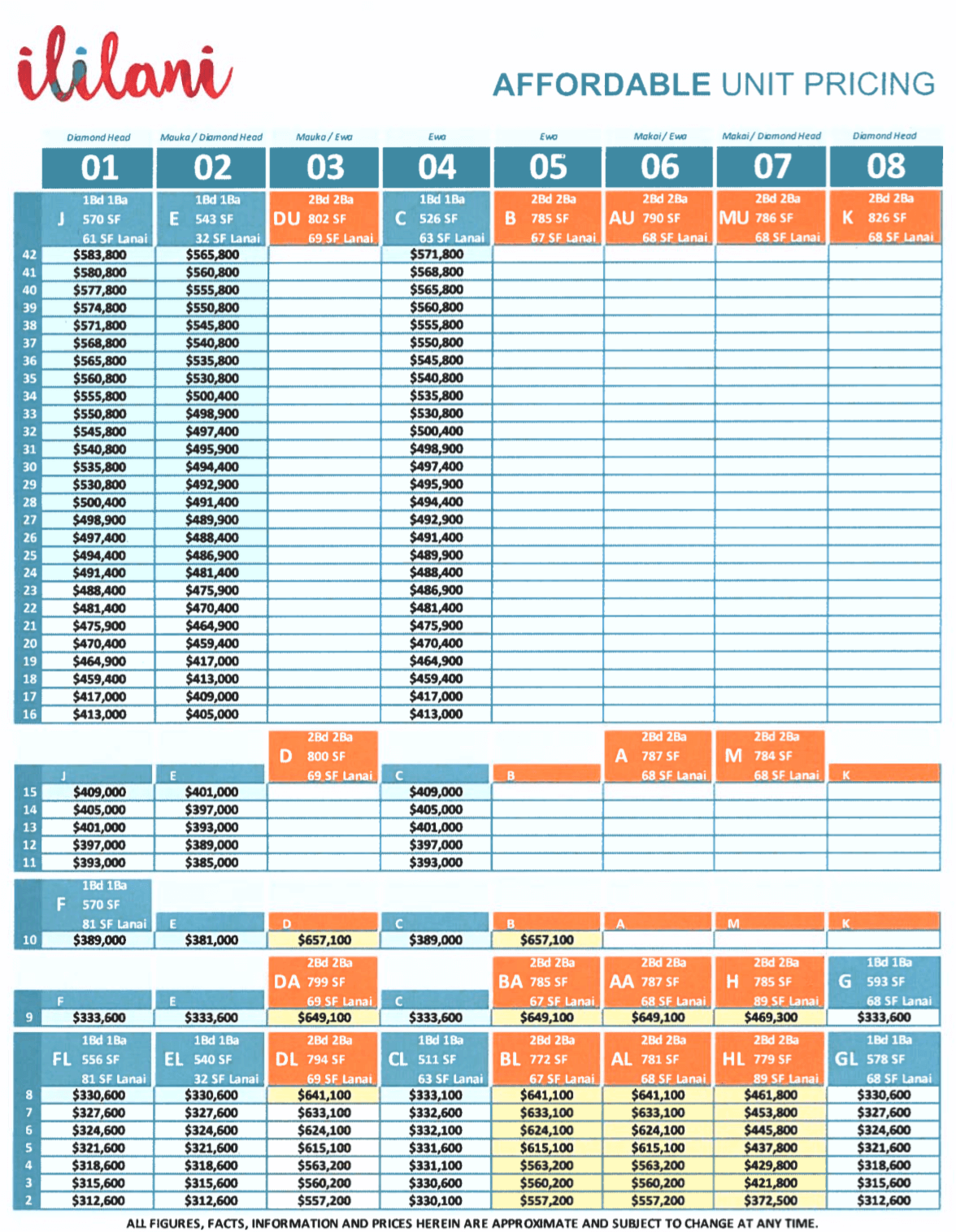 The Amenities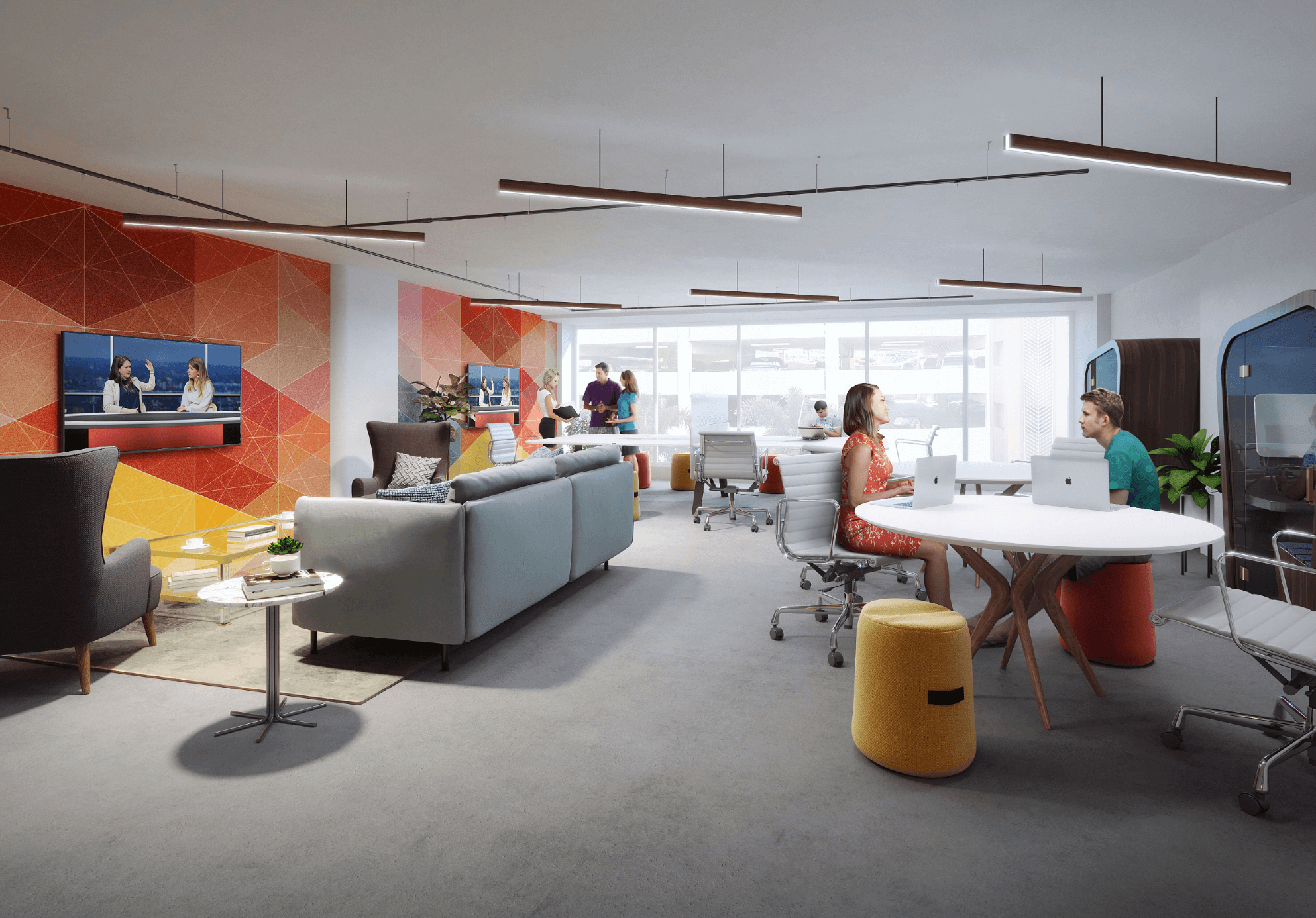 One of the main selling points of Ililani, besides the great location, is the relatively affordable maintenance fees. At $0.58 per square foot, Ililani's maintenance fees come in well below the surrounding buildings of Keauhou Place and The Collection. Of course, with low maintenance fees comes less amenities so if you're looking for a huge pool and amenity deck for getting your tan on this might not be a good option for you. However you will have a small dipping pool for getting your feet (and maybe some of your body) wet on those hot summer days. You'll also have access to an e-lounge which will be a co-working space for residents, a multi-purpose room perfect for gatherings or group workouts, and lots of storage for bikes and surfboards.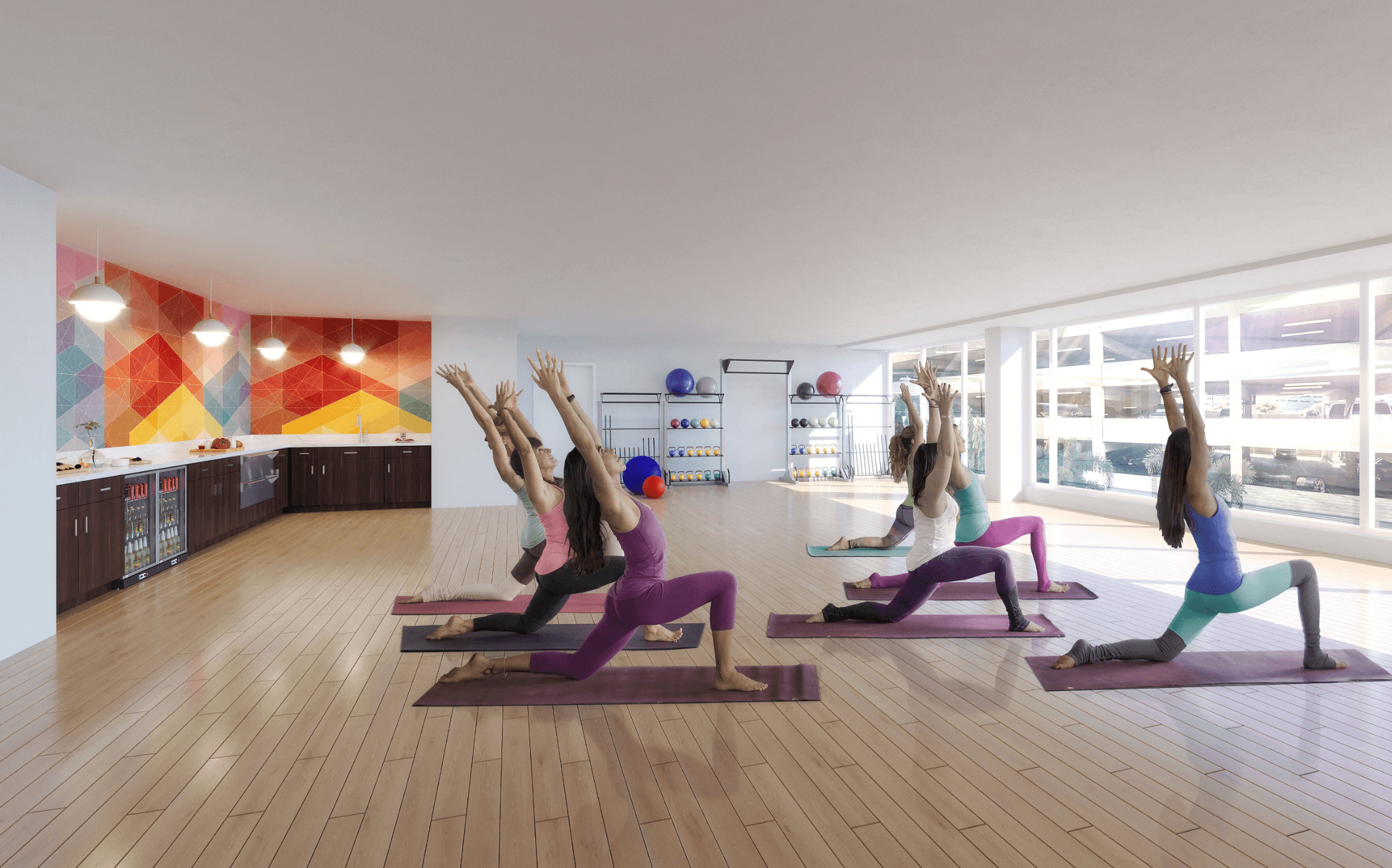 The Neighborhood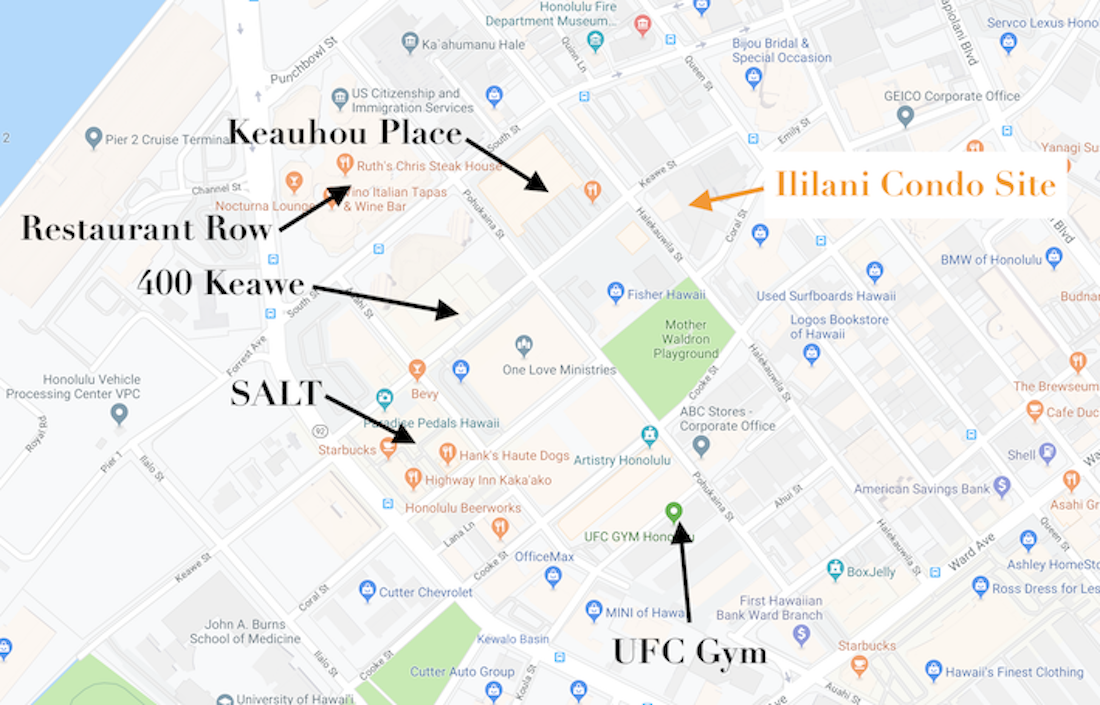 Ililani is located within walking distance of popular shopping areas of SALT and Keauhou Lane. With it's close proximity to downtown Honolulu, residents will have the opportunity to walk or ride a Biki to work! With all the new restaurants, bars, and shops popping up around Ililani, it's the future residents who are really going to benefit.
Below is a photo of what the ground floor retail could be like at ililani. You can expect a mix of retail with a restaurant or coffee shop!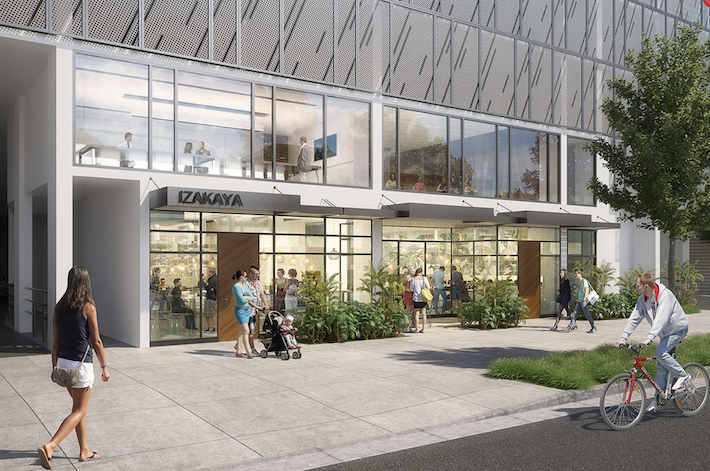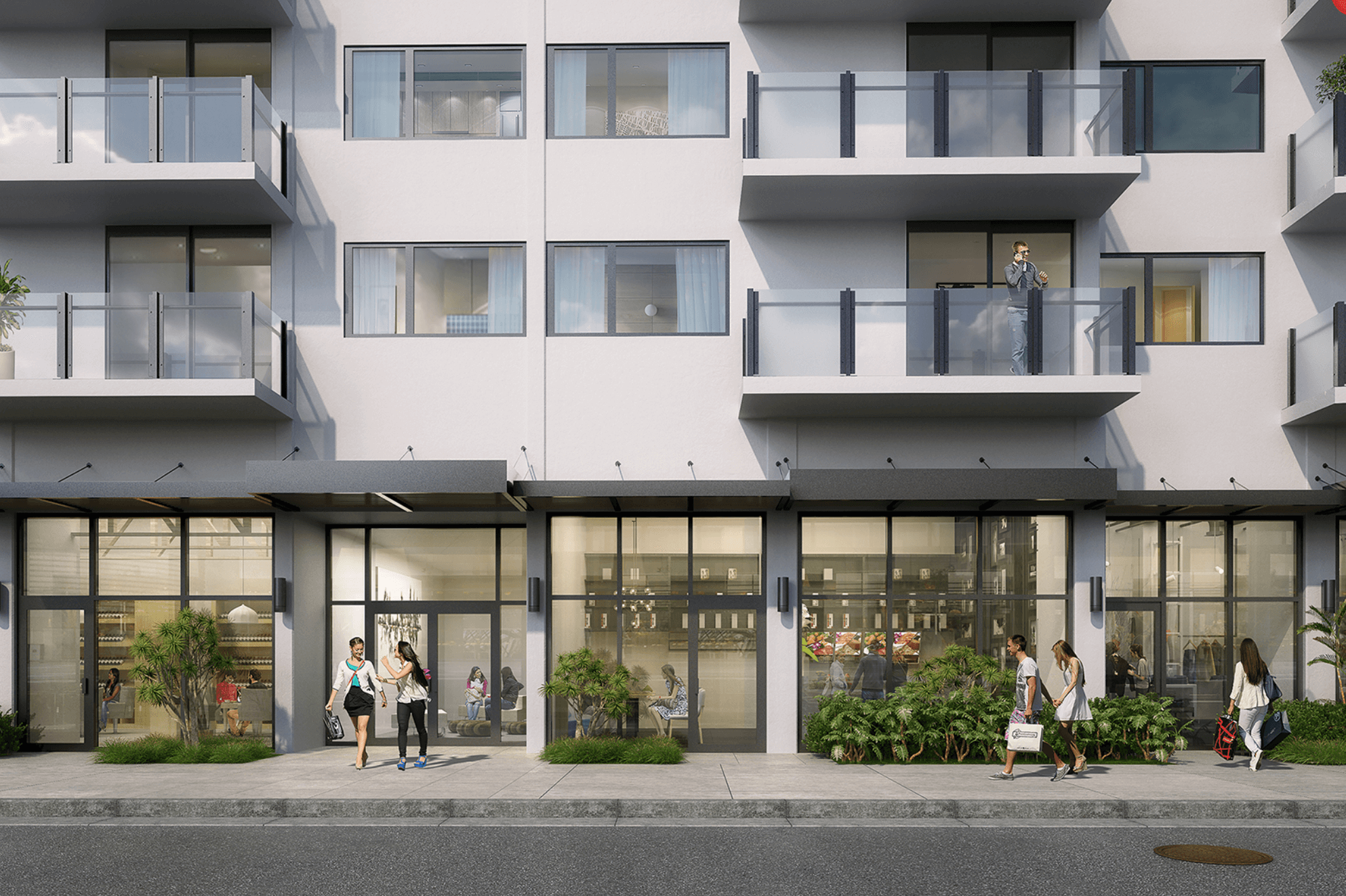 The Amenities
Along with some of the amenities listed below on the infographic, Ililani will also have both surfboard and bicycle storage on property. Ililani will also be the first building to offer a private fleet of shared vehicles owned and managed by Ililani for use of the residents in the building. I'm not sure at this time if this will be a complementary service or a fee based service, either way that's very cool!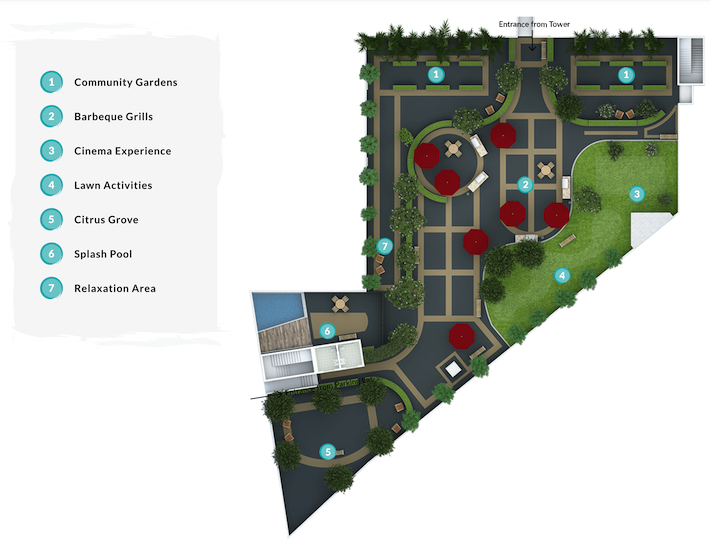 The amenity deck which will be located on the rooftop of the eight floor parking structure will span 12,000 sf. Not the largest by Kakaako standards but a unique feature will be garden boxes that will be up for bid so that owners may grow food plants. There will also be roughly 2,800 sf. of indoor recreation space.
There will also be an outdoor "cinema experience" which could be an outdoor movie screen situation... Also, from the rendering above you can see there will be a small "splash pool" which is something different that hasn't been done before.
Floor Plans
Below are the floor plans available for the project. As you make your way up from the lower floors to the higher floors the floor plate changes slightly. The most notable change is stack 8 which changes from a one bedroom unit to a two bedroom unit. At this moment I don't know which floor plans are designated for the two-bedroom affordable units. The one bedroom affordable stack are going to be one, two, and four.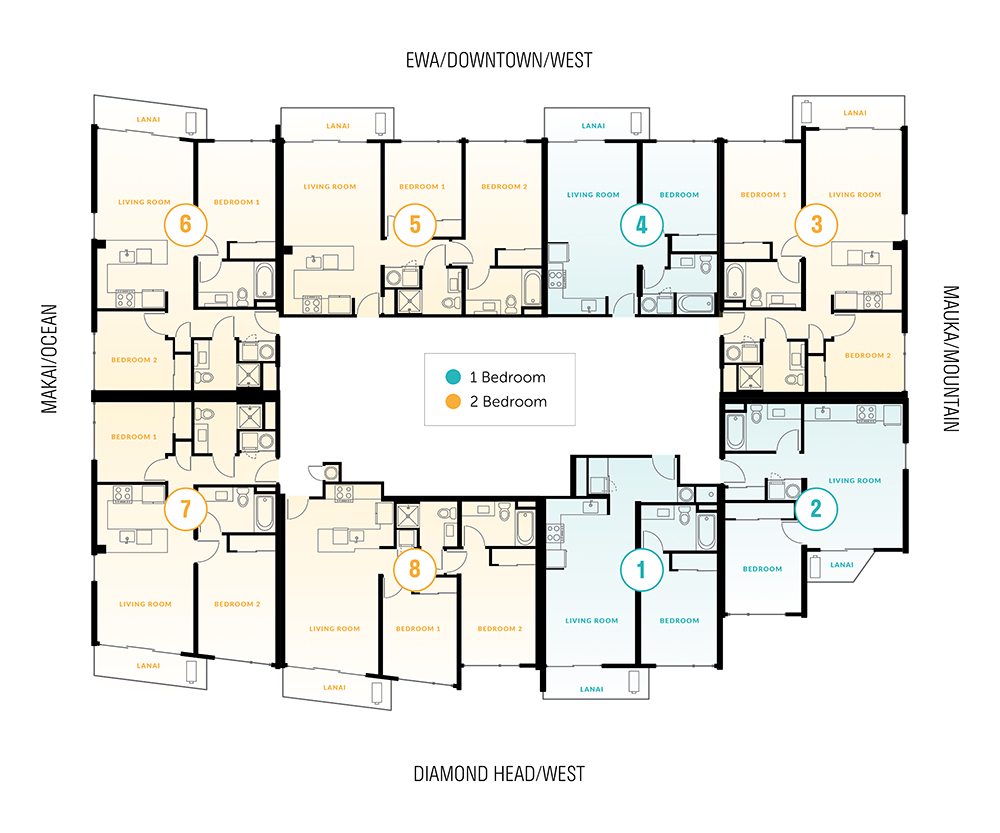 And below is a floor plan for the upper levels.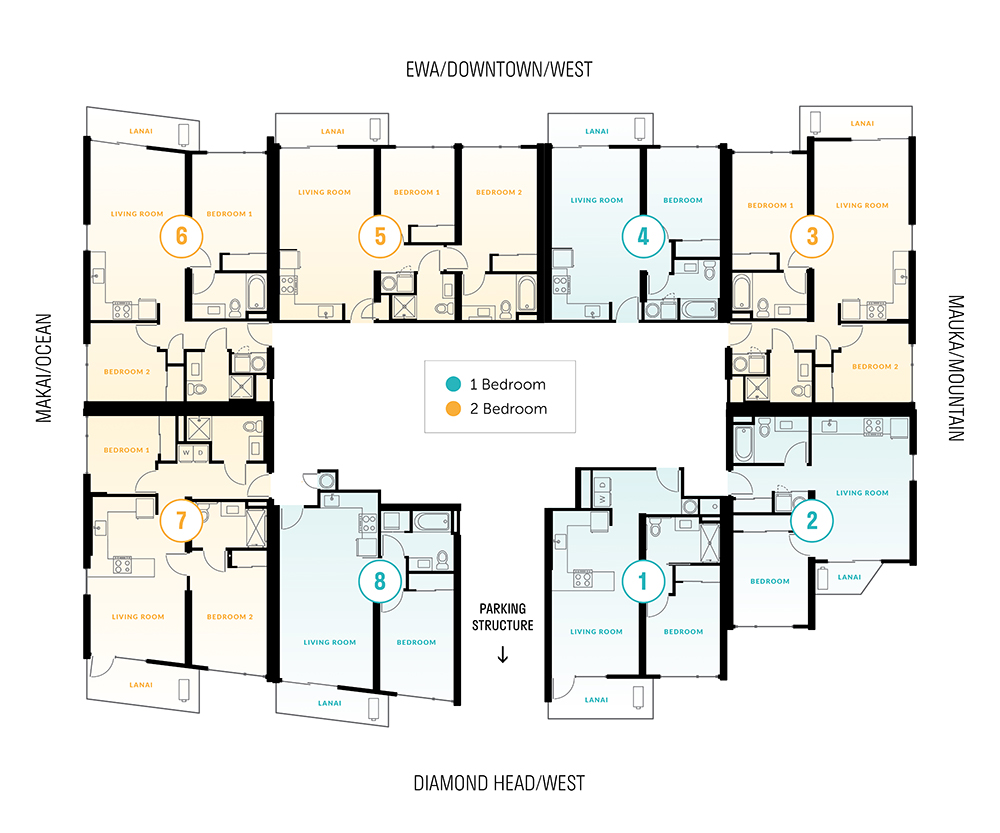 The Residences
Each residence will come equipped with GE and Samsung appliances along with with quartzite countertops. There will also be split air conditioning found in each unit.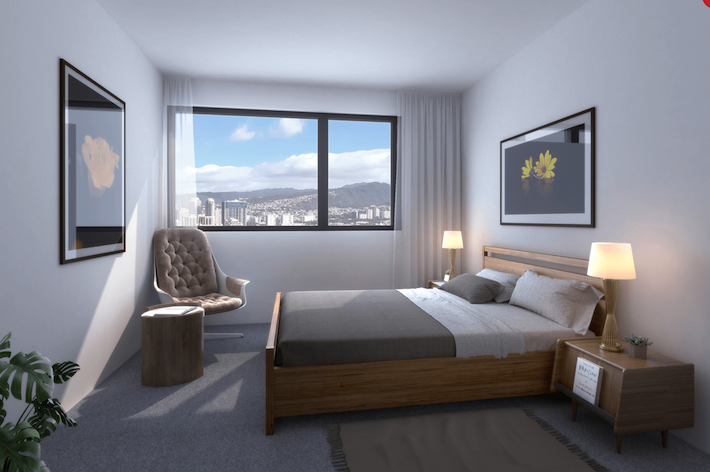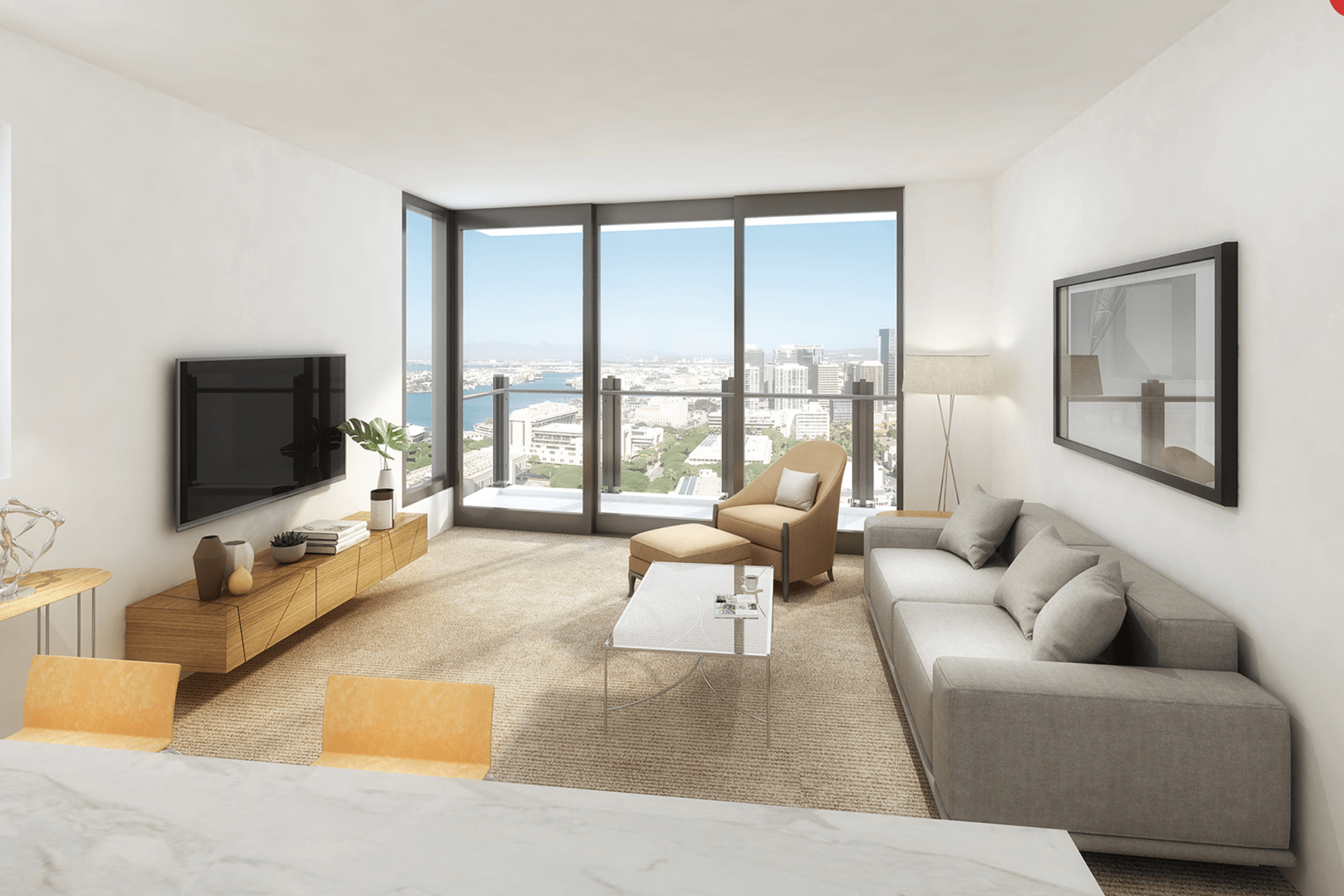 There will be two different bedroom options to choose from at Ililani. The two-bedroom two-bath units will all feature a lanai and range from 800 sf to 860 sf. The one-bedroom one-bath units will also feature a lanai and will range from 550 sf to 590 sf. There are many variations of the two layouts ranging in size and shape. The size of the units are certainly on par with some of the other new construction condo projects in the area.
With just two different bedroom options to choose from and not a lot of amenities for entertainment this project is really about being a part of the Kakaako neighborhood. Having worked and lived in Kakaako myself I have firsthand experience of how convenient living in Kakaako is. Walking to down to earth for groceries, lunch at Pioneer Saloon, drinks at Aloha Beer, ice cream at Butterfly at SALT everything you need is literally minutes away by foot.
Did I mention that the future Civic Rail Station will be located across the street? I know the rail is a polarizing topic here in Hawaii but you can't deny the convenience and accessibility that it'll provide you living in Kakaako. 13 minutes to the airport? Five minutes to the Ala Moana Shopping Center? SIGN ME UP!
Ililani and its affordable housing program will provide the opportunity for 165 future Kakaako homeowners to live a lifestyle that most local Honolulu residents aren'y accustomed to. If you make less than the maximum income (that is TBD) than I highly recommend you enter the lottery for these units. Although it may not be a once in a lifetime opportunity, it'll certainly be a worthwhile investment of your time.
Read more about the Affordable Housing FAQs here.
Application & Information Packet
Application Packet for the affordable units of Ililani
Affordable Units Information Packet
Disclaimer: This website is not the official website for the Ililani Project. The exclusive broker for the project is Locations LLC. All information is subject to change.