Kalae at Ward Village
Kalae represents the latest component of Ward Village, utilizing architecture that draws inspiration from classic buildings of early 20th century Honolulu- particularly the Honolulu Museum of Art, The Halekulani Hotel, and Shangri La. These buildings are exceptional examples of Honolulu's first modern regional style, which takes influences from the California Mission style of architecture, and its own lineage in turn from Spain.
Developer: Howard Hughes Corp
Architect: Solomon Cordwell Buenz
Landscape Architect: Vita| Planning and Landscape Architecture
Interior Design: Nicole Hollis
Page Directory: Amenities | Neighborhood | Interest List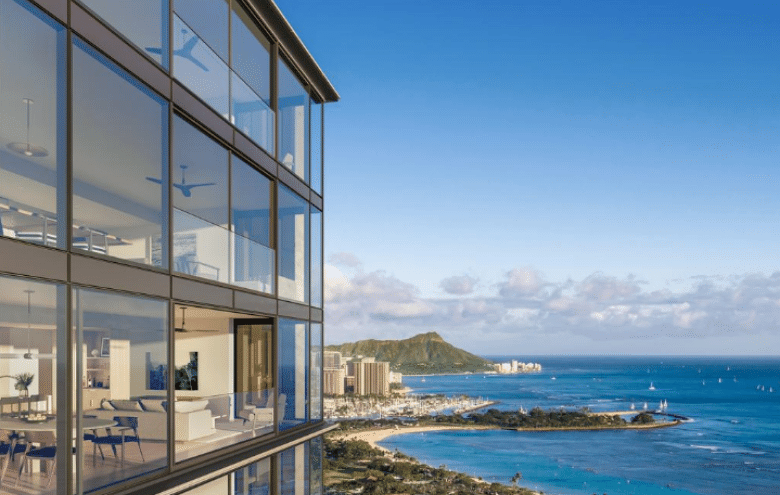 This building houses a variety of well-crafted and luxarious features, including 330 residential units, ground-floor commercial space, retail kiosks, landscaping and sculptural hardscape elements, lyric sidewalks, limited curb cuts, and public art.
This Moorish influenced style is characterized by classical principles of a formal, axial planning approach, and the use of courtyards as the main circulation and mediating spaces. Courtyards, decorative motifs and screens, and framed views are all evident in the design of Kalae, in its details and at the whole building scale. A sequence of walled and screened spaces generates the sense of arrival to a refuge from the city. Ground floor courtyards and pavilions provide intimate gathering spaces for residents, offering a unique private backyard amenity for residents.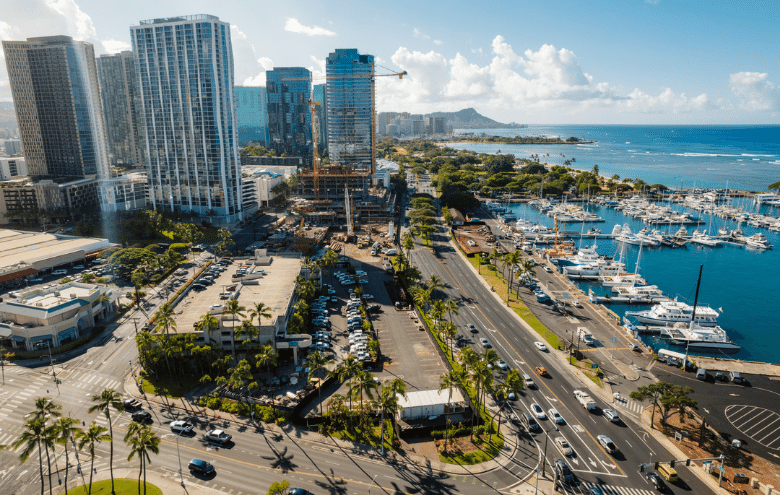 The building's material treatments hearken back to the antique white plaster walls, golden wood details, and rich bronze metalwork of its predecessors, modernized into a refined, regional palette. The liner of the parking garage breaks down the scale of the podium by wrapping two levels in aesthetically pleasing metallic louvered screens with vertical and horizontal elements, utilizing materiality and patterning that references the motifs used throughout all elements of Kalae.
The Kalae tower facade uses a grid of frames to give it both scale and a proportion appropriate to its urban location. The tower's prominence near the ocean allows ample, unobstructed views of Diamond Head and makai. Its massing and central siting allow for the expansive pools and outdoor fitness facilities of the surrounding amenity level. The richly layered materiality reinforces these relationships within the residence, while distinguishing it from its neighbors.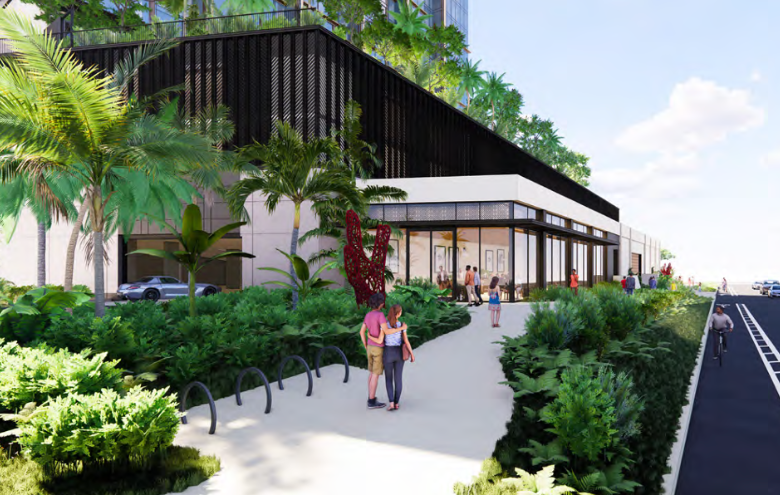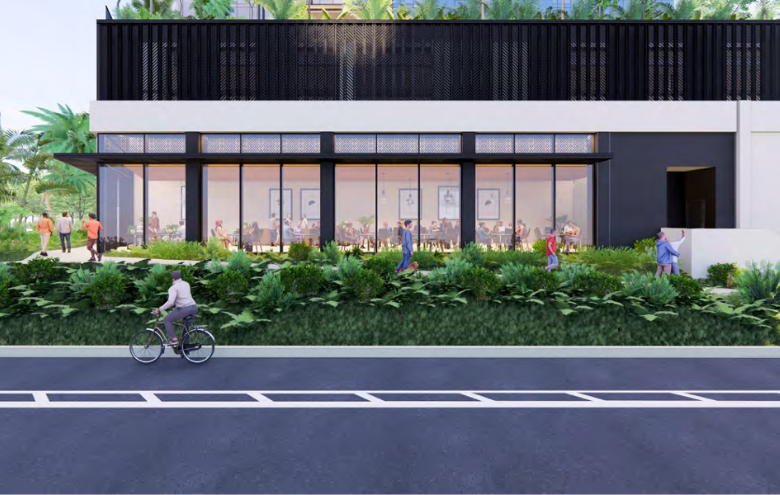 The Amenities
More specifically, Kalae will also host a variety of amenities for residential use, including:
Open and recreation spaces of 19,282 and 71,689 square feet respectively (58,038 square feet of outdoor recreation space and 13,651 square feet of indoor recreation space)
559 off-street parking spaces, plus four off-street loading areas to serve the building
A bicycle facility
A sustainable experience including reduced waste, energy and water consumption, more healthy and productive environments, and reductions in greenhouse gas emissions
Ground-level commercial space
A family pool and an exercise pool
A spa
Pavillon courtyards
Amenity decks on all levels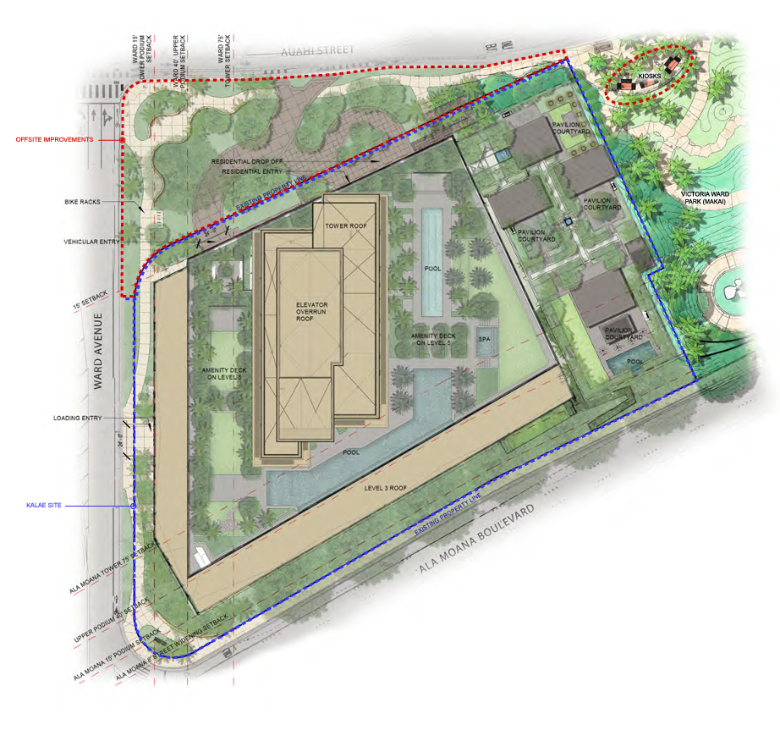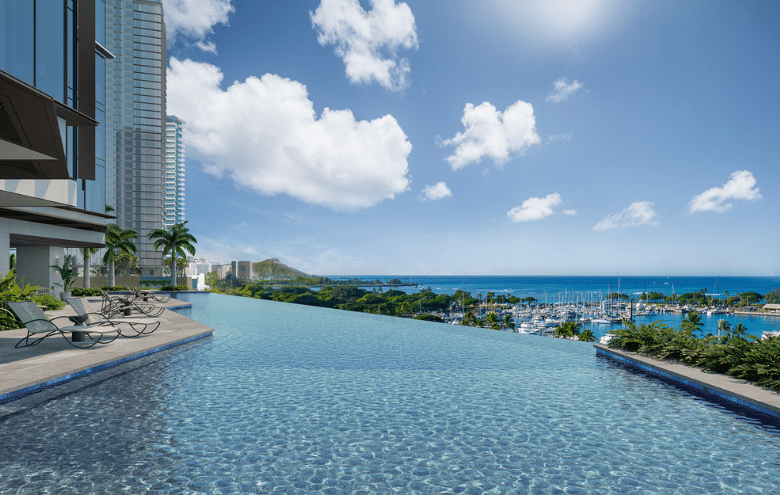 The Neighborhood
Located in one of the most walkable and bike-friendly neighborhoods in Honolulu, Kalae in Ward Village is located just a minutes-long walk away from Ala Moana Beach Park, the largest Whole Foods Market in the state, and a brand new 3-acre park.
The tower's prominence near the ocean allows ample, unobstructed views of Diamond Head and Makai. The richly layered materiality reinforces these relationships within the residence, while distinguishing it from its neighbors.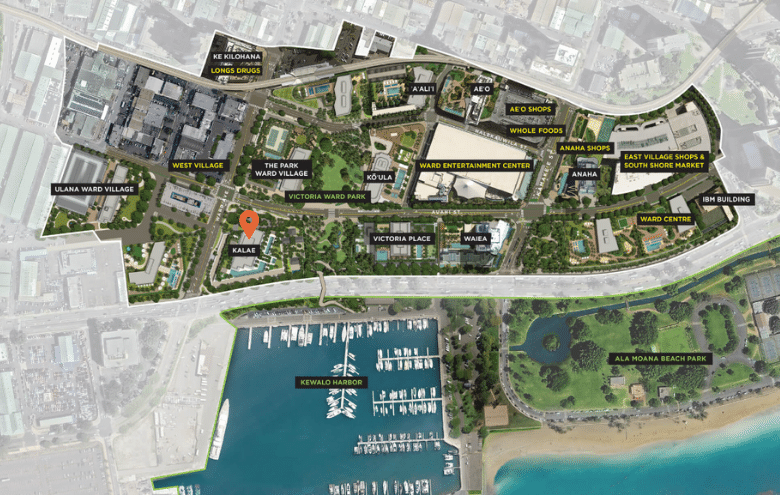 Why I'm considering a unit in Kalae...
Kalae has all the elements to become a very successful project for Howard Hughes. If you take a closer look at the last first row tower that Howard Hughes launched, Victoria Place, you'll notice that Kalae has a lot of similarites to, and in my opinion, some definite upgrades that makes Kalae look like a slam dunk. Did I mention that Victoria Place is also completely sold out and is still at least 18 months from completion? (Koula will be completed in September 2022 still has units available and Aalii compelted in late 2021 also still has developer inventory available). I would say that due to the limited supply of units, just 350 available, and the allure of unobstructed ocean views made Victoria Place a huge success.
People often ask me why projects like Koula and The Park Ward Village take longer to sell out than let's say Victoria Place. I think to answer that we have to take a closer look at unit count and the way Howard Hughes designs their buildings. The first row is much more exclusive, offering premium views, and a much lower unit count allowing for larger sized units. Kalae, will have just 330 total units in the building if we combine that with the 350 units in Victoria Place you're looking at 680 homes on the first row in what is a very prime part of the neighborhood. If you go one row back into the 2nd row where you have projects like Koula (570 units) and The Park Ward Village (545 units) you'll see there is significantly more units with 1,115 units between those two buildings alone.
Another thing to consider is the type of buyers that purchase in each project. First row projects tend to have more 2nd and even 3rd homeowners so for those that choose to call these projects home, you often have the pool and gym all to yourself!
Kalae Ward Village Interest List