Mahana Ward Village
Mahana Ward Village is Howard Hughes' 12th proposed condo tower in its 60-acre master-planned community. Pricing for this project will be attractive and considered entry-level for the neighborhood. If we take a look at pricing across Ward Village, the further you are from the ocean, the lower the prices are. This project is still very early in its planning stages with no start date in sight. Mahana will consist of 340 total units spread out over 34 floors.
The Project by Numbers
| | |
| --- | --- |
| 340 total units | 34 residential floors |
| 56 studios | 16,926 (sqft) commercial space |
| 156 one-bedrooms | 47,900 (sqft) amenity space |
| 76 two-bedrooms | 10,905 (sqft) open green space |
| 52 three-bedroom | |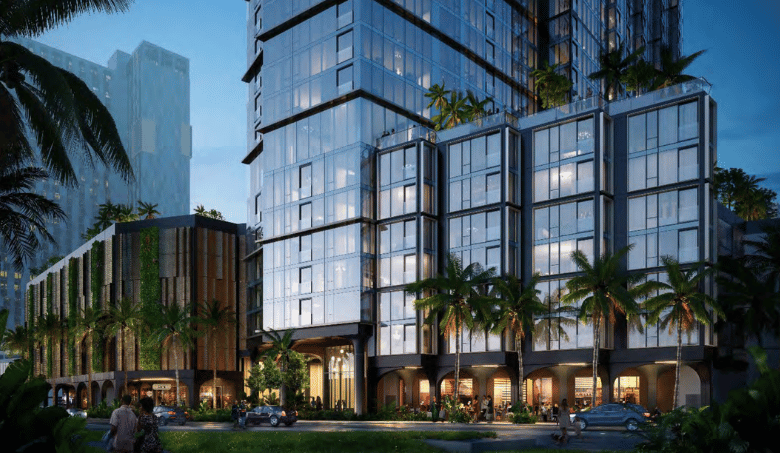 Design & Architecture
The architect for the project is Solomon Cordwell Buenz who is no stranger to Ward Village. Their previous projects in the neighborhood include Anaha, The Park Ward Village, Kalae, Aalii, and Victoria Place. In all, SCB has designed half of all the planned and completed projects in Ward Village. According to the developer, the design inspiration behind Mahana is Inspired by a "hybrid of native palm motif and the Hawaii State Capitol's organic columns, Mahana Ward Village's angular building design and triple-height colonnade create a unique composition that is both modern and rooted in tradition, while imbuing it with a sense of fluid movement."
The common theme throughout Ward Village is the pedestrian-centric design and because of its location at the north end of Victoria Ward Park, you can expect a symbiotic relationship between the building and the park.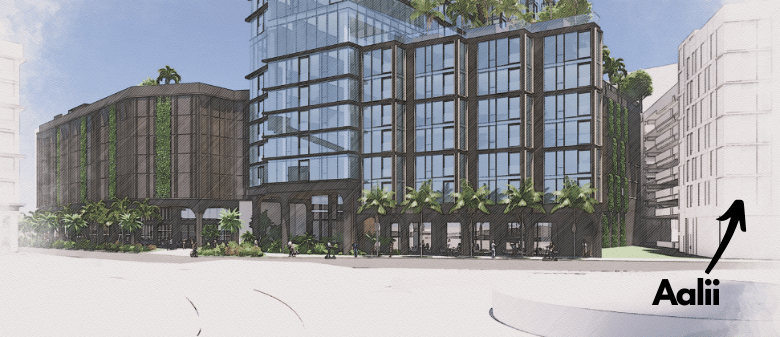 Where is Mahana Ward Village Located?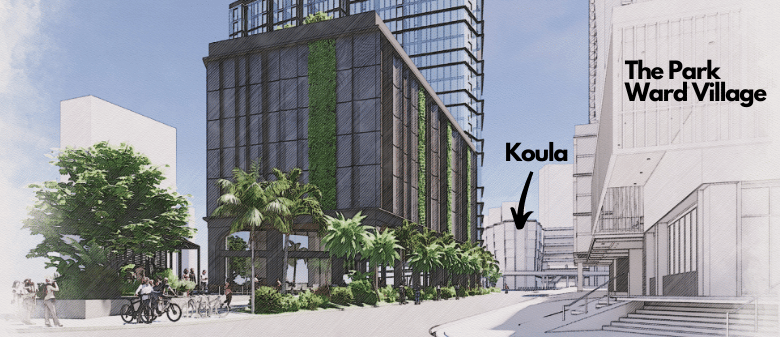 Mahana Ward Village is located in the 60-acre master planned community of Ward Village. Access to Mahana will be off of an extension to Halekauwila Street. This extension of Halekauwila will connect from Ward Avenue to Kamakee St (this road is not yet complete). Mahana is located in the 3rd row in Ward Village just Mauka or (on the mountainside) of The Park Ward Village. From this site, you're within a 2 minutes walk to Whole Foods Market, 5 minutes from Ala Moana Beach Park, and a 7 minutes walk from Ala Moana Shopping Center. Just to the north of the proposed site is the proposed location of the Kakaako rail station.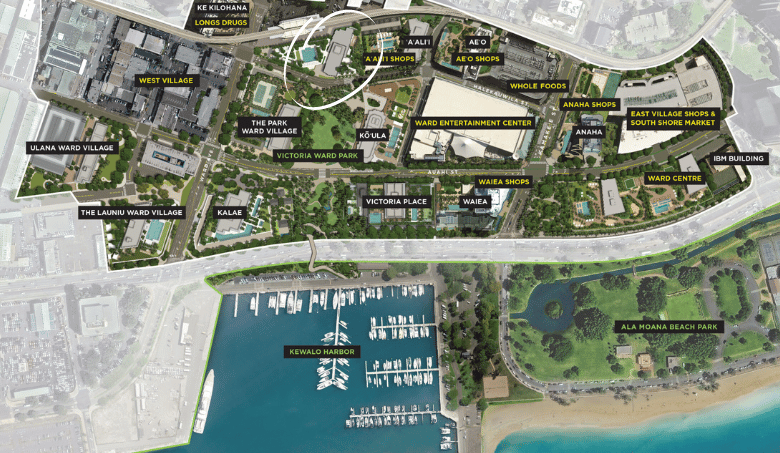 Prices for Mahana Ward Village
At this early stage in the development process, pricing is not yet available and likely won't be until right before the project starts sales. Based on the location and my experience selling Ward Village projects, the prices will be similar to Aalii with some premium pricing for the direct ocean-facing units looking through Victoria Ward Park. You can expect studio units to start in the high $500,000 range with one-bedrooms from $700,000. Two- and three-bedroom units will be in the high $800,000 range and go up to the $1,500,000+ range.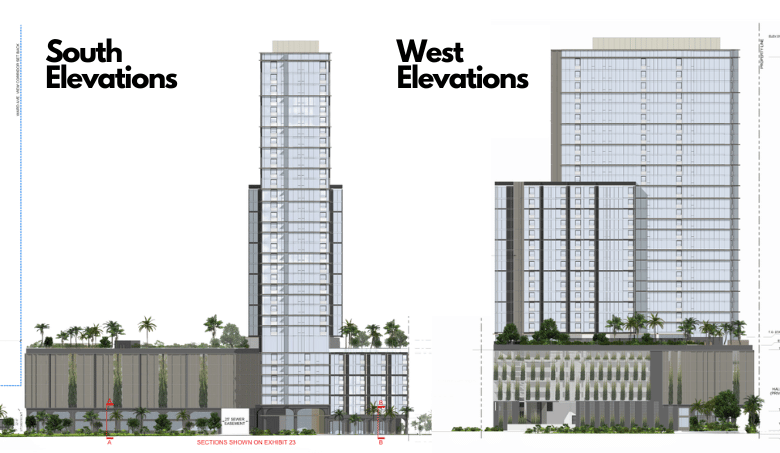 A look at the Amenities
At Mahana Ward Village you'll have over an acre of recreation and amenity space which includes over 31,000 sqft of outdoor space and just over 16,000 sqft of interior recreation space. Details about the amenities are not yet available but from looking at the diagram below, we can see a large pool, jacuzzi, BBQ cabanas, and ground floor dog run along with ample open and green space.
I'm sure there will be a large fitness center which is an amenity that is always impressive in Howard Hughes projects along with plenty of indoor party rooms and recreation spaces.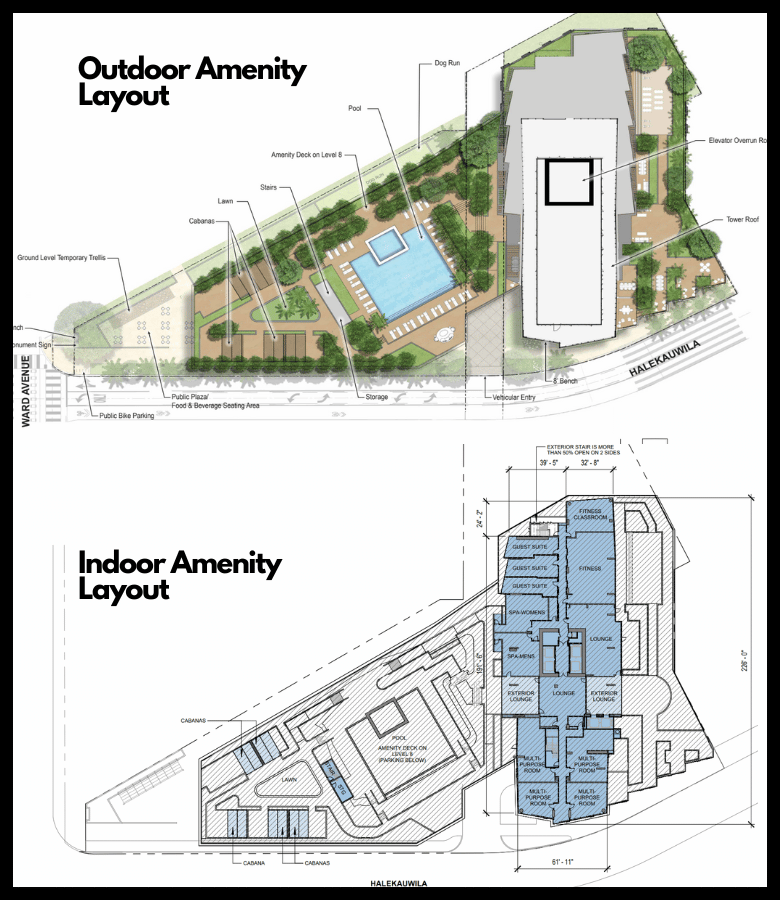 Views from The Building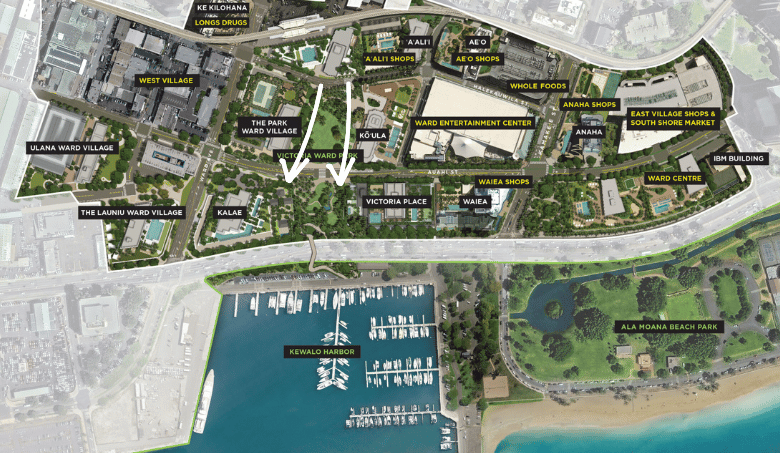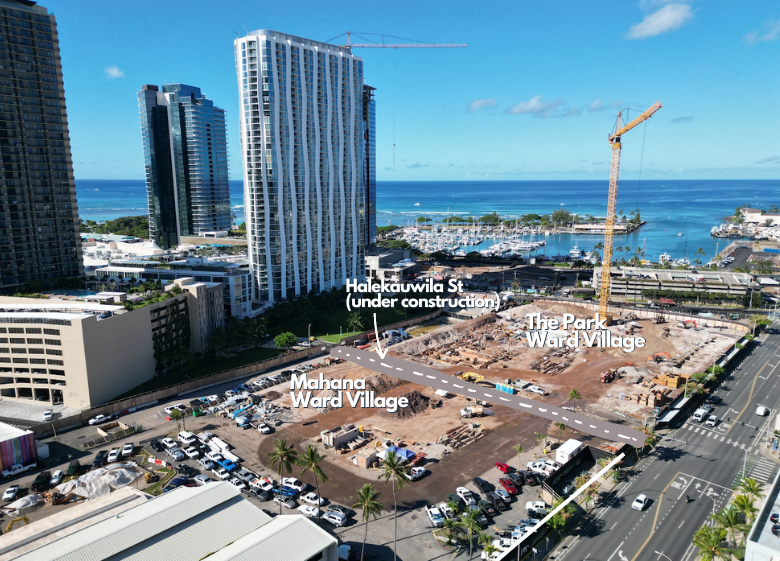 Parking at Mahana Ward Village
Mahana will provide a total of 503 off-street parking spaces dedicated to residents and guests. There will be no commercial parking in the building. There will be 20 tandem-style parking stalls in the building so when you're considering a specific unit you may want to look for these or avoid these depending on your preferences.
Affordable Housing at Mahana Ward Village
There will be NO affordable housing units at Mahana Ward Village.
Howard Hughes is required to dedicate a minimum of 20% of all planned units in Ward Village towards reserved/affordable housing. To date, they have 1,222 reserved housing units already built or currently under construction which is more than what is required by the state. Those affordable/reserved housing units are located within Ke Kilohana (375), Aalii (150), and Ulana (697). With all of the units already built or under construction, Howard Hughes has satisfied their affordable housing unit quota for the entire community, including the future projects that haven't been announced yet.
What is our role in this project?
Our role is to be the go-to source for all things real estate in the Kakaako neighborhood. We use our expertise and knowledge to guide buyers to their dream homes. When it comes to new construction, we help prepare buyers for new project releases and make sure they get the unit and floor plan that they desire (something not quickly done solo). We guide buyers through the buying process which includes inspections, management of sales documents, financing, move-in coordination, and assistance with acclimation to life in Honolulu.
Floor Plan for Mahana Ward Village
In most buildings, especially in Ward Village, there is a single floor plan from the first residential floor to the top. There are exceptions with some penthouse floors which will allow for higher ceilings and on some occasions, they will have larger units by combining two smaller floor plans.
At Mahana Ward Village, floors 9 - 22 will have a floor plan mix of 15 units per floor with a residential floor area of roughly 15,000 sqft. From floors 23 - 34, the floor plan changes with just 8 units per floor with the floor area changing to just over 10,000 sqft.
This is something that Howard Hughes has not done in the past with any of their other buildings but is something that I think will provide more living options within a single building. Based on the rough size of the units in the architectural drawing, there are a lot of smaller (likely studio or one-bed) units on floors 9-22, and those units likely change to two-bedroom and three-bedrooms on higher floors. Details are TBD.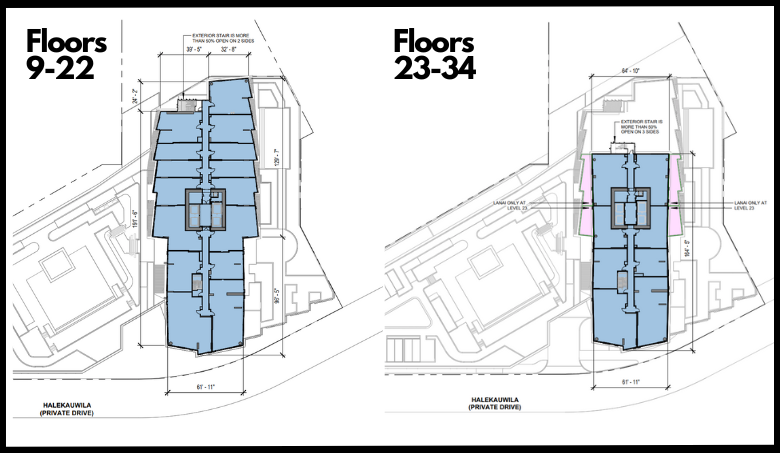 HOA dues at Mahana Ward Village
HOA monthly dues For Mahana Ward Village are TBD. Based on other similar projects like Aalii ($1.30 per sqft) and Ae'o ($1.20 per sqft) You can expect a number somewhere in that range. If we take a 1,000 sqft two-bedroom as an example, you can expect roughly $1,200 a month in HOA dues.
Mahana Ward Village Interest