Honolulu Condos For Sale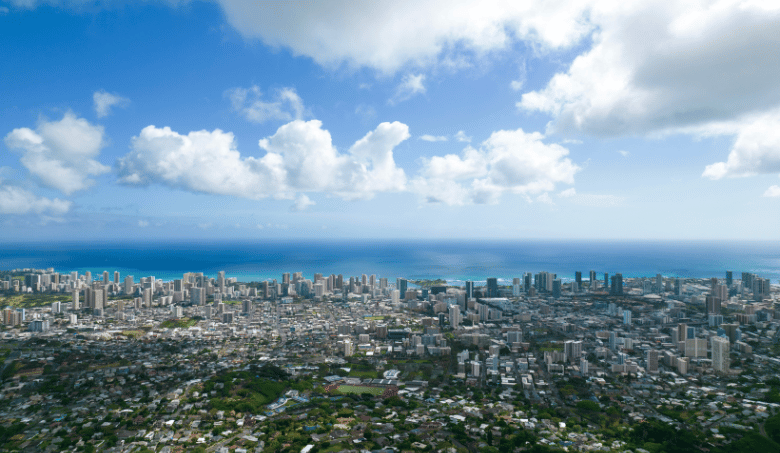 In Honolulu, you'll find that condominiums make up the majority of residential real estate on the market. This makes sense, because Oahu is an island where land is a precious commodity and space is limited – building vertically via condos has proven to be a smarter, (somewhat) more affordable option than traditional single-family homes.
Here are a few statistics: in 2022, a total of 6,353 condominium units were sold, with a median sales price of $510,000. In comparison, 3,474 single family homes were sold – about half the number of condos sold.
There is a wide spectrum in price for condominiums – smaller studios in older buildings may be found at the $200,000 range, while the grand and luxurious condos in Ward Village and Waikiki can be found at astounding prices upwards of $20,000,000. As of March 2023, condominiums have reached the median sales price of $536,000.
History Of Honolulu Condos
Honolulu was once a quiet town with few skyscrapers and condominiums until the 1950s. Back then, single family homes were the norm. As more people from the mainland began traveling to Hawaii, thanks to better and easier travel options, the tourism industry boomed. This created more jobs and business opportunities. Locals from the outer islands began moving to Honolulu as well, in search of more varied employment options. All of these factors caused a huge increase in real estate and condos became a major player in the scene.
Throughout the decades, the number of condos grew enormously, along with their scale. During the 1960s, Waikiki and Diamond Head primarily saw this increase in condos and next, the neighborhoods of Hawaii Kai and Ala Moana. During the 1970s, condo development began to pick up even more steam, starting to replace single family homes in Honolulu. Traditional homes in Ala Wai and Kuhio Avenue disappeared and were replaced by high-rise condos and hotel towers.
While the development pace slowed down in the 1980s and almost came to a full stop in the 90s due to the stock bubble burst in Japan, Honolulu's condo market shifted back up in the 2000s. There is now an affordable housing market growing on the west side in Ewa, and Honolulu is experiencing a boom in luxurious condos like The Allure, The Watermark and Trump Tower. These giant luxury condos, found in Waikiki, Kakaako and Ala Moana, boasts of resort-like amenities like tennis courts, giant recreation decks and infinity pools. Today, the major area of new condo construction lies in Kakaako, as Bishop Estate and Howard Hughes bring their planned community masterplans to life.
Three Main Condo Regions
Condos in Honolulu can be found in three main regions on Oahu: Hawaii Kai, Metro Honolulu and Diamond Head.
Hawaii Kai
Hawaii Kai is a quiet suburbian neighborhood that is easily accessed via Kalaniaole Highway. Situated close to Sandy Beach, Hanauma Bay Nature Preserve and Maunalua Bay Beach Park, the community has a deep connecting with the water and the outdoors. In 1959, dredging on Kuapa Pond started into what we know as Koko Marina today. The Marina evolved into chanels that crawled many acres inland providing ample land to develop waterfront homes and townhouses. Today, Hawaii Kai is one of the most affordable neighborhoods to buy waterfront property.
Completed in 2007, The Peninsula is a 43 acre master-planned community of 630 single-homes, multi-family apartments and condominiums. Within the Peninsula is a section called The Colony, which is a six-tower condominium project consisting of towers four stories high with 319 units situated above one parking lot. The Peninsula community is a really great option for kids because it's a self contained community with only two vehicular gates for access. As a parent, you can feel safe with your kids out riding their bikes or playing with their friends. There are two other master-planned communities in Hawaii Kai that I feel are worth mentioning. One of them is Kuapa Isle and the other is Koko Isle. As their names suggest, they are both islands with a single vehicular access point making them both feel very safe. Almost all of the homes on the perimeters of these island communities have boat docks on the marina that have access to the ocean.

Metro Honolulu
Welcome to Metro Honolulu, also known as the urban center of Honolulu – more than 90% of Honolulu condos can be found here. A majority of these condos are located in the busy areas of Waikiki, Kakaako and Ala Moana. While Metro Honolulu is the most densely populated area of Oahu, it is also where all of the major hospitals, private schools, and Downtown Honolulu is located.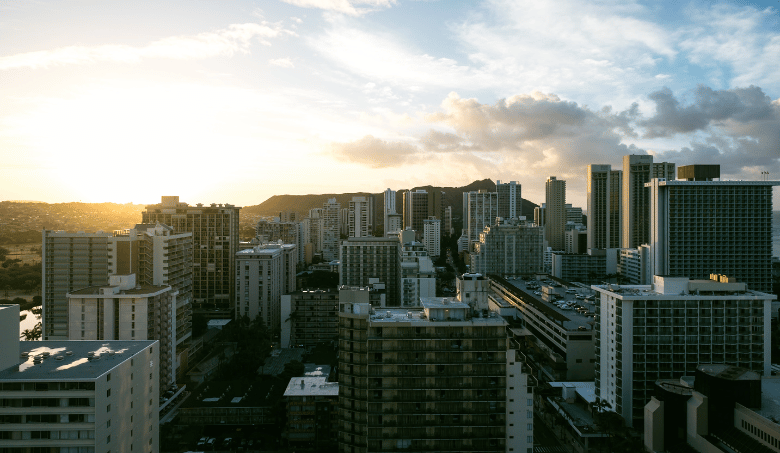 Waikiki
Waikiki is recognized worldwide as tourist central, with a coveted 1.5-mile stretch of incredible beach found on the southern shore of Oahu. With endless shopping options, popular restaurants and live music, Waikiki has the vibe of a metropolitan city while still being surrounded by nature – it's the best of both worlds.
If you're looking for a Waikiki condo to live in there are about 130 residential condos in this neighborhood and about 25% of them are leasehold – no other Oahu neighborhood has this high percentage of leasehold properties. About 30 buildings in Waikiki offer short term rentals (STRs) – places that allow people to stay for less than 30 days per tenant. You'd be hard pressed to find any other place outside of Waikiki for this many STRs, due to Honolulu's strict rules.
Many of these condos were built during the 1970s, such as the Lanikai at Waikiki, an older condo with 96 units on 31 floors; Loft at Waikiki, a high-end condo with high ceilings and unique design elements; and Trump Tower Waikiki, a condo hotel located right by Waikiki Beach and allows for STRs. Other condominiums include the Watermark, Allure Waikiki, Cove Waikiki and Ritz-Carlton Waikiki.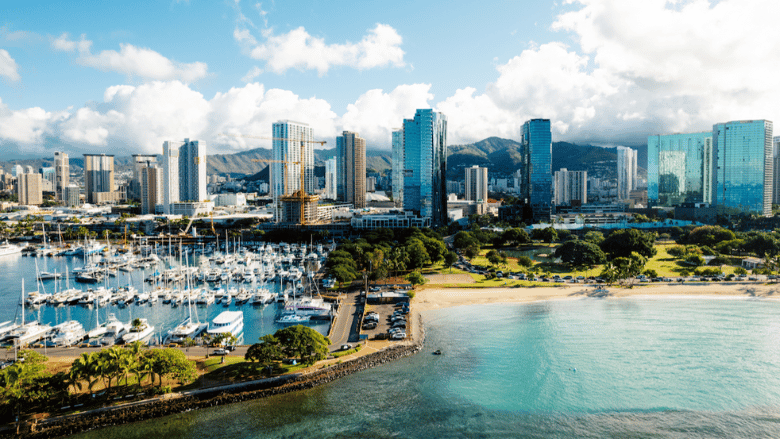 Kakaako
Majority of Oahu's upcoming new construction condo market can be found in Kakaako, so this is a neighborhood to watch if you're looking for a building that is less than 10 years olf. There are two master planned communities here: a 60-acre community called Ward Village by The Howard Hughes Corporation (named one of the best master-planned communities in the U.S. by Architectural Digest) and the 29-acre Our Kakaako neighborhood by Kamehameha Schools.
Kakaako is an attractive neighborhood that was once a humble, industrial area, and is going through a major redevelopment towards a mixed-use, urban community. Located between Ala Moana and Downtown Honolulu, there are some great perks to living in Kakaako, especially with it's close proximity to the ocean and Ala Moana Beach Park nearby. Once the two master plans are completed, Kakaako will offer more than 20 new condos all built within the last 10 years. The masterplans promise more walkability with wider sidewalks, more family-friendly shops, restaurants and gathering spaces. Did we mention walking distance to the beach?
You will also find more luxury condos in Kakaako more than in any other neighborhood in Honolulu. Some popular condos include Waiea (2016), the first property built in Ward Village with 171 units and incredible amenities like an infinity pool and guest suites; Anaha (2017), a luxury condo located across the street from a Whole Foods Market, with a total of 311 units and then there's Hokua (2006), a resort-like condo with 247 units and incredible unobstructed ocean views, built in 2006. Other luxurious condos include the Waihonua (2014), Ko'ula (2022), The Collection (2016), Symphony (2017), Aalii (2021) and more.
Ala Moana
Ala Moana is a well-known neighborhood, thanks to the proximity of the open-air mall Ala Moana Shopping Center and the popular Ala Moana Beach Park. Living here means you can step outside your condo and walk for a few minutes to jump into the ocean or run a quick errand.
For the longest time, Ala Moana's residential condominiums used to only consist of older buildings along Atkinson Drive, like the Yacht Harbor Towers and Uraku Tower. Throughout the years, the scene has changed with the addition of ultra-luxury condos like One Ala Moana and Park Lane Ala Moana. One Ala Moana was completed in 2014 with 206 units on 23 floors – the luxury condo has direct access to Ala Moana Shopping Center through its elevators. Park Lane Ala Moana encompasses 7.3 acres and features an attractive 1,000-foot-long walking path that connects all seven structures that stand at 100 feet tall, offering a total of 219 units. Park Lane Ala Moana is one of Honolulu's most luxurious properties with of of the highest average price for a unit in the building.
In recent years, there has been a surge in new construction in the "Keeaumoku corridor" also referred to as Midtown Ala Moana. This area benefitted from new Transit Oriented Development plans that allowed for greater density around proposed rail stations. With Ala Moana Center being the last stop on Oahu's planned rail station, many developers looked to capitalize in the change in zoning. In the last 5 years we've seen several new towers come up like The Central Ala Moana (2021), Kapiolani Residence (2018) and Azure Ala Moana (2020). Scheduled to be completed at the end of 2023 is Sky Ala Moana which is a two tower project, with one tower dedicated to residential condos and the other a hotel. Under construction around the corner is The Park on Keeaumoku which is another project with two towers, consisting of 970+ residential units with market and affordable housing units available. This project is scheduled for completion in late 2025 or early 2026.
Diamond Head region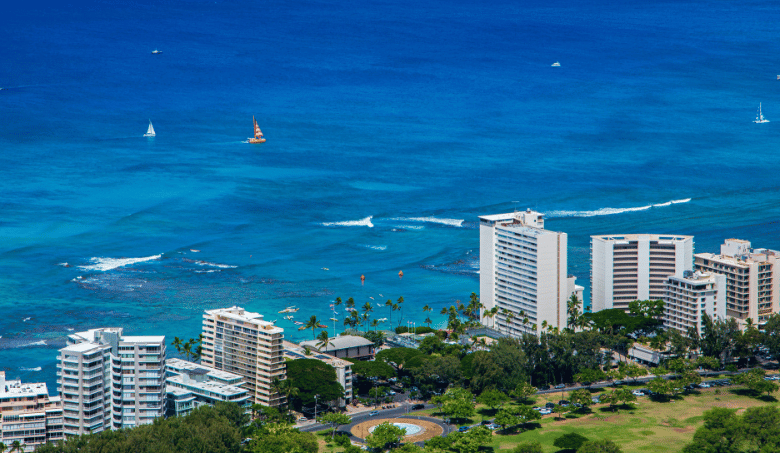 Gold Coast
The Diamond Head region spans between Metro Honolulu and Hawaii Kai. Here lies the famous stretch of luxury oceanfront condos known as the "Gold Coast" that was built in the 1950s and 1960s. Established before regulations permanently forbid construction so close to the coastline, the Gold Coast condos hang right by the ocean's edge right at Diamond Head, next to Kapiolani Park. Because of the proximity to the coastline, these older condos are incredibly valuable, even though they are older and many lack modern amenities. They range from $500,000 for a studio or one bedroom unit, and up to $4 million for a remodeled three bedroom.
In addition to the Gold Coast condos, there is a small pocket of condominiums located in and nearby Pualei Circle, ranging from $400,000 for a one bedroom to $800,000 for a two bedroom. This little cluster of walk-up style condos are very popular among first-time home buyers who want to be close to Kapiolani Park and Waikiki Beach. These condos are also walking distance to the popular Monserrat street that has trendy coffee shops and eateries.
For more details on Honolulu condos, contact us at ______.
Active Listings in Honolulu (Last 7 days)
June 3, 2023
$1,139.42
Avg. $ / Sq.Ft.
Honolulu Condo FAQs
What is the average price for a condo in Oahu in 2023?
In April of 2023, the average price of a condo in Honolulu was $500,000. This was down to 2% from April 2022 which was $510,000.
What is the wealthiest neighborhood on Oahu?
The wealthiest and most prestigious neighborhood on Oahu is the Diamond Head and Kahala neighborhoods. These two neighborhoods are located adjacent to eachother and represent where Honolulu's elite live. The Diamond Head area is located around the famous landmark and Kahala is located just east of the Diamond Head neighborhood. This area is known for it's large lot sizes, well manicured landscaped yards, large modren homes, and well maintained parks and beaches.
Is buying a condo in Hawaii a good investment?
The short answer, it depends. If you're looking at buying a new condo in Honolulu, in most cases it is a great investment. It's when you get into the older and obviously cheaper condos is where you could run into some trouble. Many older buildings in Honolulu right now are going through major upgrades which inclide plumbing, spalding repair (fixing exterior concrete), and in a lot of cases sprinkler retrofits. Many buildings in the 70's and 80's weren't built with fire sprinklers and with a recent major fire in a high-rise building, many older projects are opting to pay the high price to get sprinklers installed. These large expenses transaltes into monthly fees doubling and sometimes tripling, pushing values down. In these cases, buying a condo in Hawaii is not necessarily a good investment.
Do you need a car to get around in Honolulu?
The short answer is no. Honolulu has a great public transit system that can get you around the island pretty easily. If you're just commuting within metro Honolulu, you can get a bicycle to get around our mostly flat city. There is also plenty of uber and Lyft drivers keeping the price to get around pretty easily. We also have car sharing apps like Drive Hui with cars parked around the city for users to drive on a per hour basis.
What does fee simple mean?
Fee simple interest means that you own absolute interest in the property. Fee simple is the highest level of property ownership in Hawaii.
What does leasehold mean?
Leasehold means that you are purchasing the lease interest in a property. Leasehold is not the same as Fee Simple. When you purchase the leasehold interest in a proeprty you're buying out whatever the remainder is in that particular lease. For example, if the lease that the seller is selling runs until 2035, you as the buyer are only buying that condo until 2035. After 2035 that lease will run out and the ownership rights revert back to the fee owner. When you purchase leasehold property you have to make mortgage payments (if you're financing) on the property like every other property. Another payment that is common with leasehold property is lease rent. This is a monthly payment that you're paying to the fee owner that typically is set every 5 or 10 years. The lease rent is fixed for this period until it's renegotiated and in some cases this lease rent can double or triple in value.