Ward Village, Honolulu, Hawaii
Ward Village is rapidly changing the way that Honolulu residents live, work, and play. The force behind the movement? The Howard Hughes Corporation. They call Ward Village the perfect mix of urban and island living, and we can't agree more. The 60 acres that Howard Hughes owns makes it one of the largest landowners in Kakaako. The community is based around outdoor gathering spaces that embrace Hawaiian culture and will essentially serve as the hub of the neighborhood, flanked by restaurants, curated shops and boutiques and of course thoughtfully-designed, beautiful residences. There are endless options for where to live on Oahu, but what sets this neighborhood apart from the rest? We're breaking down 5 reasons you might love calling Ward Village home:
Jump to: The Masterplan | The Parks | The Residences

The Master Plan
Howard Hughes' grand masterplan for Ward Village started back in 2016 with the completion of Waiea and Anaha. At that time, there was a plan for 22 towers in Ward Village spread across 60 acres. Today, that plan has changed for the better, with 14 towers planned and significantly more green space distributed throughout the neighborhood. At the heart of the masterplan is a 3 acre park called Victoria Ward Park. On the mountain side of Auahi st will be the more social side of the park, here you'll have farmer's markets and other events. Also, Koula and The Park Ward Village will have ground floor commerical that opens out into the park so this will be a great place for outdoor dining.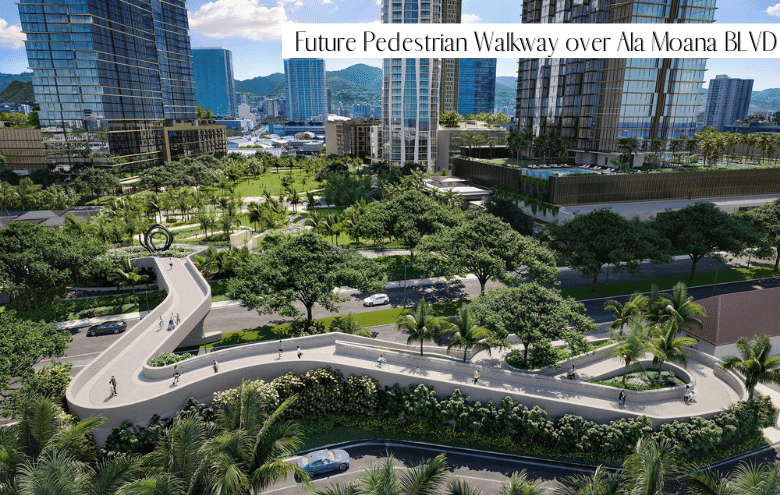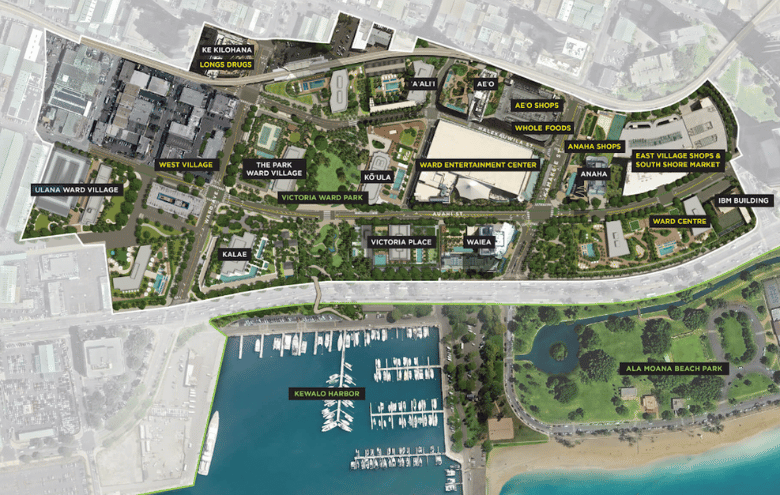 Ward Village Today (2023)
The Ward Village you see today is something drastically different from 7 years ago when Waiea was completed. Today you have a total of 6 completed buildings, 4 under construction or starting soon, and the remaining 4 in the planning stages. Walking along Kamakee street, you get a real sesnse of what Howard Hughes had envisioned all along with wide covered sidewalks and restaurants with outdoor seating. Heading down Halekauwila street past the largest Whole Foods Market in the state you have another row of commercal shopping that should be open this year on the ground floor of Aalii. A few steps further will take you to Vicotria Ward Park, which is a 3 acre park that represents the center or heart of Ward Village. Right now, with Koula complete, you can really start to see the relationship between the buildings and the park and how the architects designed them to flow together seamlessly. The park won't be fully complete until early 2026 when Kalae is complete but it's clear that when that time comes, this will be a special place to live.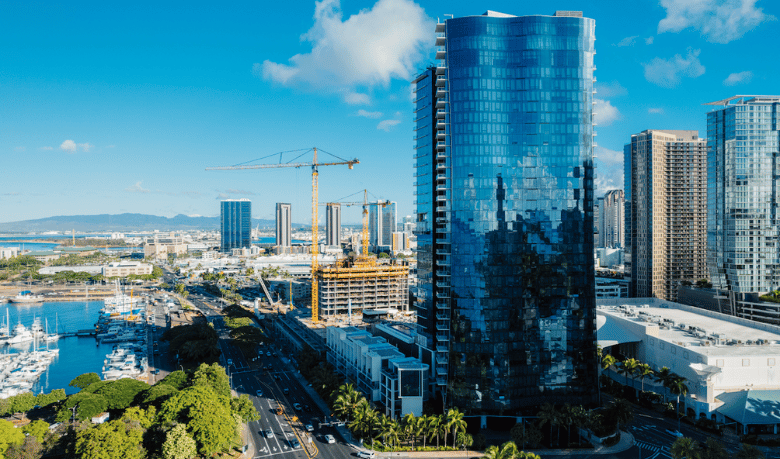 LEED-ND Platinum
If you're familiar with LEED Certification, this masterplanned community is certified LEED-ND Platinum, or the highest level of certification. In fact, it's the only LEED-ND Platinum certified community in Hawaii and was named the Best Planned Community in the United States by Architectural Digest in 2017. That means walkable pathways, dedicated bike lanes, tree-lined sidewalks and more. An energy-efficient community benefits all of its residents because it means water savings, improved air quality, and a smaller environmental impact.
Victoria Ward Park
Victoria Ward Park will serve as the neighborhood gathering space for residents and locals alike. Think: cultural events, outdoor farmers markets, yoga in the park, free concerts and outdoor film screenings all walkable from your residence. If you've ever experienced the convenience and charm of a walkable community, Victoria Ward Park is on track to talk the walkable neighborhood to the next level.
Unbeatable Walkability
South Shore Market is a gathering place for local creatives and entrepreneurs. It is composed of 18 merchants, many of which are locally owned, and is home to New Wave Fridays. Held on the second Friday of every month, it's an event that showcases merchants with incredible deals and discounts, plus live entertainment.
Whole Foods Market
One in seven Americans go grocery shopping every single day with a majority of Americans going grocery shopping 1.5x per week. Having a flagship Whole Foods Market within walking distance of your home will change the way you shop, eat and live. The Ward Village Whole Foods has one of the largest prepared foods section of any Whole Foods I've ever been to and I must admit that I find myself eating lunch and dinner a few times a week. The Whole Foods Market is the largest in the state and spans two stories. With various bars and restaurants within the market, it's become a gathering place for residents and locals alike in the community.
Inspired Residences
From urban townhomes to beautiful condominiums to expansive penthouses, there's something for everyone in Ward Village. We promise that regardless of where you are in Ward Village you will be inspired by not just the meticulously landscaped sidewalks or music playing in small speakers hidden behind plants, but by the amazing architecture of the surrounding condo towers. Architects like Bowlin Cywinski Jackson that designed the iconic 5th avenue Apple Store in New York City, who designed Ae'o. James Cheng, the world renowned architect who has been transforming the Vancouver skyline throughout the years is the mastermind behind Waiea. We can't forget Solomon Cordwell Buenz who designed Anaha or Studio Gang currently working on Ko'ula, Ward Villages' newest luxury tower.
Kalae
Kalae is Howard Hughes' most recently launched project, located on the first row adjacent to Victoria Ward Park. What I really like about this project is that the distance between Victoria Place and Kalae is roughly 600 feet providing open space that hasn't been seen before in Ward Village between two towers. If you're on the East side of Kalae or the west of Victoria Place, you'll have very wide open views.
Completion Date: 2026 Construction Status: Starting Construction Soon Prices: $1,200,000 - $8,000,000+ Percent Sold: 80% Availability: 1 Bedroom | 2 Bedroom | 3 Bedroom Affordable Housing: None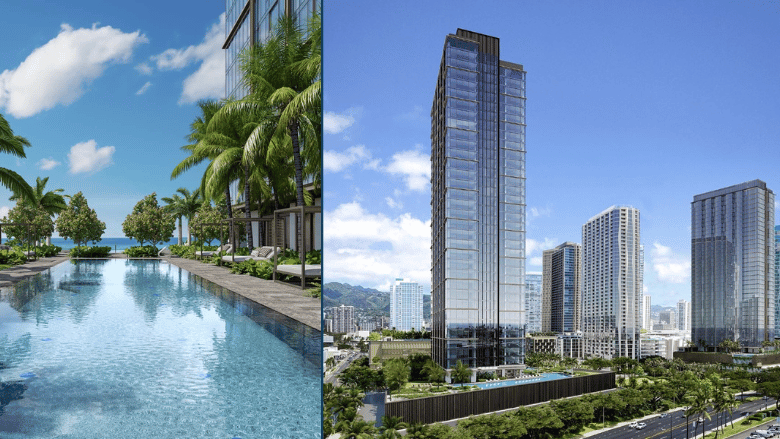 The Park Ward Village
The Park Ward Village is located on the 2nd row across the park from Koula. Upon completion, the ground floor of The Park will have commercial spaces with restaurants and shops that naturally overflow into the park similar to what Koula is doing. The park will eventaully become a gathering place for the neighborhood and The Park Ward Village will be footsteps from it all.
Completion Date: 2025 Construction Status: Under Construction Prices: $800,000 - $3,000,000 Percent Sold: 85% Availability: Studio | 1 Bedroom | 2 Bedroom | 3 Bedroom Affordable Housing: None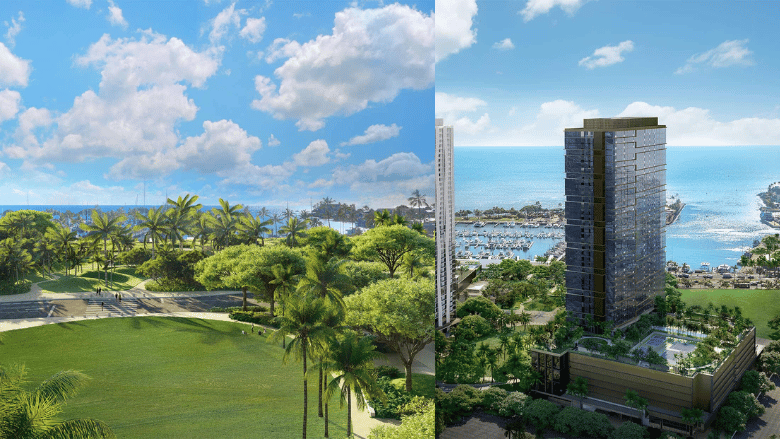 Victoria Place
Victoria Place is located on the coveted first row promising unobstructed ocean and harbor views for life. Like it's neighbor Waiea, Victoria Place will deliver a very high level of luxury with all the amenities one could ever ask for.
Completion Date: Late 2024 Construction Status: Under Construction Prices: $1,350,000 - $8,000,000 Percent Sold: 100% Availability: 1 Bedroom | 2 Bedroom | 3 Bedroom Affordable Housing: None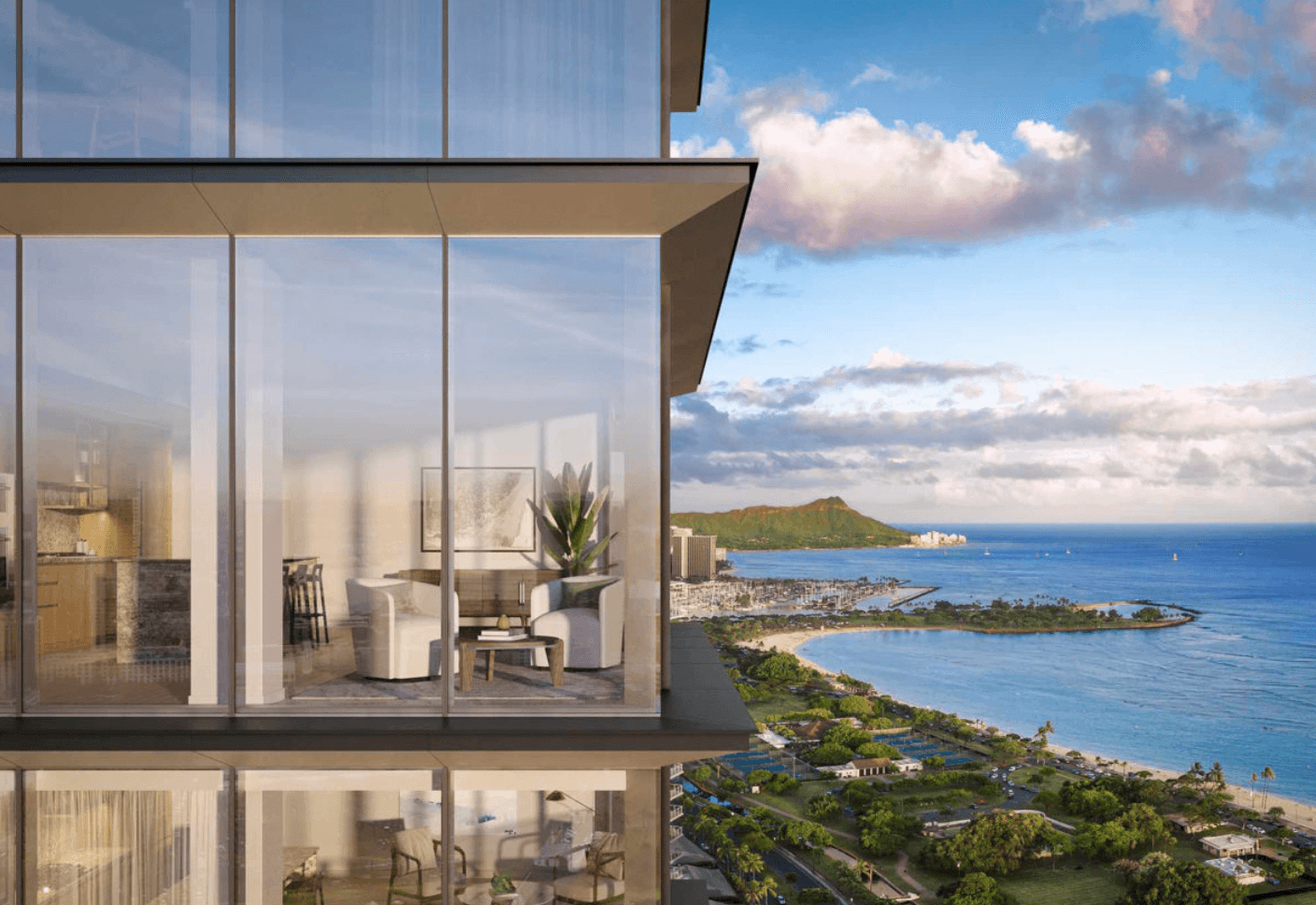 Anaha
Anaha is a luxury condo located in the "second row" at Ward Village. The amenities and level of service found at Anaha are considered top of the line when it comes to luxury condo living in Honolulu. You'll find a glass bottom pool looking over Auahi Street something never before found in Hawaii along with many many more amenities throughout the building. Anaha is Howard Hughes' second completed tower in Ward Village one by far my favorite condo in Honolulu.
Completion Date: 2017 Construction Status: Completed Prices: $2,000,000 - $18,000,000 Percent Sold: 100% (resales available) Availability: Studio | 1 Bedroom | 2 Bedroom | 3 Bedroom | 4 Bedroom Affordable Housing: None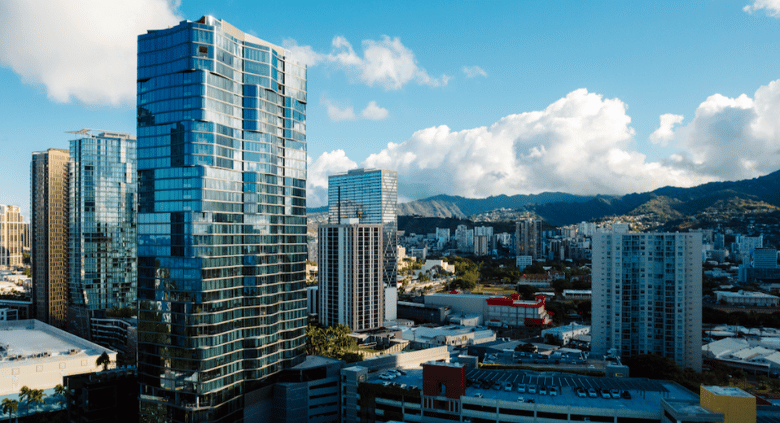 Waiea
Waiea is Howard Hughes' first completed tower in Ward Village. With architect James Cheng at the helm, this building is one of the most recognizable in the Honolulu skyline. Waiea is an ultra-luxury project with large floor plans, high ceilings and a very low unit count. Don't want to see your neighbors or bump into a fellow resident in the elevators? Waiea is the condo for you.
Completion Date: 2016 Construction Status: Completed Prices: $1,800,000 - $36,000,000 Percent Sold: 100% (resales available) Availability: 1 Bedroom | 2 Bedroom | 3 Bedroom | 4 Bedroom Affordable Housing: None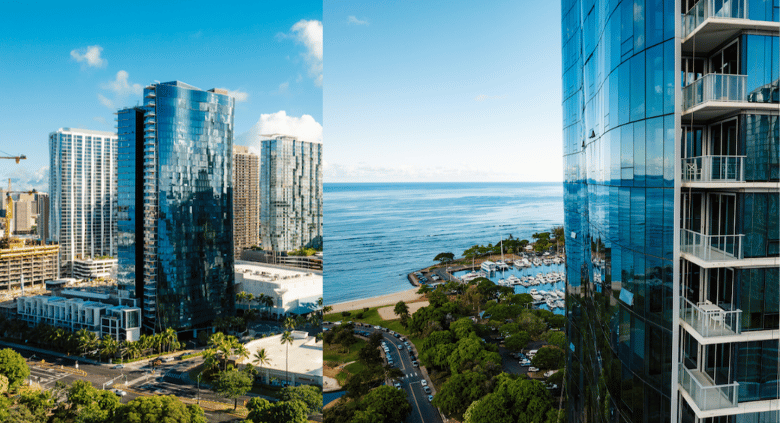 'A'alii
'A'ali'i in a lot of ways is seen as the entry level condo into Ward Village in terms of price point. Located in the "third row" Aalii's view will be affected by future towers coming up in the first or second row but you still see plenty of ocean through the towers in front. What Aalii has going for it is a relatively low price point (for Ward Village) and a ton of amenities. If you're not big on views but want to be at the heart of all the action, Aalii is the place for you.
Completion Date: 2021 Construction Status: Completed Unit Count: 751 Percent Sold: 98% (Developer inventory & resales available) Prices: $500,000 - $1,800,000 Availability: Studio | 1 Bedroom | 2 Bedroom Affordable Housing: Yes (none currently available)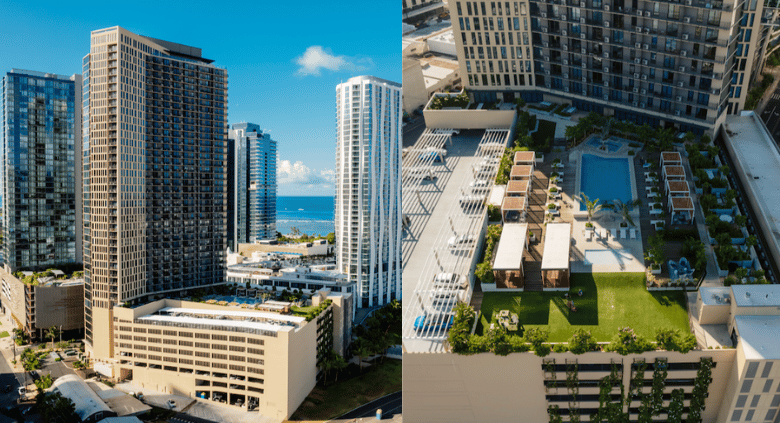 Koula
Ko'ula is Howard Hughes' latest condo project which started sales in 2018. Architect for Koula, Jeanne Gang, was recently named as one of TIME Magazine's most influential people and Yabu Pushelberg the designer duo are world renowned for their work with Four Season Hotels & Resorts. Koula will be located adjacent to the new Victoria Ward Park which will add for a great mix of commercial located on the ground floor. Koula is located in the second row and will be a beautiful luxury building.
Completion Date: 2022 Construction Status: Completed Prices: $800,000 - $2,600,000 Percent Sold: 98% Availability: Studio | 1 Bedroom | 2 Bedroom | 3 Bedroom Affordable Housing: None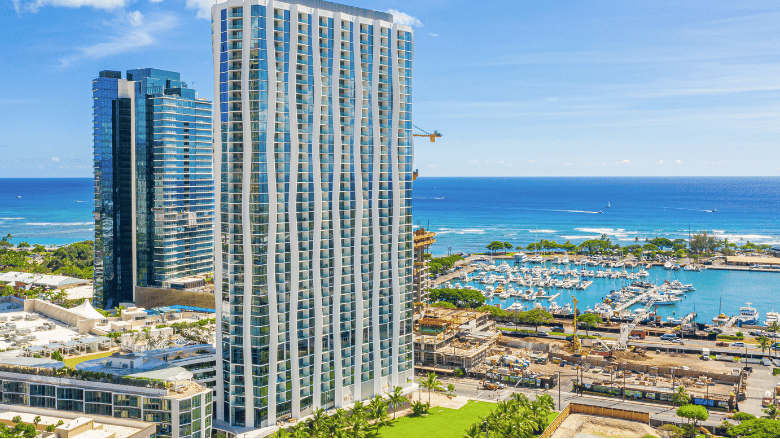 Ae'o
Ae'o is located directly above Whole Foods Market and has it's own private direct access to the grocery store without having to go outside. The amenities in this building are great with two pools, large fitness center, outdoor fitness, movie theater, and so much more. East facing views are great with west facing viewspatrially blocked by Aalii.
Completion Date: 2018/2019 Construction Status: Complete Prices: $600,000 to $2,200,000 Percent Sold: 100% (resales available) Availability: Studio | 1 Bedroom | 2 Bedroom | 3 Bedroom Affordable Housing: None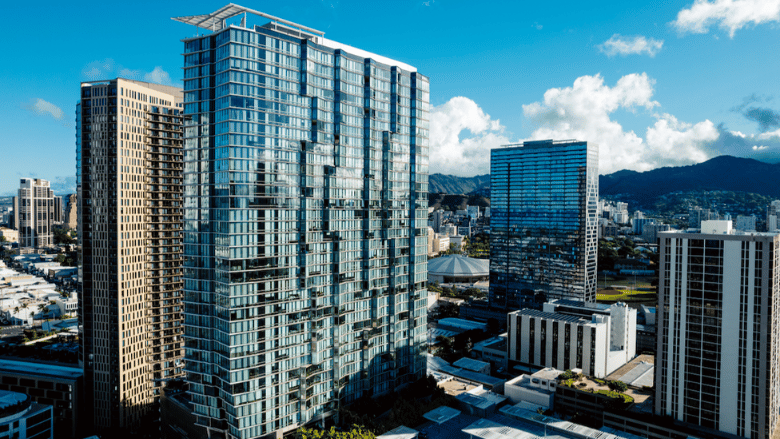 Wanna Take a Tour?
My name is Holden Lau and I'm an award winning real estate agent here in Honolulu. I specialize in the Kakaako, Ward Village neighborhood and was honored as the top selling agent in Ward in 2016. Aside from Waiea, I've sold units in every single project in Ward Village to date along with other new condo projects across Honolulu. If you're looking for someone that understands the new condo project landscape please give me a call or email me.
Walking into the sales gallery is one way to learn about the new projects in Ward Village but you need to understand you're walking into a Howard Hughes sales office with Howard Hughes employees. Think of it as walking into a car dealership, the salesman only gets compensated by selling you something that is in inventory. What's not in inventory? Every other projects in Kakaako/Honolulu including resales in Howard Hughes' sold out projects.
My goal is to introduce you to everything that is on the market and in your price range including past and future projects that may or may not be related to Howard Hughes.
Ward Village Condo Market Report
Our Ward Village Market Report is a useful tool to use if you're looking to buy or sell in Ward Village. You'll get a good sense for what buyers are paying in the various projects on a price per square foot basis.